Louis Waltrin
(1749-after 1820)
Rare White Marble and Gilt Bronze Mantel Clock
"The Flight of the Montgolfier Brothers"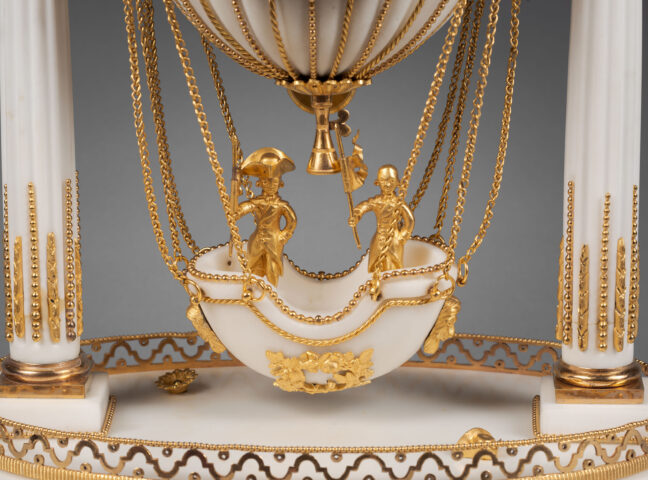 Paris, Louis XVI period, circa 1785
Height
49 cm
Width
31 cm
Depth
17 cm
The enamel dial, signed Louis Waltrin à Paris, indicates the hours in Roman numerals and the minutes in Arabic numerals. The oval-shaped white marble case is modelled as a balloon, highlighted by ormolu beading and cords. The two Montgolfier brothers, modelled in chased and gilt bronze, are standing in the white marble gondola. Two fluted columns with ormolu decorations on either side feature moulded bases and chapters; they are surmounted by vases holding flower bouquets. The clock itself is surmounted by a flat vase adorned with beading, from which emerge flowers and leaves. The moulded oval white marble base is surmounted by a pierced frieze of geometric motifs; it is raised upon six toupie feet.
Discover our entire collection of antique mantel clocks for sale online or at the gallery.
In June 1783, Joseph and Jacques-Etienne Montgolfier made their first flight in a hot-air balloon, observed by a huge crowd. They repeated this exploit several months later before Louis XVI and Marie-Antoinette. This extraordinary invention immediately captured the imaginations of artists and artisans of the day, especially Parisian clockmakers. Within just a few years, several variations of "Montgolfière" clocks were produced, some without the figures of the two famous balloon pilots. Several examples of the latter type are known; they include one example in the Musée François Duesberg in Mons (illustrated in Musée François Duesberg, Arts décoratifs 1775-1825, Bruxelles, 2004, p. 21), and a second example that is illustrated in E. Niehüser, Die französische Bronzeuhr, Munich, 1997, p. 256, fig. 1160.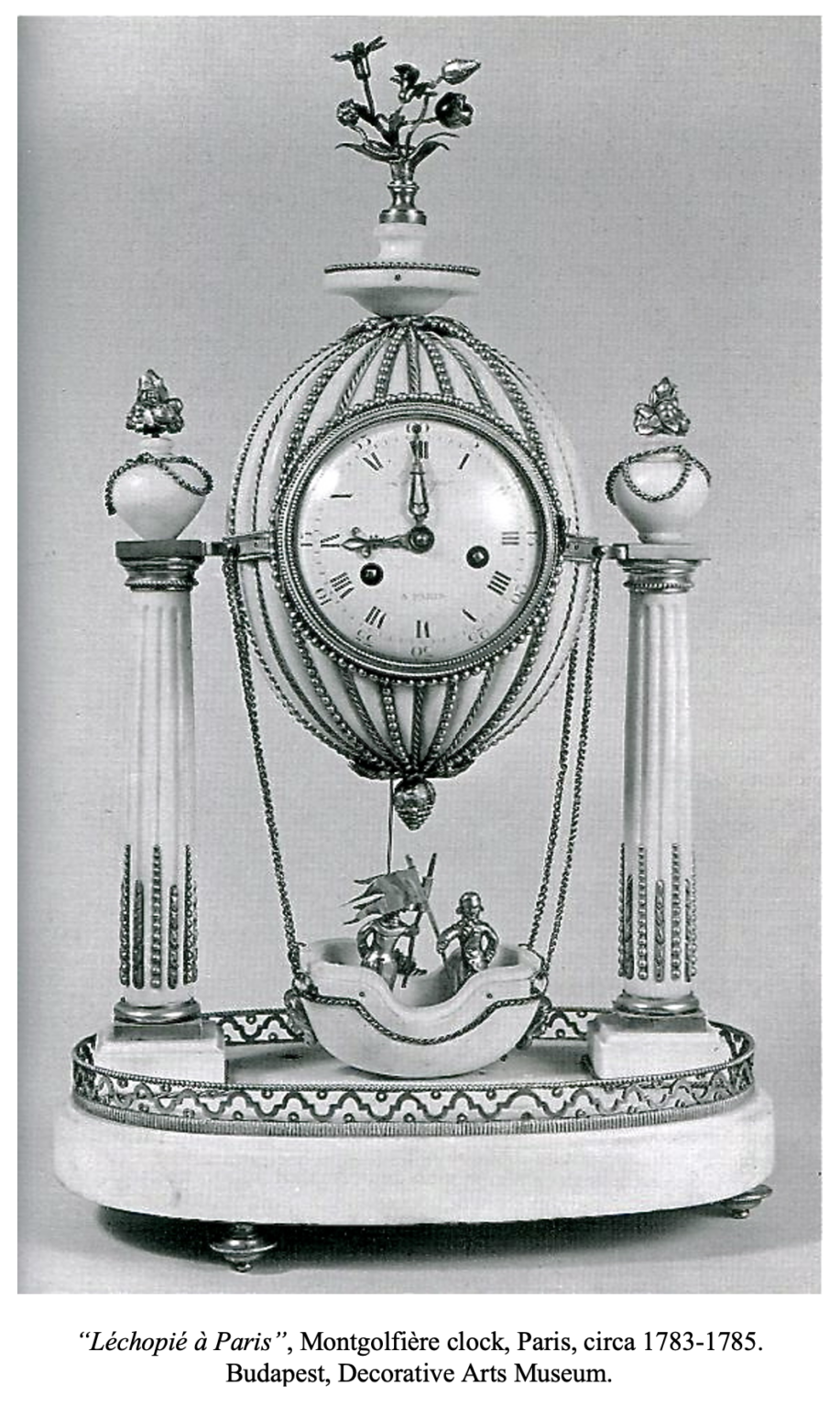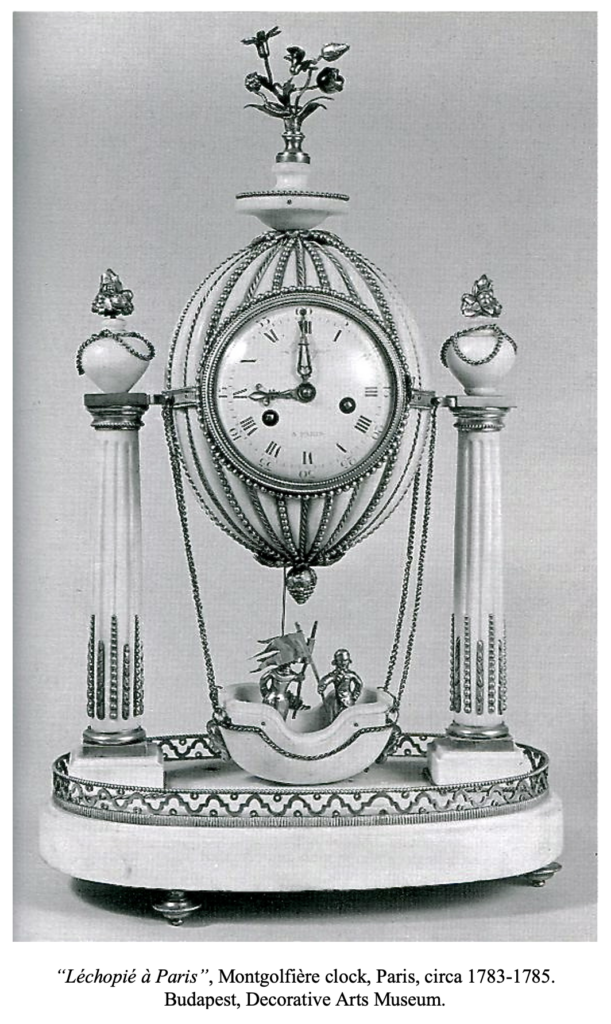 The present example features the two Montgolfier brothers in the gondola. Among the rare similar clocks known to exist, one example with a skeleton dial is illustrated in P. Kjellberg, Encyclopédie de la Pendule française, Paris, 1997, p. 208, fig. A; a clock nearly identical to the present one, with dial signed Léchopié, is in the Budapest Museum of Decorative Arts; it is illustrated in Pierre Verlet, Les bronzes dorés français du XVIIIe siècle, Paris, 1999, p. 121, fig. 156.
Louis Waltrin (1749 - after 1820)

Louis Waltrin is the son of clockmaker Joseph Waltrin (circa 1720-1789), Louis-René Waltrin probably learned the art of clockmaking in his father's workshop in the rue Saint-Antoine. He acquired his "lettres de maîtrise" as a master's son on September 24, 1771. He quickly gained renown among the important Parisian collectors of the day, taking over his father's business in the mid 1780's. Several probate inventories of the late 18th and the early 19th centuries mention his work, particularly that of the wife of Jean-Baptiste-Hubert Lemarcis, and that of Antoine-François Boula de Montgodefroy, senior member of Parliament. After 1815, and the Bourbon Restoration, Louis-René Waltrin continued his brilliant career, being named Clockmaker to the Duke of Bordeaux.
Photo gallery