Rare Clock made of White Carrara Marble and Gilt Bronze with Matte and Burnished Finishing
"Cupid Waking Venus"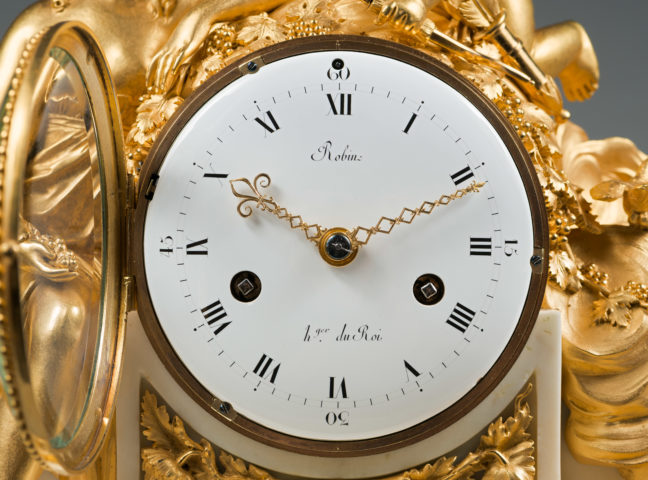 Paris, Louis XVI period, circa 1785
Height
37.5
Width
35.5
Depth
18
The round white enamel dial, signed "Robin/Hger du Roi", indicates the Roman numeral hours and Arabic numeral fifteen-minute intervals by means of two pierced gilt bronze hands. The hour and half-hour striking movement is housed in a case made of white Carrara marble and finely chased gilt bronze with matte and burnished finishing. The upper portion of the clock, which is adorned with grape vines, features the figure of Cupid resting on clouds. His quiver slung around his neck as he brandishes his bow. He is about to waken the sleeping Venus. The case housing the movement is adorned with a reserve decorated with ribbon-tied branches; it is decorated with beadwork friezes. The rectangular shaped base has rounded corners and is embellished with a frieze of alternating leaves and seeds, as well as reserves featuring stems of lilies among ribbons, rectangles with grape vines and a slightly raised panel depicting putti, in the manner of the sculptor Clodion. The clock is raised upon six feet that are adorned with cord friezes.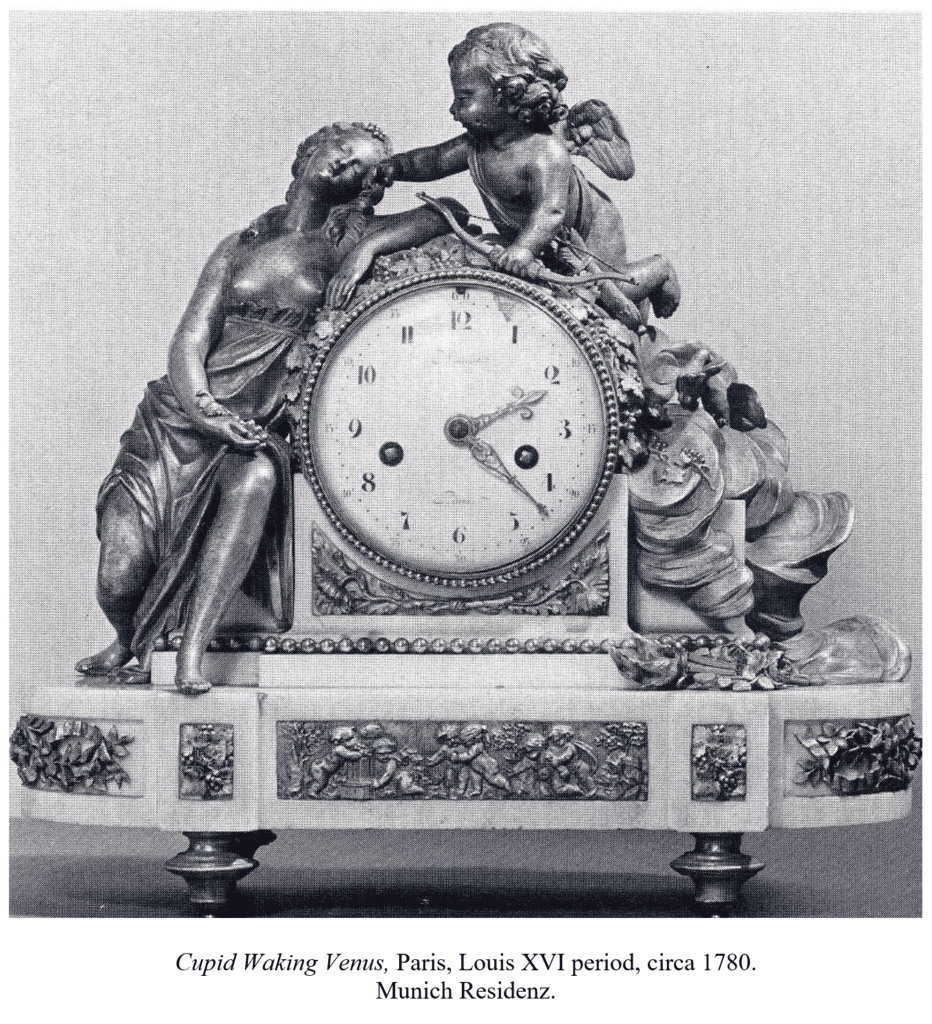 The elegant and perfectly balanced design of the present clock is further enhanced by the exceptional quality of its chasing and gilding. Today we know of only a few identical models, which present several variations, particularly in the treatment of the base. Among them, one example, on display in the Munich Residenz, is illustrated in H. Ottomeyer and P. Pröschel, Vergoldete Bronzen, Die Bronzearbeiten des Spätbarock und Klassizismus, Band I, Munich, 1986, p. 248, fig. 4.6.13 (see P. Heuer and K. Maurice, European Pendulum Clocks, Decorative Instruments of Measuring Time, Munich, 1988, p. 51, fig. 77). A second clock, which was delivered in 1804 to be placed in the Empress's boudoir in the Palais de Fontainebleau, is illustrated in J-P. Samoyault, Musée national du Château de Fontainebleau, Catalogue des collections de mobilier, 1. Pendules et bronzes d'ameublement entrés sous le Premier Empire, RMN, Paris, 1989, p. 50, catalogue n° 5 (see also E. Dumonthier, Les bronzes du Mobilier national, Pendules et cartels, Paris, 1911, plate 20, fig. 6).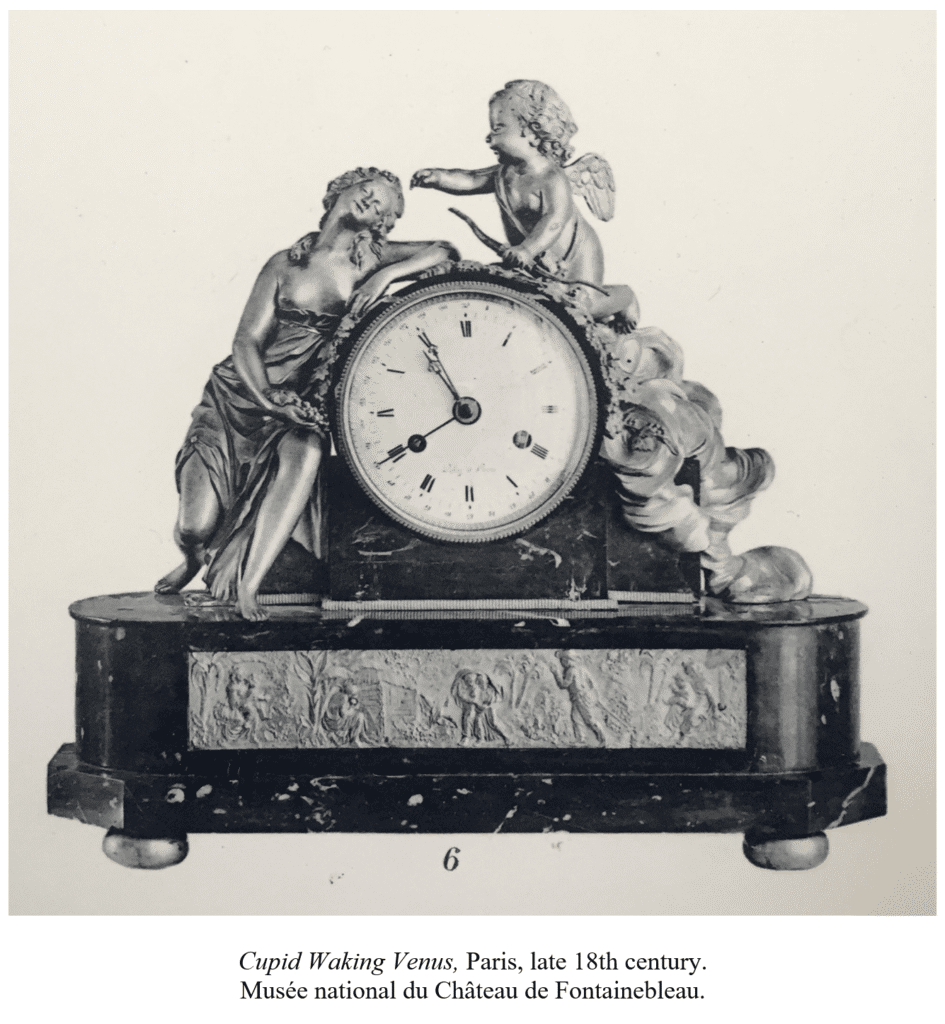 Robert Robin (1741 - 1799)

Having become a master horologist in November 1767, he was one of the most important Parisian horologists of the last third of the 18th century. He received the honorary titles of Valet de Chambre-Horloger Ordinaire du Roi et de la Reine in 1783 and 1786. He enjoyed an extraordinary career, distinguishing himself by his exceptional contribution toward the improvement of time measuring instruments.
In 1778, the Academy of Sciences approved two of his inventions, one of which led to the construction of an astronomic clock with a meridian traced on a pyramid, which was acquired by the Menus Plaisirs for Louis XVI that same year; Robin published a very detailed historical and mechanical description of that clock. He also made mantel regulators with astronomic indications and compensation balance, of which the Marquis de Courtanvaux, a man of science and a great connoisseur of precision horology, was one of the earliest acquirers. During the Revolution he made decimal watches and clocks. He worked in the Grande rue du Faubourg Saint-Honoré (1772), the rue des Fossés-Saint-Germain l'Auxerrois (1775), the rue Saint-Honoré in the l'Hôtel d'Aligre (1778) and the Galeries du Louvre in 1786.
For his desk regulators, Robin chose very sober architectural cases, which look extraordinarily modern to contemporary viewers. He always worked with the finest artisans of the day, including the bronziers and chasers Robert and Jean Baptiste Osmond, Pierre Philippe Thomire, François Rémond and Claude Galle, the cabinetmakers Jean-Henri Riesener, Ferdinand Schwerdfeger and Adam Weisweiler, the enamellers Barbezat, Dubuisson, Merlet and Coteau for the dials, and Richard and Montginot for the springs.
Robert Robin's two sons, Nicolas Robert (1775-1812) and Jean-Joseph (1781-1856), were also fine clockmakers and ably continued to run their father's workshop.
Photo gallery