Louis-François-Amable Molliens
Rare White Marble and Gilt Bronze Mantel Clock
"Cupid and Psyche"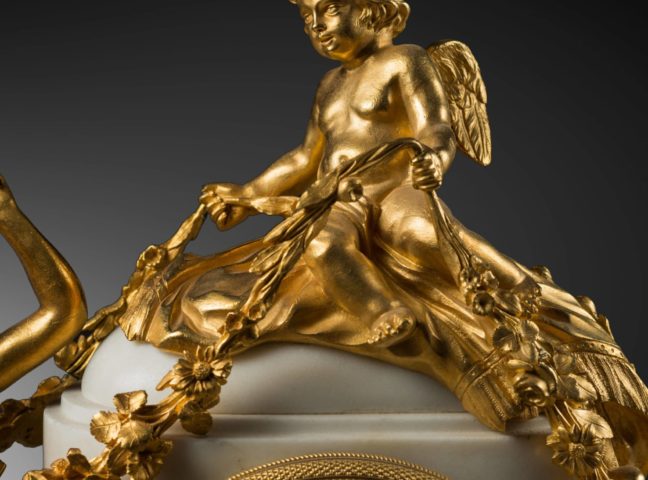 "Molliens à Paris"
Paris, late Louis XVI period, circa 1785-1790
Height
40.5
Width
35.5
Depth
14
The enamel dial, decorated with polychrome floral sprays, is signed "Molliens à Paris". It features Arabic hour numerals and Arabic quarter-hour numerals, and two very fine pierced gilt bronze hands. The case, modelled as a truncated white marble column, is decorated with finely chased gilt bronze figures. The bezel is beaded; two beribboned branches adorn the lower portion of the column.  On the right, a female figure lightly draped in classical robes represents Psyche; at her feet are placed a ewer and a cup. The case is surmounted by a winged Cupid sitting on a fringed drapery. He appears to pull the young woman toward him with a long flower garland that stretches across waist. On the left, a sitting donkey places one of his front hooves on a parchment that is entitled: "L'ane d'or Livres VIII". The front and sides of the magnificent stepped and shaped white marble base are adorned with finely chased rose garlands set in recesses. The whole is raised on five robust lion paws terminating in acanthus leaves.
This unique design of this clock makes it one of the most unusual creations of late 18th century Parisian horology. The subject comes from Apuleius's novel "The Metamorphoses", which itself was inspired by Ovid's Metamorphoses, relating the burlesque adventures of the aristocrat Lucius, whose mistress Photis accidentally transformed him into a donkey. It also allowed the author to tell the story of the myth of Psyche and Cupid. One of the king's three daughters, Psyche was extraordinarily beautiful. She fell in love with Cupid, but her excessive curiosity angered Venus, and the goddess parted her from her lover. In order to recover her lover Psyche had to accomplish four tasks. After failing yet again due to curiosity, she found Cupid, who implored Jupiter's help. The god of Olympus then sent the young woman a cup of ambrosia, making her immortal. Psyche and Cupid were married; their daughter was the goddess Voluptas.
Louis-François-Amable Molliens

Louis-François-Amable Molliens was a clockmaker whose workshop was recorded as being, successively, in the rue Saint-Honoré around 1800, then in the passage du Grand-Cerf between 1806 and 1815 (see Tardy, Dictionnaire des horlogers français, Paris, 1971, p. 469). He was well respected and his clocks were acquired by important late 18th century and early 19th century Parisian collectors. Clocks signed by Molliens are mentioned in the probate inventory of Charles-Louis de Reconseille and the Napoleonic Marshall Louis-Alexandre Berthier, Prince de Wagram.
Photo gallery