Jacques-Joseph Lepaute
(1750-1796)
Rare Gilt Bronze and White Carrara Marble Mantel Clock with Matte Finishing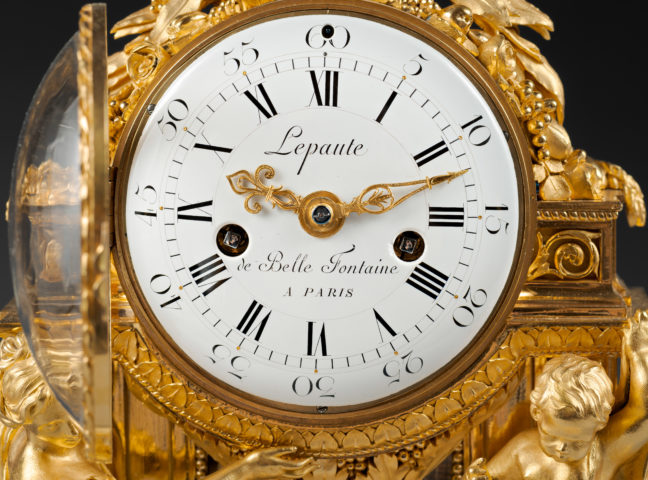 Paris, Louis XVI period, circa 1785
Height
36.5 cm
Width
21 cm
Depth
13.5 cm
Provenance:
– Jacques Doucet Collection, sold Paris, Maîtres Lair-Dubreuil and Henri Baudoin, Galerie Georges Petit, June 5-8, 1912, lot 268 (sold for 29,100 francs)
– Sotheby's, Zurich, December 1, 1988, lot 377
The round white enamel dial, signed "Lepaute de Belle Fontaine à Paris", indicates the Roman numeral hours and the Arabic numeral five-minute intervals by means of two pierced gilt bronze hands. The hour and half-hour striking movement is housed in a case of white Carrara marble and finely chased, matte-finished gilt bronze. The bezel is chased with a frieze of leaves; the clock is surmounted by ribbon-tied laurel branches and flower swags that hang down on either side. The case is in the form of a milestone; with an entablature that features reserves with scrolls, which are decorated with a waterleaf frieze and terminate in a leaf-decorated cup that is adorned with acanthus leaves and seeds. On either side of the dial are a seated young woman whose hair is tied up in a bun, and a young child. Between the two, there is a wreath of roses and a flaming torch. The clocks stands on a shaped and stepped base that is decorated with a waterleaf frieze and rectangular reserves that are adorned with arrows and ribbon-tied torches, and scrolls with cornucopias with a central quiver and feathered arrows. The clock is raised upon four gadrooned feet.
The present rare clock, whose chasing and gilding are exceptional in quality, was formerly in the collection of the well-known collector Jacques Doucet (1853-1929), who was a famous French fashion designer, bibliophile, and patron of the arts. He founded the Bibliothèque Doucet in Paris, now the Institut National d'Histoire de l'Art. In 1912, after the death of his wife, he sold a large portion of his collection. That sale, which included many masterpieces of the French decorative arts, was so influential that for some time it held the record of the most profitable contemporary sale. The present clock, whose design is particularly rare, appeared in the sale as number 268. Approximately twenty years later, a second, identical clock, whose dial was signed "Imbert l'Aîné" and which had been part of the collection of Alfred de Rothschild (1842-1918), was offered at the sale of the collection of Madame Benjamin Stern (sold Anderson Galleries, New York, April 4, 1934, lot 203).
Jacques-Joseph Lepaute (1750 - 1796)

Jacques-Joseph Lepaute, called "de Bellefontaine", was one of the most talented Parisian clockmakers of the last third of the 18th century. Probably a member of the Lepaute family that came originally from Thonne-la-Long, he was born in Bellefontaine near Luxembourg and went to Paris at a relatively young age. After having probably worked as an "ouvrier libre", he became a master and soon became a favorite among connoisseurs of luxury horology. With workshops successively in the rue Saint-Honoré, the rue Neuve des Petits-Champs, and the rue des Gravilliers, he produced some of the most remarkable horological creations of the last third of the 18th century. Nevertheless, he encountered financial difficulties at the end of the 1770s. When the value of his workshop was estimated, the names of well-known artisans appeared among his collaborators. These included chaser-gilders such as Robert and Jean-Baptiste Osmond, François Rémond, Michel Poisson and Joseph-Noël , Turpin, as well as the enameller Joseph Coteau and the spring maker Etienne-Claude Richard. In 1783 Lepaute received the much-coveted title of "Horloger de Monsieur", that is Louis-Stanislas-Xavier de France, Comte de Provence, brother of Louis XVI and the future Louis XVIII (1815-1824). In addition, he delivered several clocks to Prince Charles de Lorraine and received a commission for a monumental clock bearing the arms of Stanislas Augustus Poniatowski, King of Poland. Several decades later, one of his clocks was mentioned in the probate inventory of the General and Senator Antoine-César de Choiseul-Praslin, Duke de Praslin. Today, his clocks may be found in important public and private collections around the world, including the Wallace Collection and the Victoria & Albert Museum in London, in the Royal Palace of Warsaw, the Royal Museums of Art and History of Brussels and the Royal British Collections.
Photo gallery