Rare Gilt and Patinated Bronze Mantel Clock
"Young Black Man Pushing a Wheelbarrow"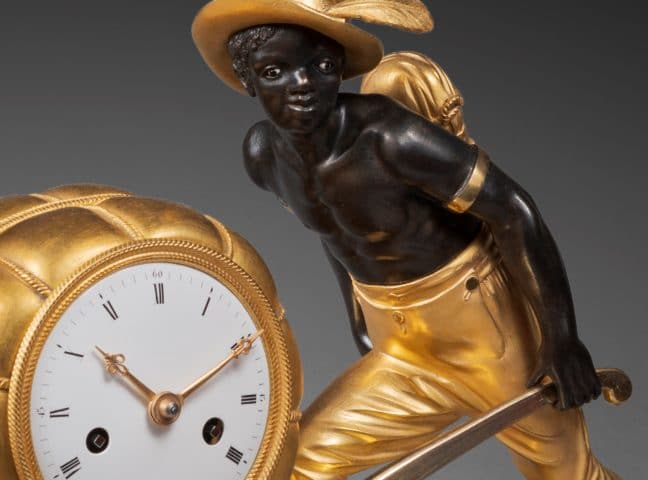 Paris, Directoire period, circa 1800
Height
34.5
Width
41
Depth
12
The round white enamel dial indicates the Roman numeral hours and the Arabic numeral fifteen-minute intervals by means of two pierced gilt bronze hands. The finely chased and knurled bronze case is matte gilt and patinated. The bezel is adorned with a knurled frieze; the hour and half-hour striking movement is fitted into what appears to be a bale of cotton, which is placed on a wheelbarrow that is being pushed by a handsome patinated and gilt bronze figure depicting a young black man. The eyes of the young man are made of enamel; he is wearing a feathered hat and a pair of trousers and carries on his back a wicker basket in which he has placed his shirt. Perched opposite him, a parrot with finely chased feathers is turning its head toward the viewer. The group rests on a quadrangular architectural base with canted corners, that is elaborately adorned with applied low relief motifs including anchors, a trident and cords, as well as a central trophy with olive leaves, palms, a caduceus, stylized palmettes, and cornucopias symbolizing Sea Trade. The composition is supported on six sloping feet that are decorated with a delicate frieze and a plain molded torus.
In the late 18th century, under the influence of the work of writers and philosophers such as Jean-Jacques Rousseau, who extolled the virtues of a return to Nature through the figure of the "noble savage", exoticism became fashionable and was prominently featured in contemporary literature. Examples are the great literary success "Paul et Virginie" written by Bernardin de Saint-Pierre in 1788, a distant cousin of Daniel Defoe's "Robinson Crusoe", the novel "Les Incas" by Marmontel, which was published during the American Revolutionary War, and "Atala" by Chateaubriand (published in 1801). These books had a profound effect on Europeans' attitudes toward other civilizations. They favored a current of nostalgia linked to the idea of the quest for a pagan garden of Eden that could be redeemed by Christianity, which strongly influenced European culture. As was often the case in the French decorative arts, this artistic and philosophical movement manifested itself in certain artistic creations, particularly in horological pieces and lighting instruments. The present clock, known as "Young Black Man pushing a Wheelbarrow", was created within this context; it became very successful among influential horological collectors of the early 19th century.
Among the small number of clocks of this type known to exist, one example is illustrated in P. Kjellberg, Encyclopédie de la pendule française du Moyen-Age à nos jours, Les éditions de l'Amateur, Paris, 1997, p. 344. Two other models, one whose dial is signed "Gillet horloger", and the other "Hunziker rue de Bussy n°22", are shown in the exhibition catalogue "De Noir et d'Or, Pendules 'au bon sauvage', Collection de M. et Mme François Duesberg", Musée Royaux d'Art et d'Histoire, Musée Bellevue, Brussels, 1993.
Photo gallery