Jean-Joseph Lepaute
(1768-?)
Jacob-Desmalter
(1770-1841)
Important Long Case Regulator or "pendule à secondes" indicating True Time and Mean Time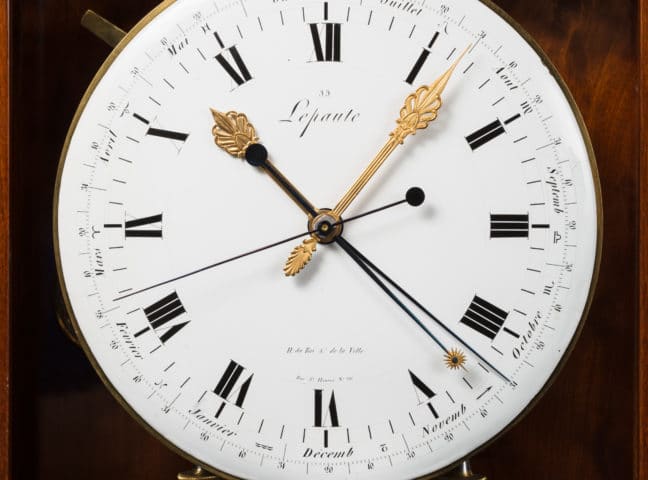 Case Attributed to the Workshop of Jacob-Desmalter
Paris, early Restoration period, during the reign of Louis XVIII, circa 1821-1823
Height
205.5
Width
53.5
Depth
27
The round white enamel dial, signed "J.J. Lepaute/Hr du Roi & de la Ville/Rue St Honoré n°247", has three pierced gilt bronze and blued steel hands that indicate mean time, or "terrestrial" time, with Roman numeral hours and minutes graduations, Arabic numeral date, and the months, along with their respective astrological symbols. It indicates the seconds by means of a central seconds hand. The bronze or brass bezel is molded and gilt. The movement features a heavy bimetallic gridiron pendulum with bob. The architectural mahogany case is glazed on three sides, and is surmounted by a protruding molded and dentilled cornice with a quadrangular entablature. The solid base, with curved molding, features reserves framed by molding and centered by protruding lozenges.
This magnificent clock is housed in a polished mahogany neoclassical case, whose clean lines are intended to highlight the ingenious and extremely precise mechanism, the motion of the pendulum, and the beauty of the enamel dial. This esthetic movement, inspired by creations of the late 18th century, resulted from Emperor Napoleon's desire for a sober and elegant style. The pure, clean lines enhance the beauty of the mahogany, with the costly mahogany veneering being used either on the bias, or highlighting the straight grain, and featuring "moiré", flame, "pommelés", and mottled effects. The mahogany case has been attributed to the workshop of Jacob-Desmalter due to the great precision of its assemblage and the high quality of the wood sheets that the cabinetmaker clearly selected with great care. While Jacob-Desmalter often produced "ordinary" pieces, he also created magnificent cases on special commission; one such example is illustrated in Tardy, La pendule française, 2ème Partie: Du Louis XVI à nos jours, Paris, 1975, p. 423. A second clock, made in 1803 by the Jacob workshop, is today in the Bibliothèque de l'Institut de France in Paris (illustrated in J-D. Augarde, Les ouvriers du Temps, La pendule à Paris de Louis XIV à Napoléon Ier, Genève, 1996, p. 351, fig. 263).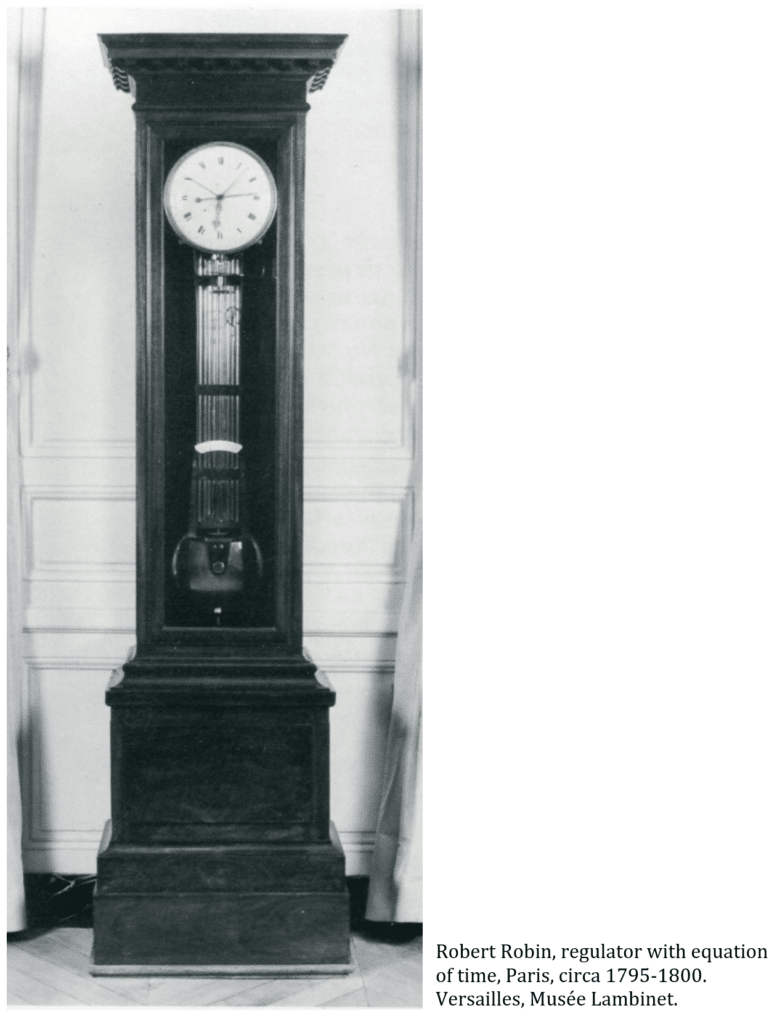 Very few comparable pieces exist. Among them are a clock made by Antide Janvier in 1804, today in the Musée Paul-Dupuy in Toulouse (illustrated in M. Hayard, Antide Janvier 1751-1835, Horloger des étoiles, Villeneuve-Tolosane, 1995, p. 173). Another, whose dial is signed Robin, is in the Musée Lambinet in Versailles (see the exhibition catalogue La Révolution dans la mesure du temps, calendrier républicain heure décimale 1793-1805, Musée international d'horlogerie, La Chaux-de-Fonds, 1989, p. 69, fig. 15). A third clock, whose dial is signed Laresche, is illustrated in P. Heuer and K. Maurice, European Pendulum Clocks, Decorative Instruments of Measuring Time, Munich, 1988, p. 125, fig. 229. A fourth piece, delivered to the king of Spain by the clockmaker Godon in the early 19th century, is in the Royal Spanish Collection (cf. J. Ramon Colon de Carvajal, Catalogo de Relojes del Patrimonio nacional, Madrid, 1987, p. 108-109, catalogue n° 89). Another regulator, with a dial signed by the enameler Dubuisson, is part of the collection of Wilhelmshöhe Castle near Cassel (see R. Mühe and Horand M. Vogel, Horloges anciennes, Manuel des horloges de table, des horloges murales et des pendules de parquet européennes, Fribourg, 1978, p. 287, figs. 579-580). One further regulator was delivered in 1809 by Pierre-Basile and Jean-Joseph Lepaute to Napoleon's Grand Cabinet in the Grand Trianon, where it still stands (illustrated in P. Arizzoli-Clémentel and J-P. Samoyault, Le mobilier de Versailles, chefs-d'œuvre du XIXe siècle, Editions Faton, Dijon, 2009, p. 280-281, catalogue n° 104; see also D. Ledoux-Lebard, Inventaire général du Musée national de Versailles et des Trianons, Tome 1, Le grand Trianon, Meubles et objets d'art, Editions De Nobele, Paris, 1975, p. 116-117).
Jean-Joseph Lepaute (1768 - ?)

Born in Bièvres in the Ardennes in 1768, Jean-Joseph Lepaute, known as "Collignon", was a member of one of the most important Parisian clockmaking dynasties of the 18th century and the early 19th century.  The nephew of Pierre-Basile Lepaute, called "Sully-Lepaute", he went into partnership with his uncle, founding the "Lepaute Oncle & Neveu" company, active from 1798 to 1811. During this period they won several awards, including a silver medal at the 1806 Exhibition of the Products of Industry. After 1811, Jean-Joseph established his own firm, "Lepaute neveu à Paris", opened a workshop in the Place du Palais Royal and was given the honorary title of "Horloger du Roi de Rome" ("Roi de Rome" was the title given to Napoleon's son). In 1813, he made a clock for Fontainebleau Palace, and delivered pieces to the Saint-Cloud and Compiègne castles. After the fall of Napoleon he continued to receive important public commissions. He is cited in the rue de Richelieu in 1820, then in the rue Saint-Honoré the following year. After his son's premature death he sold his business to his cousin Augustin-Joseph-Henry Lepaute.
Jacob-Desmalter (1770 - 1841)

François-Honoré-Georges Jacob, dit Jacob-Desmalter may be considered to be the most important Parisian chair makers of the first quarter of the 19th century. The youngest son of the famous cabinetmaker Georges Jacob (1739-1814), in 1798 he married Adélaïde-Anne Lignereux, the daughter of the famous merchant Martin-Eloi Lignereux. He first became known for his talent as a draughtsman, and in 1796, he went into partnership with his older brother Georges II Jacob (1768-1803). Together they took over their father's workshop in the rue Meslée, calling their firm Jacob Frères. After the death of his brother, Jacob Desmalter went into partnership with his father, who had begun working again, and changed his stamp. For nearly a decade, they were important suppliers of the Imperial Garde-Meuble, as well as of influential collectors of the time. However, in 1813 the Jacob firm went bankrupt, due largely to the Imperial administration's failure to pay them regularly. In 1825, after several failed attempts at recovery, he sold his business to his son in exchange for a comfortable life annuity of 6,000 francs per year. Finally free of the demands of running a business, he began to travel, going to England, where George IV asked him to help decorate Windsor castle. He died in the rue Cadet in Paris, on August 15, 1841.
Photo gallery