Magnificent Empire Chandelier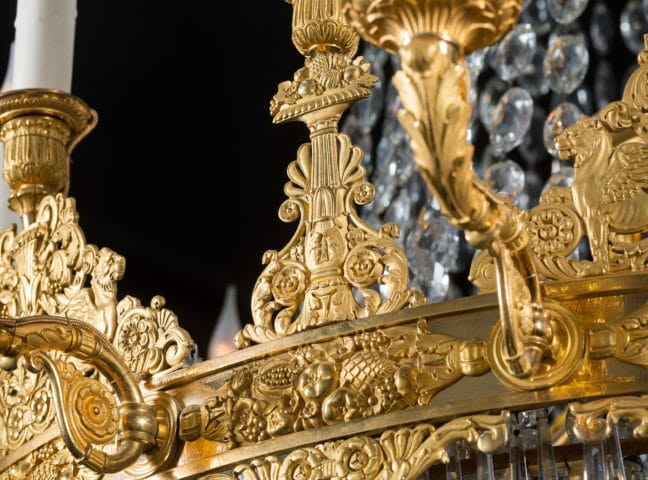 Paris, Empire period, circa 1815
A large corbeille-form gilt bronze and cut glass twenty eight-light chandelier. The circular corona is decorated with rosettes and surmounted by a band of alternating palm and lotus finials issuing a ring of cut-glass drops. The main gilt bronze ring is cast with groups of foliage and fruit amid scrolls, with fourteen scrolling foliate-wrapped candle branches terminated by vase-shaped candle nozzles with circular drip pans. Seven supports feature scroll and palmette bases surmounted by fruit filled baskets below foliate-wrapped vase-shaped candle nozzles. Seven other supports feature bases adorned with palmette and scrolling motifs surmounted by baskets of fruit, support vase-shaped candle nozzles. The main ring issuing concentric rings of cut glass drops. The pendant cut-glass basket base terminates in a foliate wrapped boss.
This chandelier may be attributed to the eminent fondeur-ciseleur Claude Galle (1759-1815), due to its quality, the complexity of its design, the subtle modelling, the soft gilding, and the winged lion motifs that he is known to have favoured. Galle made a number of similar chandeliers, of similar dimensions. Among them was one supplied in 1807 to the Palais de Meudon, described as follows: "1 chandelier, 7 feet high and 4 feet wide, chased bronze and matte gilt with 30 lights, adorned with garlands of crystal…6,000" (see Hans Ottomeyer and Peter Pröschel, "Vergoldete Bronzen", 1986, p. 713).
Claude Galle supplied two important gilt bronze chandeliers to the Dames d'Honneur at the Palais de Grand Trianon. Another, with 24 lights, made for the Salon des Grands Officiers at the Grand Trianon. Equally elaborate, it was described as "1 chandelier with 24 lights, 50 inches in diameter and 72 inches in height; gadrooned branches set on a wide circle, console with scrolls, rosettes and palmettes, central stem with foliage, rosette above…price fixed at 2,500" (ibid., p. 715).
The probate inventory drawn up after Galle's death in 1815, mentions no chandeliers, indicating that his grand chandeliers were made on commission.
Claude Galle (1759 - 1815)

One of the foremost bronziers and fondeur-ciseleurs of the late Louis XVI and Empire periods, Claude Galle was born at Villepreux near Versailles. He served his apprenticeship in Paris under the fondeur Pierre Foy, and in 1784 married Foy's daughter. In 1786 he became a maitre-fondeur. After the death of  his father-in-law in 1788, Galle took over his workshop, soon turning it into one the finest, and employing approximately 400 craftsmen. Galle moved to Quai de la Monnaie (later Quai de l'Unité), and then in 1805 to 60 Rue Vivienne.
The Garde-Meuble de la Couronne, under the direction of sculptor Jean Hauré from 1786-88, entrusted him with many commissions. Galle collaborated with many excellent artisans, including Pierre-Philippe Thomire, and furnished the majority of the furnishing bronzes for the Château de Fontainebleau during the Empire. He received many other Imperial commissions, among them light fittings, figural clock cases, and vases for the palaces of Saint-Cloud, the Trianons, the Tuileries, Compiègne, and Rambouillet. He supplied several Italian palaces, such as Monte Cavallo, Rome and Stupinigi near Turin.
In spite of his success, and due in part to his generous and lavish lifestyle, as well as to the failure of certain of his clients (such as the Prince Joseph Bonaparte) to pay what they owed, Galle often found himself in financial difficulty. Galle's business was continued by his son after his death by his son, Gérard-Jean Galle (1788-1846). Today his work may be found in the world's most important museums and collections, those mentioned above, as well as the Musée National du Château de Malmaison, the Musée Marmottan in Paris, the Museo de Reloges at Jerez de la Frontera, the Residenz in Munich, and the Victoria and Albert Museum in London.
Photo gallery