Rare Pair of Gilt Bronze Candlesticks
The candlesticks are made of finely chased gilt bronze and feature faceted pilaster stems adorned with reserves decorated with flowers, and knops embellished with egg and dart friezes; the flaring feet are adorned with reeds. The rounded shoulders, decorated with medallions, cabochons, stylized shells and acanthus leaves, support the collars, which in turn are surmounted by the octagonal sconces, decorated with egg-and-dart embellished knops and reserves bearing flowers. Under the drip pans there are bands decorated with friezes of water leaves. The sloping portions of the bases are adorned with arabesques, flowers, acanthus leaves and stylized palmettes against a matted ground, as well as egg and dart friezes, cabochons and C scrolls alternating with palmettes on a matted ground. The plinth is lobed and molded. The crowned C punch mark is stamped in the bronze of each candlestick.
This rare pair of beautifully chased and gilded candlesticks stands out due to the exceptional quality of its chasing and gilding, as well as its remarkable chased motifs, inspired by the lighting instruments created by Parisian ornamentists in the early 18th century. Further influences were pieces created by contemporary goldsmiths, particularly items that were originally made in silver and were later produced in bronze by the finest Parisian bronze casters of the day. Among the small number of known identical pieces, some of which include minor variations in their decorative motifs, is a single candlestick that is now in the Musée des Arts Décoratifs in Paris (see L. Metman and J-L. Vaudoyer, Le Musée des Arts décoratifs, Le métal, Deuxième partie, Le bronze, le cuivre, l'étain, le plomb, Premier Album du Moyen Age au milieu du XVIIIe siècle, Paris, fig. 419, plate XLII). One pair was offered for sale in England (Sotheby's, London, April 30, 1976, lot 34). Another was in the David-Weill collection in Paris; it is illustrated, with erroneous measurements, in G. Henriot, Le luminaire de la Renaissance au XIXème siècle, Paris, undated, plate 125, n°1-3.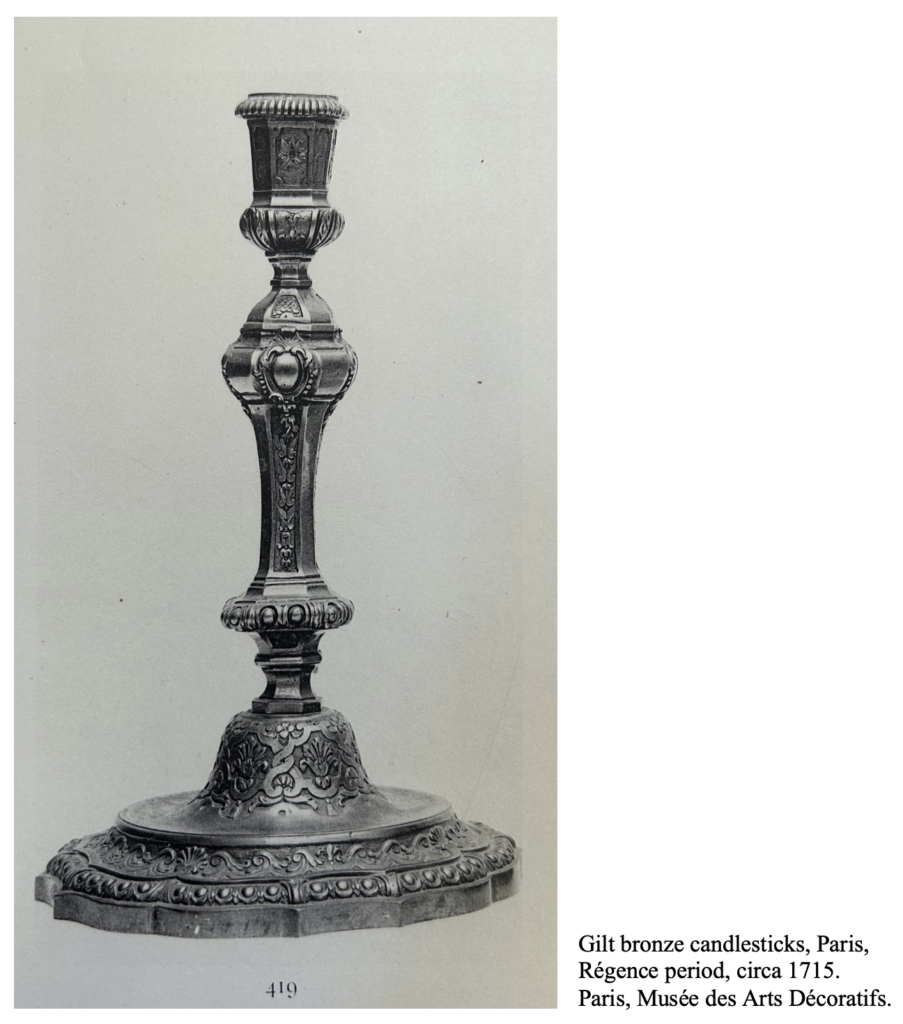 The Crowned C
This punch mark, which was long considered puzzling, was identified by Henry Nocq in an article published on April 17, 1924 in the Figaro Artistique. The author cited a February 1745 edict of Louis XV, registered in Parliament on the following March 5, which established a mark "on all work, old or new, of pure copper, of cast iron, of bronze etc., of alloys of copper, whether cast, beaten, forged, engraved, gilded, silvered, or colored, with no exceptions". A January 1747 judgement by Parliament proves that the king's edict was indeed enforced, while another judgement of the Council on February 4, 1749 registered the mark's abolition. The crowned C mark thus was the mark of a tax levied by the king on all objects containing bronze or copper that were made between February 1745 and February 1749 (see P. Verlet, Les bronzes dorés français du XVIIIe siècle, Editions Picard, Paris, 1999, p. 268-271). The present candlesticks, created approximately thirty years before the tax went into effect, must have been offered for sale sometime between February 1745 and February 1749, probably when the collection of an important Parisian art collector was sold.
Photo gallery