François Rémond
(circa 1747-1812)
Rare Pair of Gilt Bronze Three-Light Candelabra with Arabesque Design and Matte and Burnished Finishing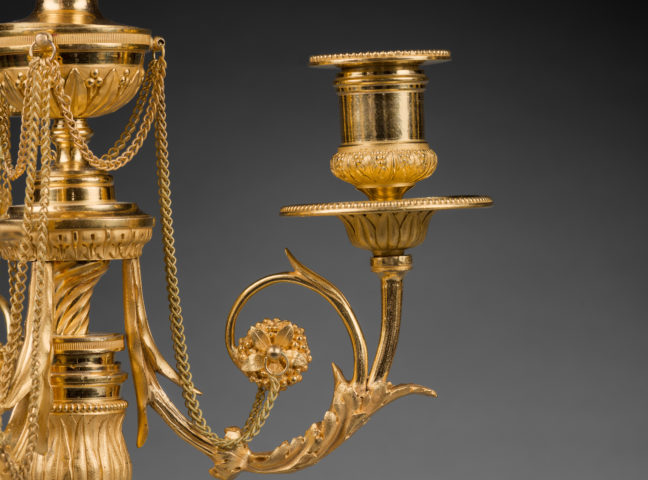 Attributed to François Rémond
Paris, Louis XVI period, circa 1785-1790
The present candelabra, made of very finely chased gilt bronze with matte and burnished finishing, feature stems in the form of truncated columns, with convex-form molded bases that are adorned with water leaves. The fluted stems, which are decorated with bead and heart leaf friezes, terminate in a vase motif that stands on a molded pedestal, whose belly is decorated with water leaves and issues the light branches. The latter, in the form of three curving arabesque-form arms, are embellished with scrolls and seeded rosettes, through which are strung decorative chains. They terminate in round basins that support nozzles and drip pans decorated with detailed leaves, seeds and beadwork. The part of the stem that supports the light branches is embellished with spiral fluting, heart leaf motifs…and terminates in a covered urn with a molded pedestal, water leaves, seeds, and fluting, with a simulated lid having a seed finial. Through small mobile rings pass the chains that are attached to the light branches. The round bases have a wide sloping molded element that is elaborately decorated with fluting, bead friezes, and water leaves that alternate with three-seeded stems.
The particularly successful composition of the present pair of rare candelabras, which stands out due to the exceptional quality of its gilding and chasing, permits their attribution to one of the most talented Parisian chaser-gilders of the final decades of the 18th century and the early part of the following century, François Rémond. Today only a few comparable examples, displaying the same manner, are known. Among them, one pair of candelabra whose design is much less successful, were mentioned in the 1810 inventory of the bedchamber of one of the apartments of the Cour des Princes at the Palace of Fontainebleau (illustrated in J-P. Samoyault, Musée national du Château de Fontainebleau, Catalogue des collections de mobilier, 1-Pendules et bronzes d'ameublement entrés sous le Premier Empire, RMN, Paris, 1989, p. 173, catalogue n° 152). A similar candelabra model is pictured in J. Bourne et V. Brett, L'art du luminaire, Editions Flammarion, Paris, 1992, p. 107, fig. 340. One further pair of candelabras in Pavlovsk Palace near Saint Petersburg, the former summer residence of the Czar Paul I (pictured in The State Culture Preserve Pavlovsk, Full Catalogue of the Collections, Tome X, Métal-Bronze, Volume II, Candélabres, bougeoirs, girandoles, Saint Petersburg, 2016, p. 42, catalogue n° 23).
François Rémond (circa 1747 - 1812)

Along with Pierre Gouthière, he was one of the most important Parisian chaser-gilders of the last third of the 18th century. He began his apprenticeship in 1763 and became a master chaser-gilder in 1774. His great talent quickly won him a wealthy clientele, including certain members of the Court. Through the marchand-mercier Dominique Daguerre, François Rémond was involved in furnishing the homes of most of the important collectors of the late 18th century, supplying them with exceptional clock cases, firedogs, and candelabra. These elegant and innovative pieces greatly contributed to his fame.
Photo gallery