Gabriel Van den Bruel
(1727-1782)
Joseph de Saint-Germain
(circa 1700-after 1759)
Rare Wall Cartel with Console, Veneered in Green Horn with Chased Gilt Bronze Mounts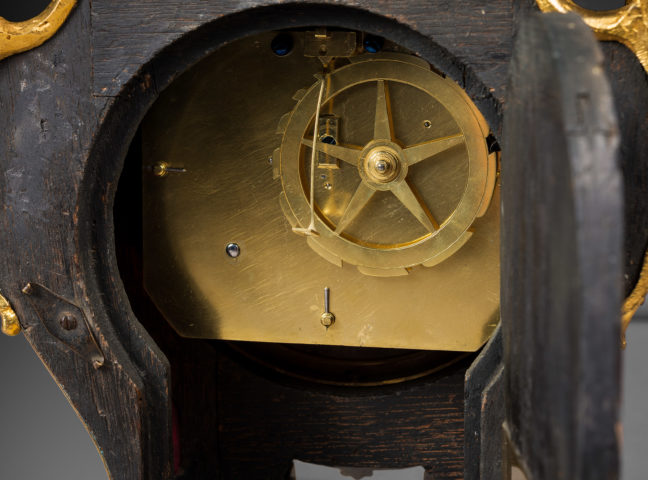 "Van den Bruel"
Case Attributed to Joseph de Saint-Germain
Paris, Louis XV period, circa 1750-1755
Height
70
Width
31
Depth
16.5
The cartel strikes the hours and half hours. Its round enamel dial, signed "Van den bruel à Lille", indicates the hours in Roman numerals and the minutes in Arabic numerals, by means of two pierced gilt steel hands. It is set within a waisted case that is entirely veneered in green horn, stained to resemble Oriental celadon. Its sides, with wide pierced reserves, are adorned with trellis and four-leafed clover motifs. The cartel is elaborately decorated with finely chased gilt bronze rococo mounts, comprising scrolling frames made up of foliage, garlands, and gadrooned elements. It is surmounted by a double-handled ewer-form vase.
Although the case of this wall cartel bears no cabinetmaker's stamp, it may be confidently attributed to Joseph de Saint-Germain. A few rare identical cartels are known that are signed or attributed to Saint-Germain. He probably created the model in the mid-18th century and entrusted the creation of the gilt bronze mounts to his son, the renowned bronzier Jean-Joseph de Saint-Germain; the two men shared a workshop in Paris.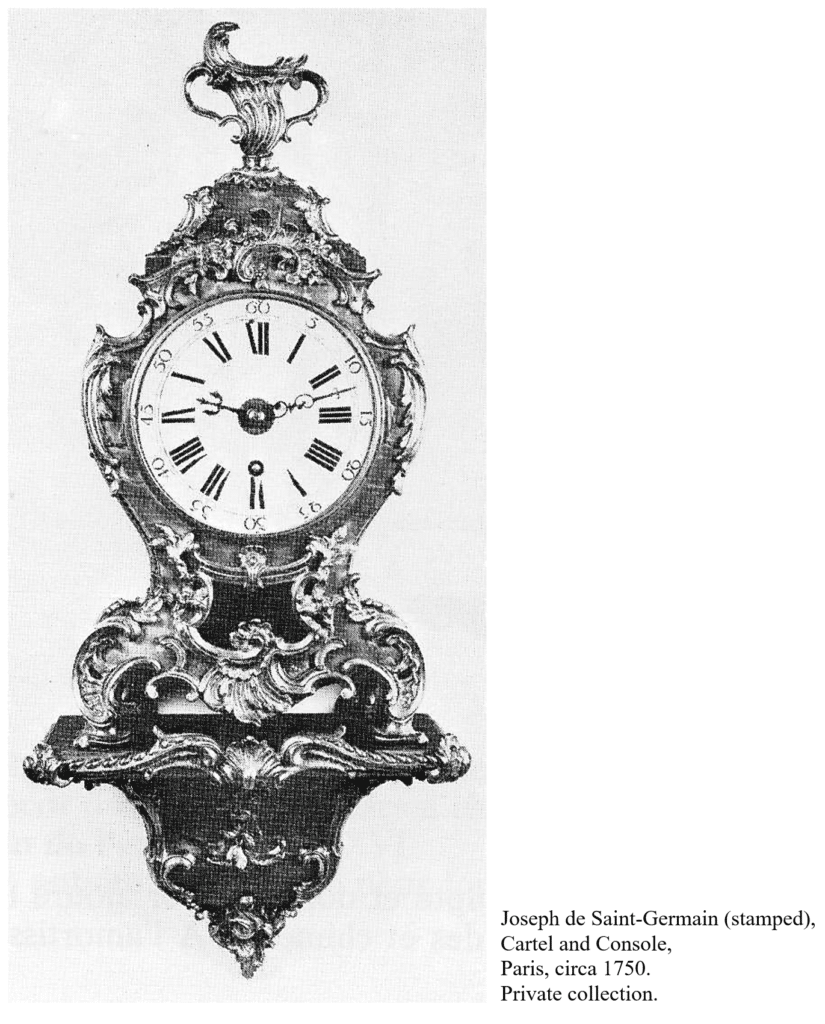 Among the known similar models, certain examples are made of different materials – stained horn, veneered wood, or the European lacquer called "vernis Martin". One example, whose dial is signed Gosselin à Paris, is illustrated in P. Kjellberg, Encyclopédie de la pendule française du Moyen Age au XXe siècle, Paris, 1997, p. 80. A second example was offered on the Paris market in 1978 (sale Ader-Picard-Tajan, February 23, 1978, lot 52).
Gabriel Van den Bruel (1727 - 1782)

The signature "Van den Bruel à Lille" is that of Gabriel Van den Bruel, a well-known Lille watchmaker mentioned in Tardy, Dictionnaire des horlogers français, Paris, 1971, p. 630. One clock bearing his signature, in red vernis Martin decorated with flowers, was formerly in the collection of Colonel Dumont in Aire; it was shown to the public at the 1896 Retrospective Exhibition of the Commission des Monuments historiques of the Pas-de-Calais (see Mémoires de la Commission départementale des Monuments historiques du Pas-de-Calais, Arras, 1899, p. 56).
Joseph de Saint-Germain (circa 1700 - after 1759)

Joseph de Saint-Germain is one of the most important mid 18th century Parisian artisans who specialised in the creation of clock cases. He became a master cabinetmaker rather late, in 1750, and to this day his work remains little known. He probably worked as an "ouvrier libre" for an extended period. The father of bronzier Jean-Joseph de Saint-Germain (1719-1791) with whom he likely often collaborated, he stood out from among his colleagues due to his modernisation of certain horological models created several decades previously by Charles Cressent; he also occasionally restored the metal marquetry furniture of the type called "Boulle"; his stamp appears on one of the "Mazarine" commodes in the Vaux-le-Vicomte castle near Paris.
Photo gallery