Rare Tortoiseshell-Veneered and Gilt Bronze "espagnolettes" Bracket Clock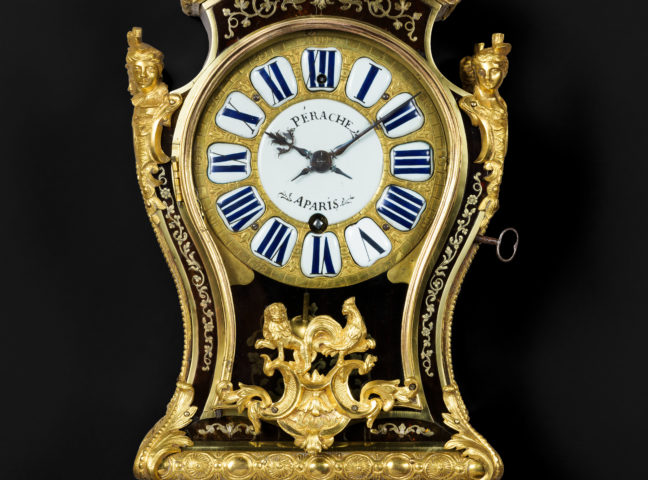 Paris, Louis XV period, circa 1735-1740
Height
49
Width
20.5
Depth
12
The dial, made up of thirteen enamel cartouches, is signed "Perache à Paris". It indicates the Roman numeral hours and outermost five-minute intervals by means of two blued steel hands. The movement is housed in a waisted "Boulle première partie" marquetry case of brown tortoiseshell inlaid with brass leaves and branches, and is elaborately decorated with finely chased gilt bronze mounts. The clock is surmounted by a flower bouquet in a basket that rests on an entablature. The curved pediment, highlighted by a stylised frieze, is centred by a shell flanked by scrolling; the sides are decorated with very fine espagnolette heads. The sides feature pierced grills with trelliswork centred by flowers. Under the dial, a motif with scrolling foliage is surmounted by the allegorical group of a lion and a rooster. The lower portion of the clock is bordered by a wide interlace frieze with alternating cabochons and spiralling rosettes. It rests on a bracket that is adorned with leaf motifs; it terminates in a leaf and seed bouquet.
This type of cartel, known as a "cartel d'alcôve", appeared in the late 17th century; it became extremely popular among Parisian connoisseurs during the first half of the 18th century. The known similar models are few; among them one clock, whose dial is signed "Dauthiau à Paris", is in the Lyon Musée des Arts décoratifs (illustrated in P. Arizzoli-Clémentel and C. Cardinal, Ô Temps! Suspends ton vol, Catalogue des pendules et horloges du Musée des Arts décoratifs de Lyon, Lyon, 2008, p. 60). An identical clock with red tortoiseshell veneering, and lacking its bracket, is in the Balmès collection (illustrated in Tardy, La pendule française, 1er partie: De l'horloge gothique à la pendule Louis XV, Paris, 1967, p. 138).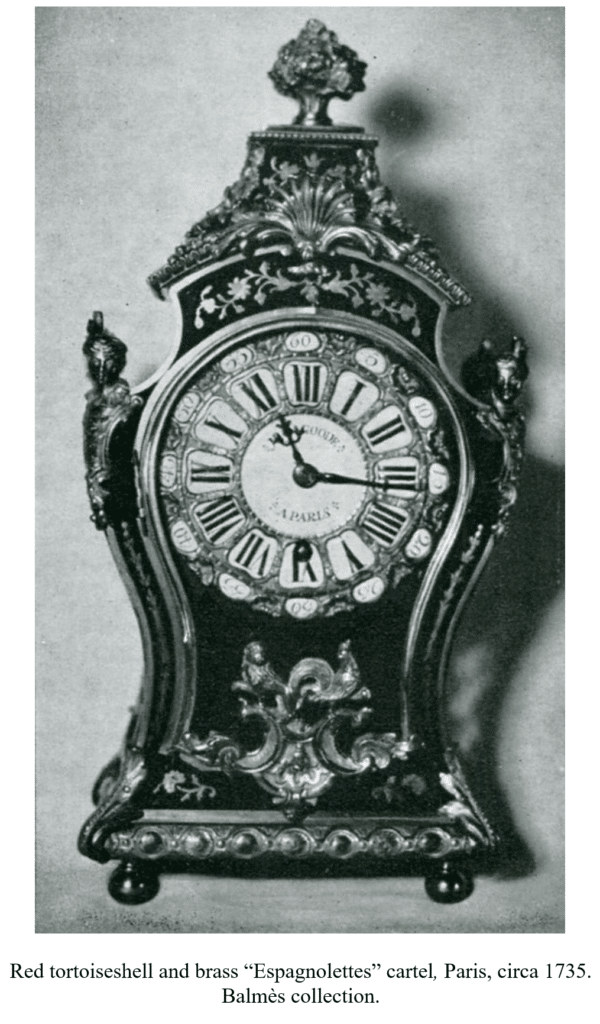 Jean-Pierre Pérache

Jean-Pierre Pérache or Perrache is one of the most important Parisian horologists of the second third of the 18th century. After becoming a master in 1733, he opened his workshop in the Palais Royal; he is mentioned as being in the rue Froidmanteau between 1778 and 1783 (see Tardy, Dictionnaire des horlogers français, Paris, 1971, p. 508). He soon became widely renowned and received many private commissions. Several of his clocks were mentioned in the probate inventories of important 18th century collectors; among them, Bernard de Saint-Germain, Jean-Pierre de Rouillé, André Roussel de Jorant, Philippe-Jules-François Mazarini-Mancini duc de Nevers, the great-nephew of Cardinal Mazarin, and the widow of Charles de Savalette de Magnanville, the powerful Farmer-General and former Director of the East India Company. One of his clocks was in the French Royal Collections before the French Revolution.
Photo gallery