Pierre II Le Roy
(1687-1762)
Charles Cressent
(1685-1768)
Exceptional Rococo Gilt Bronze and Brass and Tortoiseshell or Ebony Marquetry Wall Cartel with Bracket
"Cartel with Female Mask, First Model"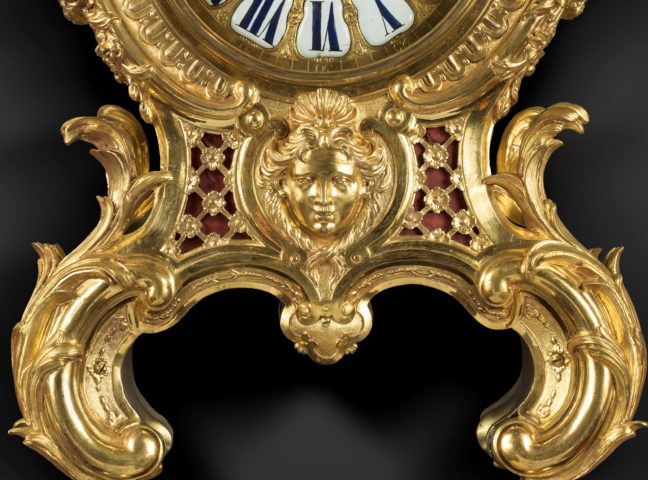 Case attributed to Charles Cressent
Paris, early Louis XV period, circa 1735
Height
127
Width
55
Depth
47
The round copper dial, decorated with delicately chased flowers, is signed "Pierre Leroy à Paris" on a central enamelled plaque. The Roman numeral hours, on twelve enamelled cartouches, and the outermost five-minute graduations are indicated by means of two polished steel hands. The front and back of the waisted case are decorated with finely chased gilt bronze mounts; the sides are adorned with Boulle "première partie" marquetry in brass on a ground of brown tortoiseshell or ebony, featuring a stylised décor of three- and four-lobed motifs centred by geometric shapes, latticework with flowers, and motifs centred by foliage. The clock is surmounted by a lightly draped putto sitting among clouds, who is holding a stylus in his raised left hand; he rests upon a curved capital with volutes, decorated with an interlace frieze centred by cabochons, and featuring pierced blossoms emanating from a large stylised flower, backed by red fabric. The movement is flanked by scrolling motifs with gadrooning and flower and leaf swags that descend toward four curved feet that are adorned with wide scrolling foliage; they rest upon spheres with square platforms. A magnificent female mask, with a shell coiffure and tresses tied under her chin, is placed above a three-lobed motif; it is set against a latticework and flower background that is backed by red fabric.
The bracket, with a shaped moulded platform, is decorated in "première partie" or "deuxième partie" Boulle marquetry of brass and tortoiseshell, featuring a basketwork pattern centred by four-leafed clovers, and a medallion adorned with leaf, flower, and geometrical motifs. The whole is elaborately decorated, with finely chased bronze mounts featuring scrolling and scalloped motifs centred by cabochons, upon which are set two cockerels with spread wings and finely chased plumes, along with a bearded satyr mask with an elaborate headdress that is adorned with scrolling acanthus leaves and a sunburst element, centred by a spiralling rosette that terminates in a shell and volute motif.
Discover our entire collection of antique cartel clocks for sale online or at the gallery.
In the mid-1730's, Charles Cressent created a particularly beautiful type of cartel that was to achieve great success. Its design featured feet made up of palm leaves and flowers and a female mask coiffed with a seashell, flanked by pierced latticework. Alexandre Pradère, an authority on Cressent's work, calls it "premier modèle", or "first model". The cabinetmaker/sculptor would later work in a rococo vein called "second modèle", which was produced several decades later by the Saint-Germains (see Charles Cressent, sculpteur, ébéniste du Régent, Dijon, 2003, p. 176-183). The "premier modèle" – which we will examine here, since it is similar to the present cartel – became an immediate success among contemporary connoisseurs. Cressent produced several variations of it, associating it with supporting brackets, of which he made three main types. The first type features a lion emerging from stylised motifs; this model appears to be stylistically the oldest. Today four examples of this type are known; one is in the Paris Musée des Arts décoratifs (illustrated in H. Ottomeyer and P. Pröschel, Vergoldete Bronzen, Die Bronzearbeiten des Spätbarock und Klassizismus, Band I, Munich, 1986, p. 79, fig. 1.12.6); a second example is in the Louvre Museum (see D. Alcouffe, A. Dion-Tenenbaum and G. Mabille, Les bronzes d'ameublement du Louvre, Dijon, p. 68, catalogue n° 29). A variation of this bracket, in which the cockerel is replaced by a lion, is also known (see T. Dell, "The gilt bronze cartel clocks of Charles Cressent", in Burlington Magazine, April 1967, p. 213, fig. 36).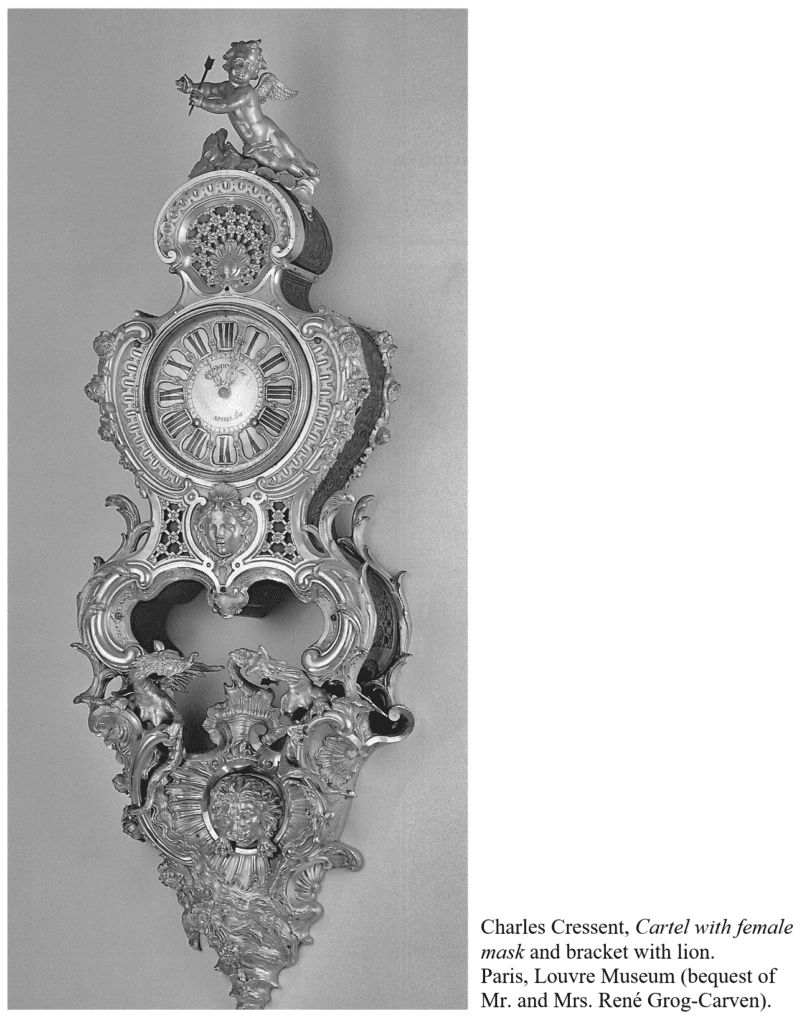 The second type of bracket is centred by a head of Boreas blowing on feathers. One example of this model is known, with a movement signed "Etienne Lenoir"; it was formerly in the collection of the Farmer General Marin de la Haye, and is now in the Musée Condé in Chantilly (illustrated in Anne Forray-Carlier, Le mobilier du château de Chantilly, Editions Faton, Dijon, 2010, p. 49, catalogue n° 7). A second example was sold in and 1975 auction held at the Musée national du château de Versailles (illustrated in Pierre Verlet, Les bronzes dorés français du XVIIIe siècle, Paris, 1999, p. 283, fig. 315); this may be the clock that was delivered to Versailles in February 1745 by the clockmaker Jean-Baptiste Baillon for the chambers of the French Dauphin's wife, the Infante Marie-Thérèse-Raphaëlle d'Espagne. It was described as follows in the Journal du Garde-meuble de la Couronne: "N° 42. A fine gilt bronze ormolu clock by Jean-Baptiste Baillon, whose dial is of enamel and the hands of gilt bronze, borne by two brackets accompanied by palm leaves, in the midst of which there is a female mask: on the sides there are mosaic ornaments and two flower bouquets: the upper portion terminates in a cupid holding a sickle: the foot is made of gilt bronze, adorned with rocailles, flowers, feathers, two dragons and a Boreas head, 4 feet tall including the base, by 14 inches wide" (Archives Nationales, Maison du Roi, Série O/1/3313, folio 172).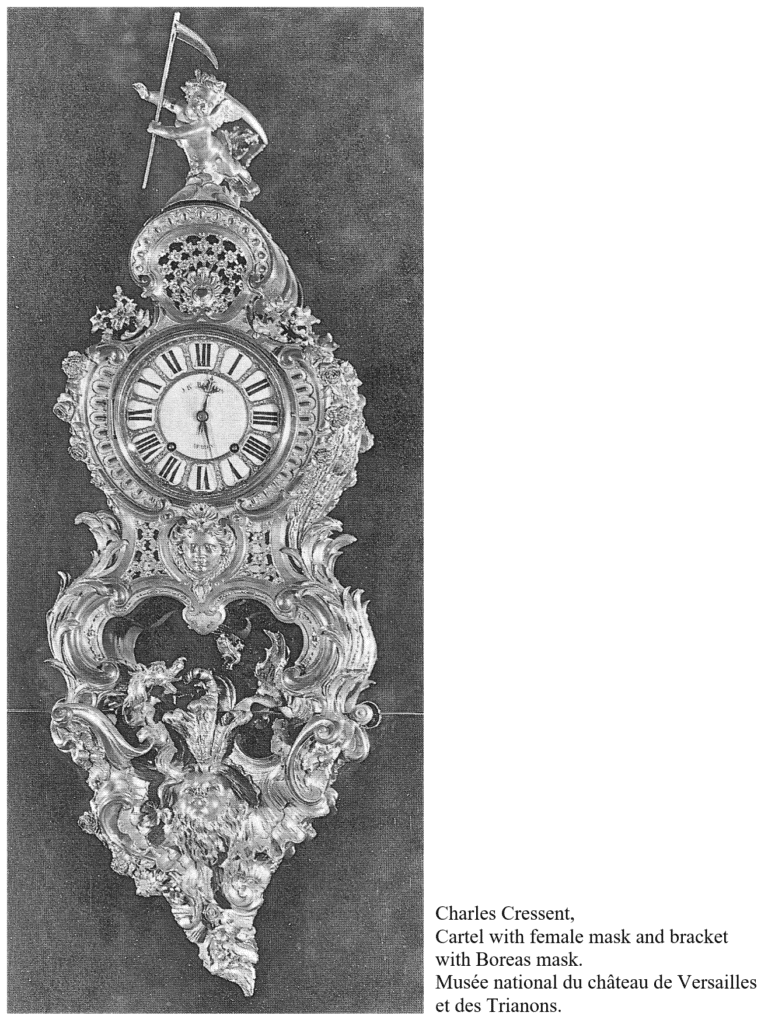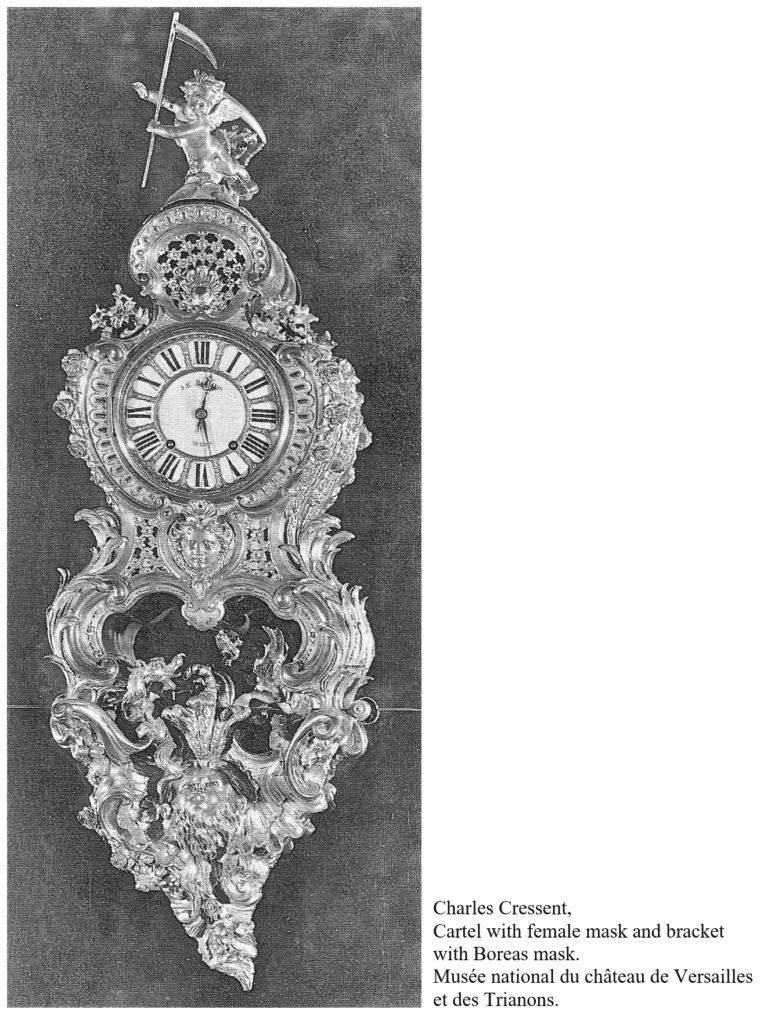 The third type of bracket is that of the present model. It is quite rare; only two other examples are known. The first of these, at present lacking its clock and bearded satyr mask, is in the Paris Musée des arts décoratifs (Larcade bequest, 1938, illustrated in Alexandre Pradère, Charles Cressent, sculpteur, ébéniste du Régent, Editions Faton, Dijon, 2003, p. 180, catalogue n° 202B). The second example, originally belonging to the Groves Foundation, is in the Minneapolis Institute of Art; it differs from the present model in the treatment of the surmounting figure and the base (shown in J-D. Augarde, "Jean-Joseph de Saint-Germain bronzier (1719-1791), Inédits sur sa vie et son œuvre", in L'Estampille/L'Objet d'art, n° 308, December 1996, p. 69, fig. 9).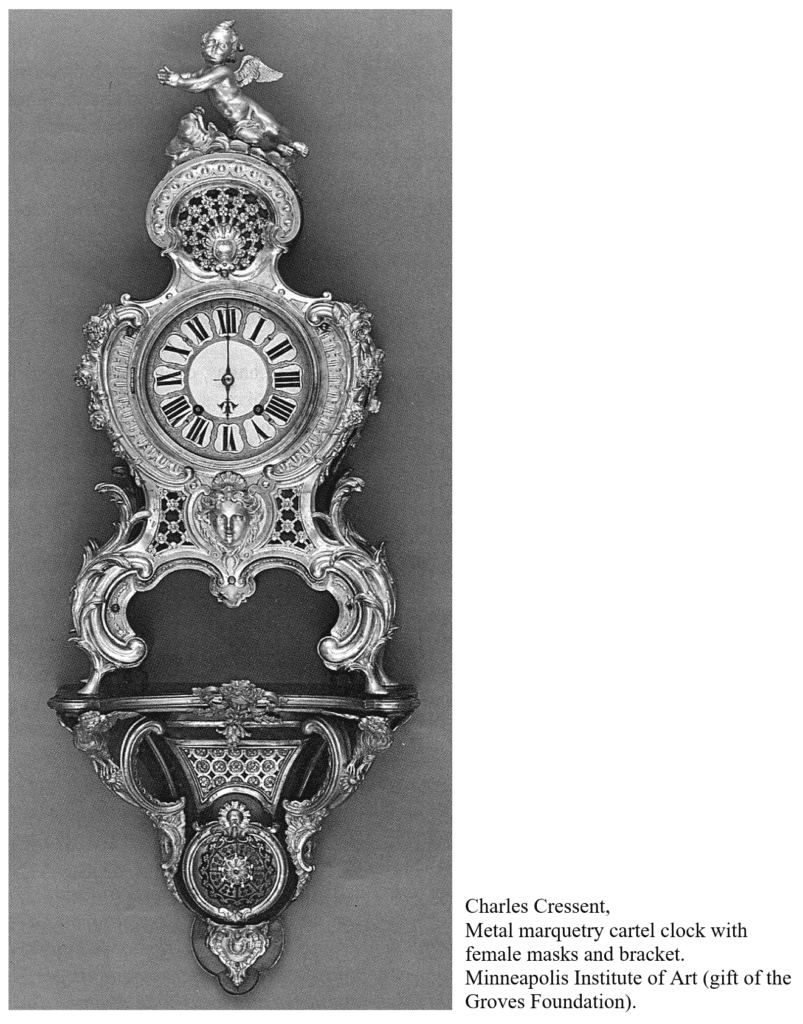 Pierre II Le Roy (1687 - 1762)

Pierre II Leroy ou Le Roy came from one of the most important French horological dynasties, active throughout the 18th century and the early decades of the 19th century. The son of Pierre Julien Le Roy, master clockmaker in Tours, he began his training with his brother Julien II Le Roy (1686-1759) in their father's workshop, then settled in Paris in 1710. There he was a compagnon and ouvrier libre. He became a master on October 30, 1721 by the decree of 1721, which exempted him from apprenticeship. His career truly began when he opened a workshop in the Cour de Lamoignon.
He quickly gained the attention of contemporary connoisseurs and was soon obliged to move to larger premises.  In 1738 he moved to the Place Dauphine, in 1757 to the rue Dauphine, and in 1762 to the rue de Hurepoix. An active member of the Société des Arts, he was well known and much admired in his guild, acting as Garde-visiteur from 1744 to 1748. He worked to perfect the movements of timekeepers, presenting several inventions to the Académie des Sciences. Among these were a clock made in 1728 showing true time, with an equation circle.
Like other important Parisian artisans of the time, Pierre II Le Roy chose the best cabinetmakers and bronziers for his cases, often working with the Caffieris, Jean Goyer, Joseph de Saint-Germain and Charles Cressent, all of whom count among the most talented furniture makers and bronziers of the day. Having become a Fournisseur du Garde-meuble de la Couronne through the influence of marchand-mercier Thomas-Joachim Hébert, he gained an aristocratic clientele that included the Prince de Condé, the Marshal de Richelieu and the Duchesses d'Halincourt and du Maine, as well as important bankers and financiers such as Grimod du Fort, Bouret de Valroche and Gaignat, the Court banker Nicolas Beaujon and Madame Paris de Montmartel. Today his pieces may be seen in the most important private and public collections around the world; among these, the Residenz in Munich, the Royal Spanish collections "Patrimonio Nacional" and the Louvre Museum in Paris.
Charles Cressent (1685 - 1768)

Charles Cressent is one of the most important Parisian cabinetmakers of the 18th century, and probably the most famous furniture maker working in the Regence style, which inspired his furniture and sculpture throughout his career. The son of a sculptor to the king, he studied sculpture in Amiens, where his grandfather resided – his grandfather was himself a sculptor and furniture maker. He initially trained as a sculptor and became a member of the Académie de Saint Luc in 1714, presenting a piece in that category. He then settled in Paris and began to work for several of his colleagues, and married the widow of cabinetmaker Joseph Poitou, formerly the cabinetmaker to Duke Philippe d'Orléans, then the Regent. By dint of this marriage, he became head of the workshop and continued its activities so successfully that he, in turn, became the official supplier to the Regent, and upon the Regent's death in 1723, his son Louis d'Orléans continued to give commissions, thus insuring Cressent's continued prosperity during those years. His fame quickly spread beyond the kingdom's frontiers, as several European princes and kings commissioned pieces from Cressent, among them King John V of Portugal and Elector Charles Albert of Bavaria. In France, he had a private clientele that included members of the aristocracy such as the Duke de Richelieu and important collectors, such as the influential Treasurer General of the Navy Marcellin de Selle. Throughout his career, Cressent created his own bronze mounts that were cast in his workshop, which was against the rules of the bronze casters' guild, as did André-Charles Boulle. This gave his work a great deal of homogeneity and highlighted his extraordinary talents as a sculptor.
Photo gallery