Rare Violet Wood Veneered and Gilt Bronze Wall Cartel with Pull Repeat and Bracket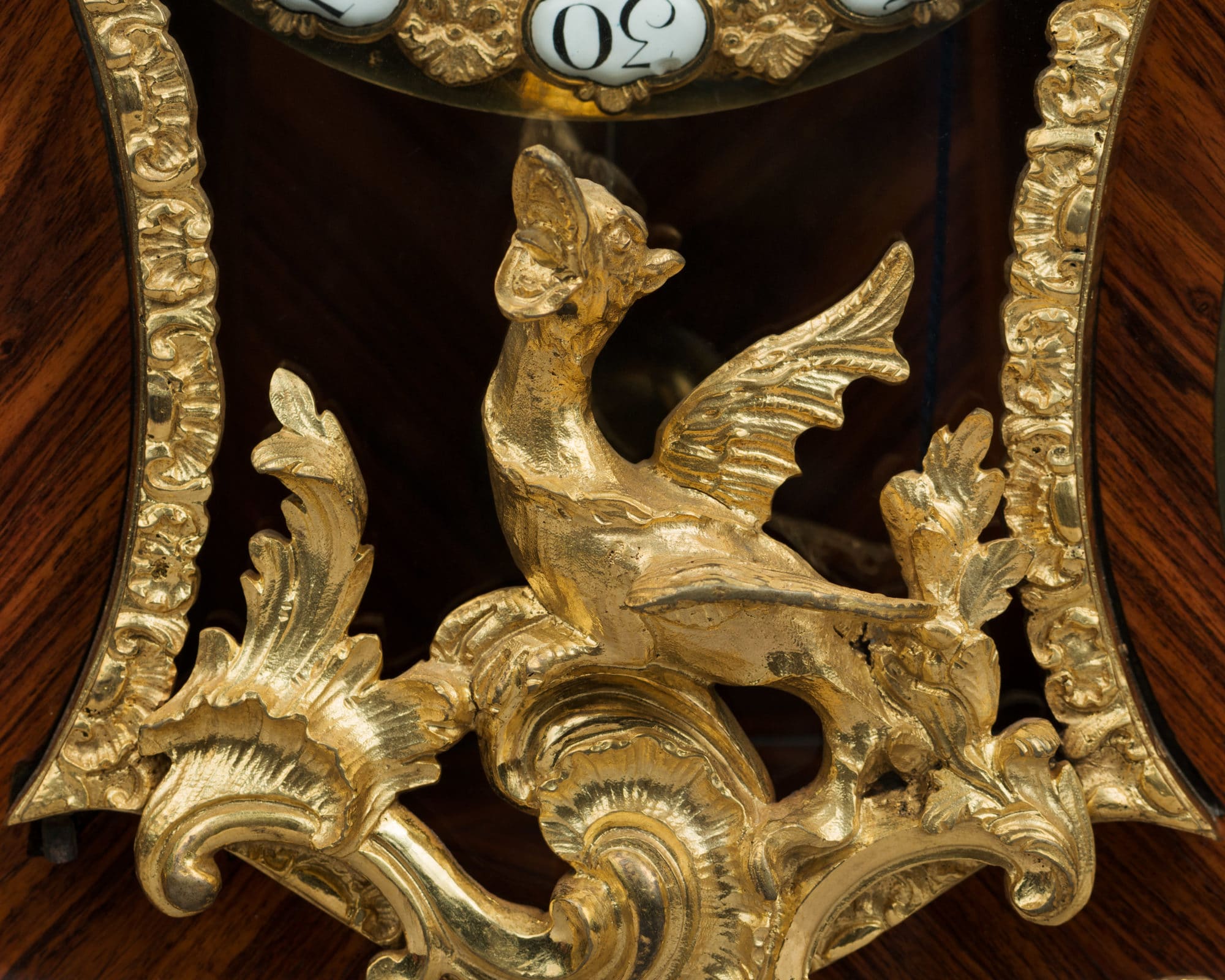 Case by Adrien Dubois
Paris, Louis XV period, circa 1750
The bracket bears the barely legible stamp "A DUBOIS"
Bracket :
Height
20.5
Width
30.5
Depth
14.5
Maximum dimensions :
Height
78.5
Width
30.5
Depth
14.5
The round copper dial with twenty-five enamel cartouches indicates the Roman numeral hours and the Arabic five-minute intervals by means of two blued steel hands; its center is signed "Gudin à Paris". The movement, also signed "Gudin à Paris" on the plate, is fitted in a waisted case with diamond-matched violet wood veneering, within frames of the same wood. The clock and bracket are elaborately adorned with Rococo bronze mounts that are finely chased and gilded. The clock is surmounted by a Chinaman holding an umbrella and is adorned with stylized shells, C-scrolls and volutes, a dragon with outstretched wings on the glazed doors, and feet decorated with cartouches, scrolls and volutes. The bracket is adorned with acanthus leaves and a large finial embellished with an asymmetrical Rococo cartouche.
Discover our entire collection of antique cartel clocks for sale online or at the gallery.
The unusual design of this magnificent cartel, particularly the Oriental figure at the top of the clock, is one of the most beautiful Parisian creations of the mid 18th century. Objets d'art whose décor was inspired by Chinese or Japanese motifs and figures are today called "Chinoiseries". In addition, it bears the stamp of Adrien Dubois, a Parisian cabinetmaker who specialized in making clock and regulator cases in the mid 18th century. Today only a few similar cartels are known to exist. Among them, one example in "Boulle" metal marquetry, whose dial is signed Etienne Lenoir à Paris, is illustrated in R. Mühe and Horand M. Vogel, Horloges anciennes, Manuel des horloges de table, des horloges murales et des pendules de parquet européennes, Fribourg, 1978, p. 103, fig. 122. A second model is pictured in Tardy, La pendule française, Ier partie: De l'horloger gothique à la pendule Louis XV, Paris, p.162.
Jacques-Jérôme Gudin

The son of clockmaker Jacques Gudin, known as "Gudin the elder", was one of the most important Parisian horologers of the reign of Louis XV. In 1750, after becoming a master clockmaker, he opened a workshop in the quai des orfèvres, which remained active from 1769 to 1784 (see Tardy, Dictionnaire des horlogers français, Paris, 1971). He quickly gained renown among influential Parisian collectors of the time and soon began working for Lazare Duvaux, the marchand-mercier-jeweler of Louis XV and his favorite the Marquise de Pompadour. In parallel, the clockmaker gained a wealthy private clientele; certain of his clocks are mentioned during the 18th century in the probate inventories of Louis, Prince de Bauffremont, the wife of Charles Jean-Baptiste Dutillet, Marquis de Villarceaux, and Anne-Nicolas-Robert de Caze, the former fermier-général of the king.
Adrien Dubois

Adrien Dubois became a master cabinetmaker on January 14, 1741.
Photo gallery