Pierre-Philippe Thomire
(1757-1843)
Important and Rare Matte and Burnished and Patinated Gilt Bronze Mantel Clock based on the Novel "Paul et Virginie"
"The Triumph of Virtue and Innocence"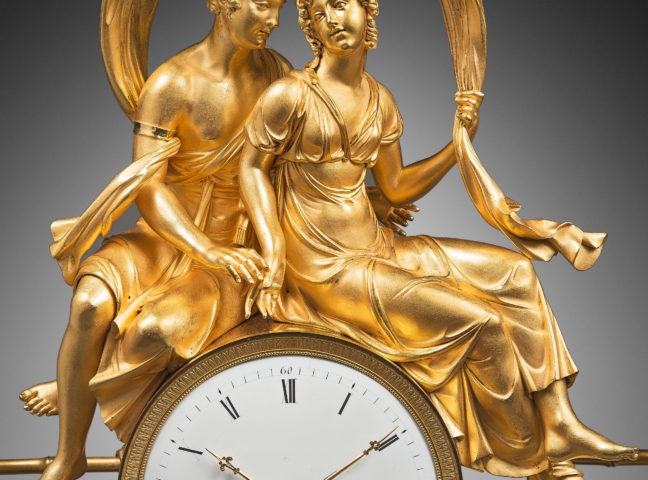 "Levol à Paris"
The Case Attributed to Pierre-Philippe Thomire
Paris, Consulate period, circa 1800
Height
66
Width
65.3
Depth
15.8
The round white enamel dial, signed "Levol à Paris", indicates the Roman numeral hours and the Arabic fifteen-minute intervals by means of two pierced gilt bronze hands. It is housed in a magnificent neoclassical case featuring finely sculpted and chased figures made of patinated bronze and gilt bronze with matte and burnished finishing. The hour and half-hour striking movement is housed in a drum case whose bezel is adorned with bead friezes and alternating water leaf and reed friezes, surmounting a drapery with delicate rope fringe decorated with a latticework band. That case supports a magnificent sculptural group depicting two figures seated side by side: a young man and a young woman, the latter holding in her left hand a drapery that floats over their heads. This refers to an episode from the novel "Paul et Virginie" in which Virginie, having been caught in a sudden shower, uses a part of her dress to shield herself from the rain, raising it above her head and thereby also protecting Paul, who was with her. The figures' attitudes and their way of looking at each other betray great affection. The group rests on a palanquin with stretchers in imitation bamboo, which are carried by two finely sculpted black men dressed in loincloths with a burnished and matte border. On the terrace stands a dog that raises its right front foot. The quadrangular base with slightly protruding corners is decorated with applied palm tree motifs; the façade is adorned with a reserve panel depicting a scene that takes place within a landscape, which relates to the adolescence of the two young people. The clock is raised upon four feet that are adorned with leaf friezes.
Black figures were rarely used in French and European decorative horology before the late 18th century. It was not until the end of the Ancien Régime – precisely, the final decade of the 18th century and the early years of the following one – that the first clocks called "au nègre" or "au sauvage" appeared. That fashion resulted from a specific social and romantic context. In the late 18th century, writings such as those of Jean-Jacques Rousseau exalted the moral virtues of a return to nature, through the idea of the "noble savage". The interest in exoticism was encouraged by contemporary literature. The great success of  "Paul et Virginie", written by Bernardin de Saint-Pierre in 1788, an echo of the famous "Robinson Crusoe" by Daniel Defoe, the novel "Les Incas" by Marmontel, which had been published during the American Revolution, and "Atala" written by Chateaubriand in 1801, profoundly changed Europeans' attitudes to other civilizations, plunging the Old World into a current of romantic nostalgia linked to the idea of a quest for a Pagan paradise, which would be given new life by Christianity. As has often been the case in the French decorative arts, these new ideas manifested themselves in artistic creations, often in the fields of horology and lighting. The present clock was created within that particular context. Its particularly elaborate design and the exceptional quality of its chasing and gilding, and the patina of the two young black men, are evidence that the bronzier was one of the finest then working in Paris; it must therefore be attributed to Pierre-Philippe Thomire.
The composition was inspired by a less elaborate horological model depicting a sculptural group in which Paul and Virginie are carried on a stretcher held by two young black women. One such clock is in the Musée Duesberg in Mons (illustrated in the exhibition catalogue "De Noir et d'Or, Pendules 'au bon sauvage'", Musées Royaux d'Art et d'Histoire, Brussels, 1993). A second example is illustrated in P. Kjellberg, Encyclopédie de la pendule française du Moyen Age à nos jours, Paris, 1997, p. 344. One further such clock is illustrated in H. Ottomeyer and P. Pröschel, Vergoldete Bronzen, Die Bronzearbeiten des Spätbarock und Klassizismus, Band I, Munich, 1986, p. 379, fig. 5.15.20; that clock has been attributed to the Parisian bronzier Louis-Isidore Choiselat, known as Choiselat-Gallien (1784-1853). One of the finest bronze casters in Paris, Choiselat was a rival of Pierre-Philippe Thomire.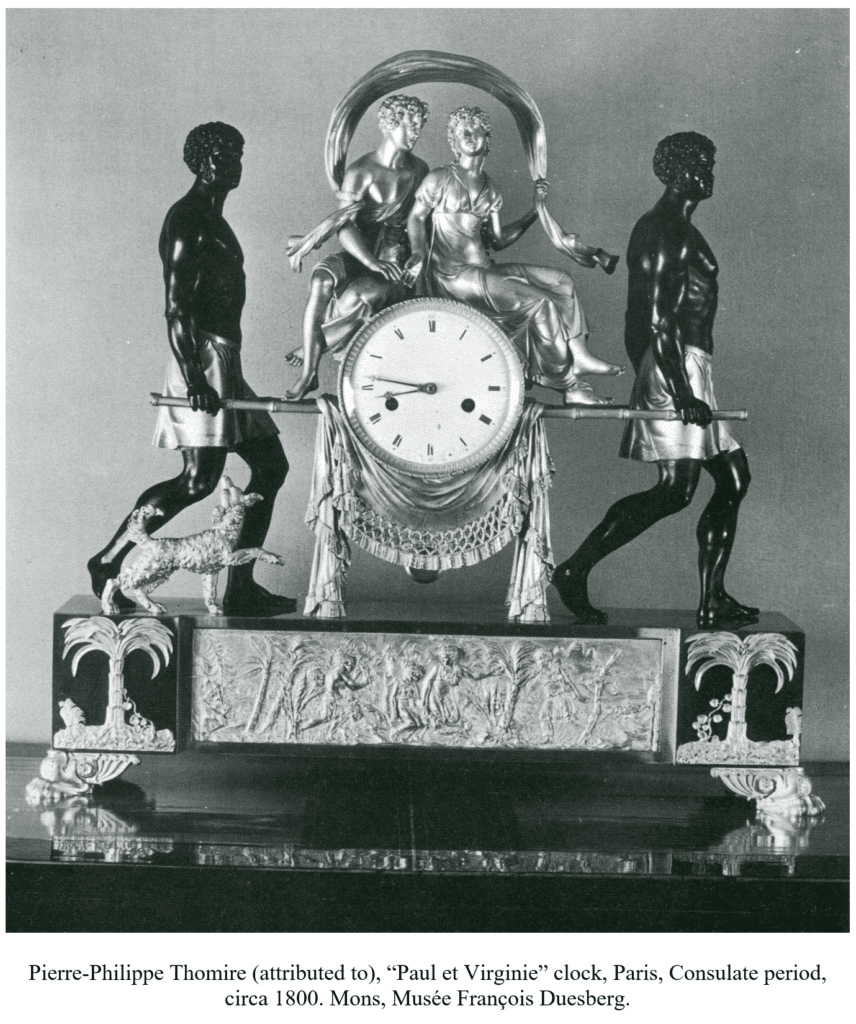 Contemporary with the "aux porteuses" clocks, "aux porteurs noirs" clocks were much more elaborate and spectacular, due to their much larger size, as well as to their very unusual and perfectly balanced composition and the exceptional quality of their chasing and gilding. This model is also extremely rare; among the very small number of identical examples known, one that is attributed to Pierre-Philippe Thomire is today in the Musée François Duesberg in Mons (illustrated in Musée François Duesberg, Arts décoratifs 1775-1825, Brussels, 2004, p. 66). Tradition has it that the clock in the Musée Duesberg was ordered from Thomire in 1802 by the future Emperor Napoleon I, who intended to give it to Bernardin de Saint-Pierre. Napoleon, who admired the writer's work, had particularly liked his novel "Paul et Virginie".
Pierre-Philippe Thomire (1757 - 1843)

Pierre-Philippe Thomire was the most important Parisian bronzier of the last quarter of the 18th century and the first decades of the following century. Early on in his career he worked for Pierre Gouthière, ciseleur-fondeur du roi, and toward the mid-1770's began working with Louis Prieur. He later became one of the bronziers attached to the Manufacture Royale de Sèvres, creating the bronze mounts for most of the important creations of the day. After the Revolution, he purchased the stock of Martin-Eloi Lignereux, thus becoming the most important suppliers of furniture bronzes for châteaux and Imperial Palaces. In addition, he worked for a wealthy private clientele, both French and foreign, including several of Napoleon's Marshals. Thomire retired in 1823.
Photo gallery