Jean-François Denière
(1774-1866)
A Rare Cartel in the Form of a Picture in Gilt Bronze with Matte and Burnished Finishing, Molded, Sculpted, and Gilt Wood or Stucco and Green Marble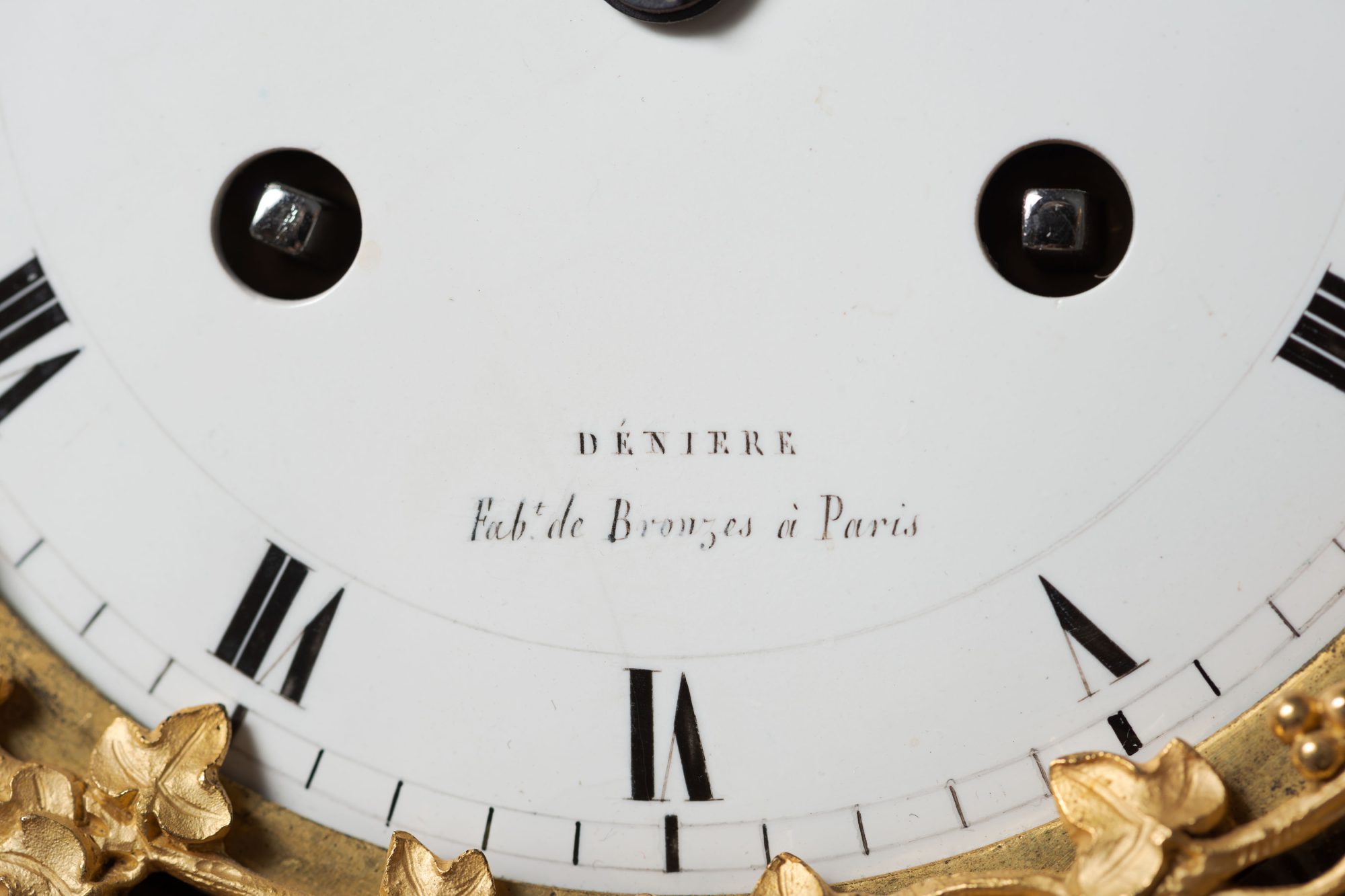 Dial signed by the bronze-caster Denière
Paris, Empire period, circa 1810
Height
43.2 cm
Width
55.3 cm
Depth
14 cm
The round white enamel dial, signed "Denière Fabt de Bronzes à Paris", indicates the Roman numeral hours and the outermost minutes. The hour and half-hour striking movement is housed in a picture-form case; it is made entirely of finely chased gilt bronze with matte and burnished finishing on a green marble panel. The dial is framed by a frieze of ivy leaves and is flanked by two terms on tapering pedestals that are surmounted by male busts inspired by classical theatre masks, whose faces are adorned with thyrsi embellished with eagles with outstretched wings, around which are entwined leafy garlands. The two terms are linked by a flower garland that is decorated with zigzag bracelets. In the lower portion, they rest on an entablature decorated with five applied stars surmounted by an allegorical figure representing the seated figure of History or Fame, who is dressed in classical robes and is writing on tablet with a stylus. The whole is set on a rectangular green marble panel that is surrounded by a quadrangular wood or stucco frame that is molded, sculpted, and gilt, with a frieze of alternating palmettes and flowers, with concave molding highlighted by a waterleaf frieze.
Discover our entire collection of antique cartel clocks for sale online or at the gallery.
Wall cartels were particularly appreciated throughout the 18th century. They became relatively rare during the Empire period, since clocks featuring subjects inspired by classical Roman mythology were popular due to the policies of Emperor Napoleon, who wanted to recreate the frontiers of the Roman Empire. Thus, during the first two decades of the 19th century, while all cartels were not made on commission, most models were produced in small numbers or were one-of-a kind pieces, as is certainly the case for the present rare cartel. Today, among the comparable models from the same period, one gilt bronze example whose lyre-form design surmounted by a bust of Apollo is illustrated in P. Kjellberg, Encyclopédie de la pendule française du Moyen Age au XXe siècle, Les éditions de l'Amateur, Paris, 1997, p. 379. Lepaute delivered a second example in the form of a shield in 1810 to the Topographic Cabinet of the Grand Trianon (see D. Ledoux-Lebard, Le Grand Trianon, Meubles et objets d'art, Editions de Nobele, Paris, 1975, p. 137). One further oval-shaped cartel with a decoration of elaborate bronze motifs against a mahogany ground is illustrated in G. and A. Wannenes, Les plus belles pendules françaises de Louis XIV à l'Empire, Editions Polistampa, Florence, 2013, p. 370.
Jean-François Denière (1774 - 1866)

The signatures "Denière" or "Denière Fabt de Bronzes à Paris" are that of Jean-François Denière (1774-1866), one of the most important Parisian bronze casters of the late 18th century and the early decades of the following century. In just a few years he became one of the most important suppliers of bronze furnishings, working for the imperial Garde-Meuble; in addition, he developed a wealthy private clientele. Until 1820 he was in partnership with François-Thomas Matelin, which led him to take part in the decoration of most of the imperial palaces and châteaux, delivering bronze furnishings and clocks, through the intermediary of several of their fellow bronze casters.