Rare Pair of Matte and Burnished Gilt Bronze Three-Light "Egyptian Head" Candelabra with Removable Arms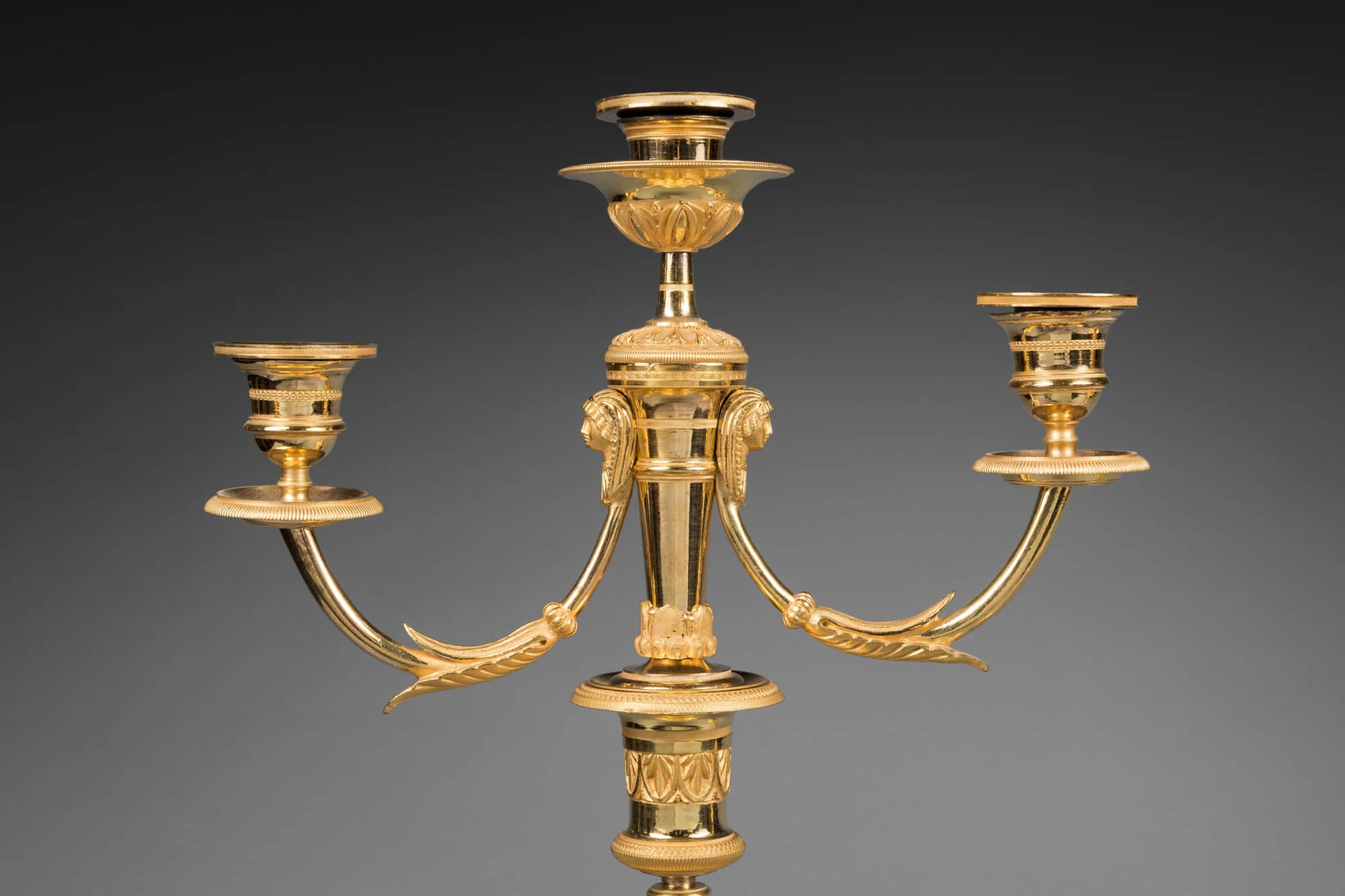 Attributed to Claude Galle
Paris, Empire period, circa 1805-1810
Made entirely of very finely chased burnished and matte gilt bronze, the candelabra feature a tapering stem that is adorned with knops and striated rings and three heads of Egyptian women wearing nemes head-dresses, separated by stars. They rest on circular bases decorated with stylized foliage alternating with flowers. The stems support nozzles with engine-turned friezes framing a band of leaves. They support the three light arms, each of which is composed of two curving branches and a central candleholder, with drip pans, nozzles and candleholders with mille-raie, gadrooning, bead, and interlace motifs.
This eighteenth century set of candelabras with removable light arms, is one of the most impressive Parisian lighting instruments of the Empire period. Its decoration, and in particular the Egyptian female heads, demonstrates the influence of the Parisian designers and decorators who worked during the early part of the nineteenth century, after the campaign in Egypt (1798-1801). That military campaign led by Napoleon gave rise to a new trend: Egyptomania – the fascination with the culture, history, and arts of ancient Egypt – which greatly influenced the French decorative arts of the period (see the exhibition catalogue Egyptomania, L'Egypte dans l'art occidental 1730-1930, Paris, Musée du Louvre, January 20 – April 18, 1994). Today, only a very small number of candelabra with removable light arms are known. One example in silvered copper is in the collection of the Château de Pau (see L. de Groër, Les arts décoratifs de 1790 à 1850, Office du Livre, Fribourg, 1985, p. 270, fig. 513). A second pair, probably delivered as a set of four in 1805 by the bronzier Claude Galle, which was destined for the Salle des buffets of the Grand Trianon, is still in the Grand Trianon, in the gardens of the Château de Versailles (see D. Ledoux-Lebard, Inventaire général du Musée national de Versailles et des Trianons, Tome 1, Le Grand Trianon, Meubles et objets d'art, Editions F. de Nobele, Paris, 1975, p. 198).
Claude Galle (1759 - 1815)

One of the foremost bronziers and fondeur-ciseleurs of the late Louis XVI and Empire periods, Claude Galle was born at Villepreux near Versailles. He served his apprenticeship in Paris under the fondeur Pierre Foy, and in 1784 married Foy's daughter. In 1786 he became a maitre-fondeur. After the death of  his father-in-law in 1788, Galle took over his workshop, soon turning it into one the finest, and employing approximately 400 craftsmen. Galle moved to Quai de la Monnaie (later Quai de l'Unité), and then in 1805 to 60 Rue Vivienne.
The Garde-Meuble de la Couronne, under the direction of sculptor Jean Hauré from 1786-88, entrusted him with many commissions. Galle collaborated with many excellent artisans, including Pierre-Philippe Thomire, and furnished the majority of the furnishing bronzes for the Château de Fontainebleau during the Empire. He received many other Imperial commissions, among them light fittings, figural clock cases, and vases for the palaces of Saint-Cloud, the Trianons, the Tuileries, Compiègne, and Rambouillet. He supplied several Italian palaces, such as Monte Cavallo, Rome and Stupinigi near Turin.
In spite of his success, and due in part to his generous and lavish lifestyle, as well as to the failure of certain of his clients (such as the Prince Joseph Bonaparte) to pay what they owed, Galle often found himself in financial difficulty. Galle's business was continued by his son after his death by his son, Gérard-Jean Galle (1788-1846). Today his work may be found in the world's most important museums and collections, those mentioned above, as well as the Musée National du Château de Malmaison, the Musée Marmottan in Paris, the Museo de Reloges at Jerez de la Frontera, the Residenz in Munich, and the Victoria and Albert Museum in London.
Photo gallery