Rare Pair of Two-Light Gilt Bronze Candelabra with Knurled, Patinated, Matte and Burnished Finishing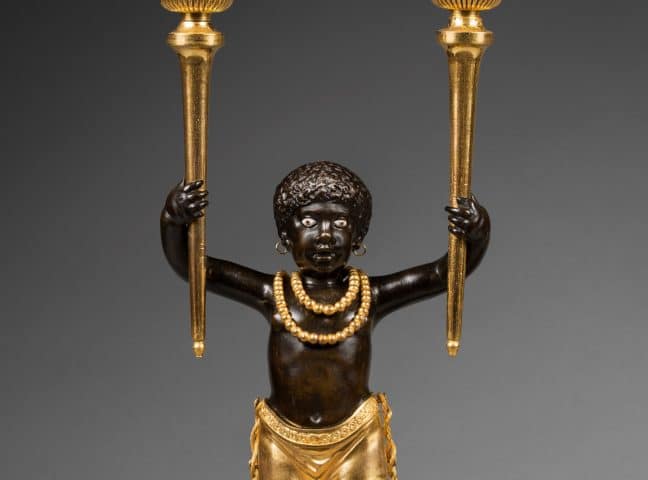 Paris, Consulate period, circa 1800
The candelabra feature an anthropomorphic stem in the form of a young Black boy with enameled face and eyes. The boys are wearing earrings and a double row of pearls around their necks, as well as a loincloth with pierced latticework trimming that is held in place by cords. In either hand they hold light arms in the form of tapering torches that terminate in gadrooned basins with drip pans whose rims are knurled. The figures stand on tall cylindrical bases with mille-raie decorated bands and concave molding; the bases are supported on circular plinths that are raised on three small lions' paw feet.
It was not until the late 18th century that "exotic" figures became a common decorative theme for works of decorative art in France and Europe. Toward the end of the Ancien Régime –more precisely during the final decade of the 18th century and the early years of the following century –  the first models of candlesticks, candelabra and clocks known as "au nègre" or "au sauvage" appeared. They echoed the new philosophy that informed some of the most famous literary and historical works of the day, including Paul et Virginie by Bernardin de Saint-Pierre (published in 1787, it speaks of the innocence of Man), Atala by Chateaubriand, which restores the Christian ideal, and Robinson Crusoe, the masterpiece that Daniel Defoe published in 1719. As was often the case, these literary works were a rich source of inspiration for the artisans of the period, and particularly for bronze casters. This resulted in many elegant works featuring similar figures; they inspired numerous models of lighting instruments and clocks. By the end of the 18th century, certain models were found in the homes of important collectors of the time – for example, in 1789 in the home of the lawyer André-Marie Alix, in 1790 in the home of Marie-Victoire de Saint-Simon, and in 1808 in the home of François-Joseph Lelièvre de Lagrange.
This was the context within which the present pair of candelabra was made. Today only a small number of similar models are known; they sometimes feature variations in the treatment of the bases. Among them, one pair, in which the figures are wearing feather headdresses, was sold by Christie's, Monaco, on December 5, 1992, lot 87. A second example was formerly in the collection of Baron Erich von Goldschmidt-Rothschild (sold in Geneva, Habsburg-Feldman, May 10, 1988, lot 127). Two further pairs of comparable candelabra are in the Musée François Duesberg in Mons (illustrated in Musée François Duesberg, Arts décoratifs 1775-1825, Bruxelles, 1998, p. 60-61).
Photo gallery