François Vion
(circa 1737-after 1790)
Rare Gilt and Silvered Bronze and Hematite Mantel Clock
"The Peaceful Lion"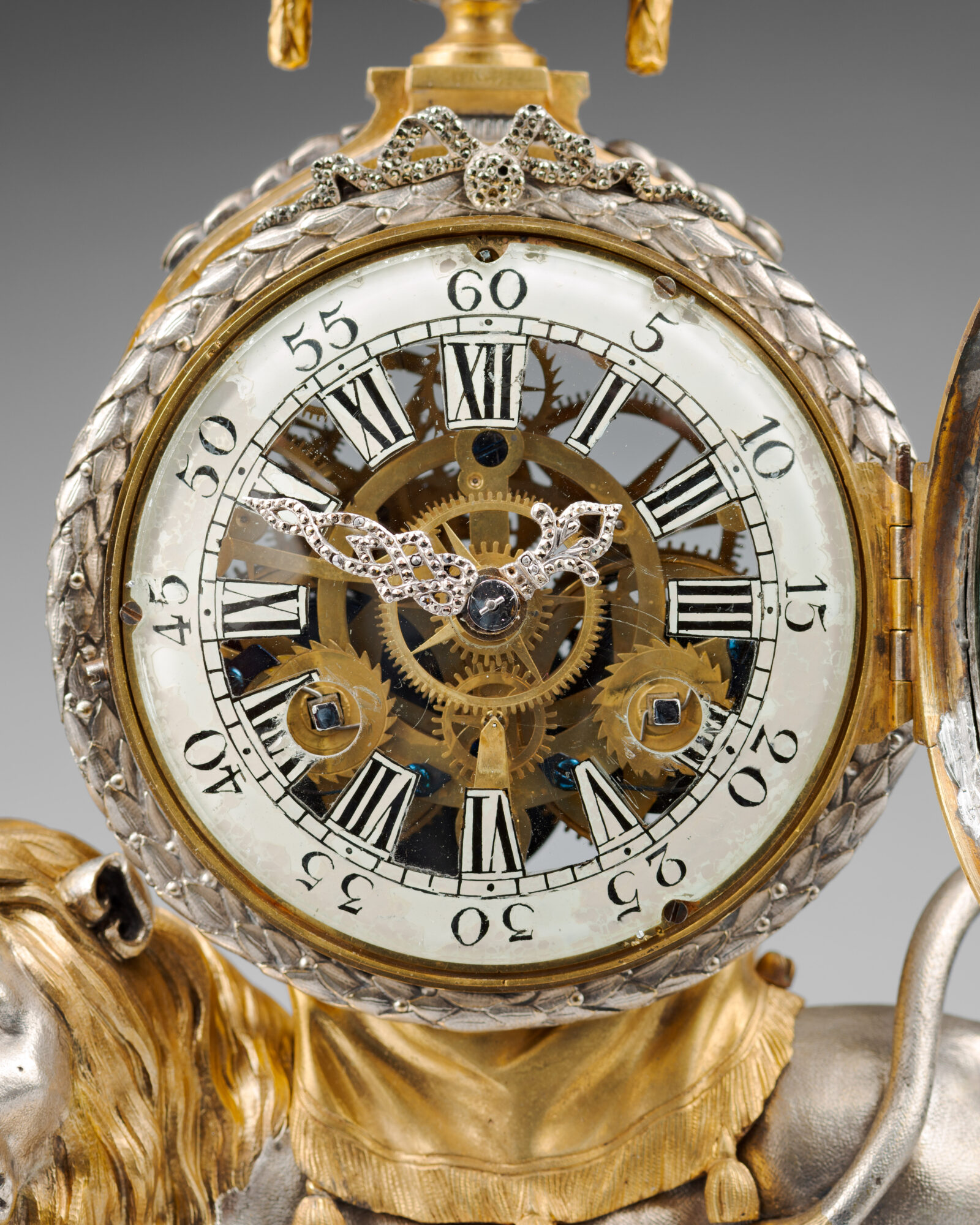 The Case Attributed to François Vion
Paris, Transition period Louis XV-Louis XVI, circa 1770
Height
32 cm
Width
17 cm
Depth
9 cm
The rare enamelled glass dial indicates the Roman numeral hours and the Arabic numeral five-minute intervals by means of two pierced hands. The hour and half-hour striking "Skeleton" movement is housed in a finely chased gilt and silvered bronze case that is lavishly adorned with faceted hematites. The clock is surmounted by a classical urn with Greek-style handles through which a laurel garland is threaded; the urn has a seed finial emerging from a leafy bouquet. The drum case, which is adorned with a bow and a laurel swag, is supported on the back of a magnificent lion, which is depicted in a tranquil pose with its tail curving downward and a finely chased mane. It looks toward the viewer and stands on a checkerboard-patterned terrace that is centered by a medallion with radiating leaves. The terrace forms the top of the architectural base, which is quadrangular in shape, with protruding corners decorated with triple fluting and triglyphs. It features a plain convex groove and is adorned with interlace friezes centered by pearls and laurel garlands. The clock stands on four flattened ball feet.
Discover our entire collection of rare antique clocks online or at the gallery.
Animal-themed clocks truly appeared during the reign of Louis XV and grew to be quite popular during the second half of the 18th century, when neoclassicism became the dominant style in the French decorative arts, particularly in Paris. The present clock stands out due to its remarkable composition, the quality of its chasing and gilding/silvering, as well as for its hematite decoration, and lastly due to our knowledge of the existence of a commercial or preparatory sketch done before the piece went into production.  That drawing is today in the Institut national d'Histoire de l'Art in Paris (drawing number 22, part of an album of bronzier François Vion). This allows us to confidently attribute the model to Vion (see H. Ottomeyer and P. Pröschel, Vergoldete Bronzen, Die Bronzearbeiten des Spätbarock und Klassizismus, Munich, 1986, Band I, p. 193, fig. 3.11.6).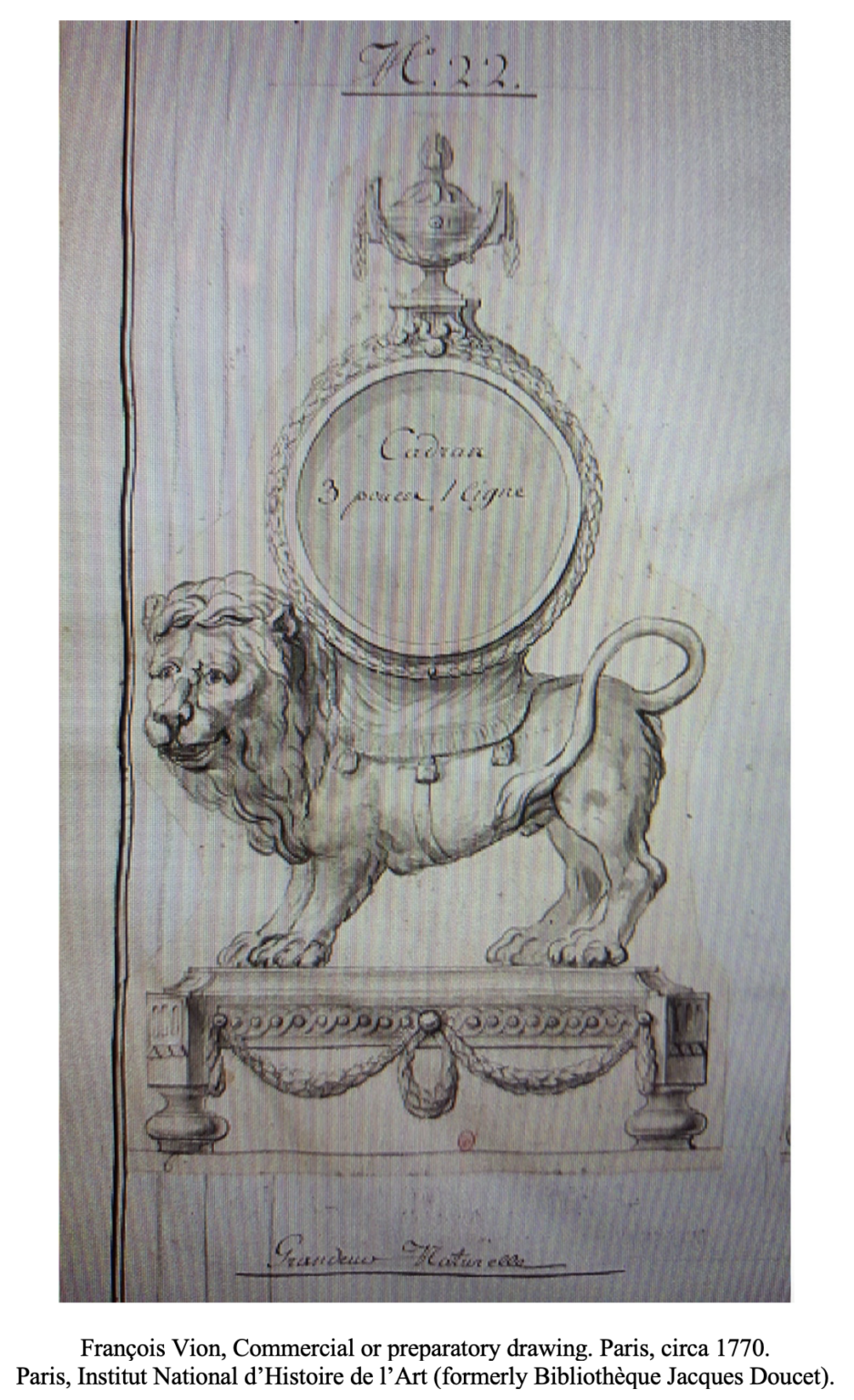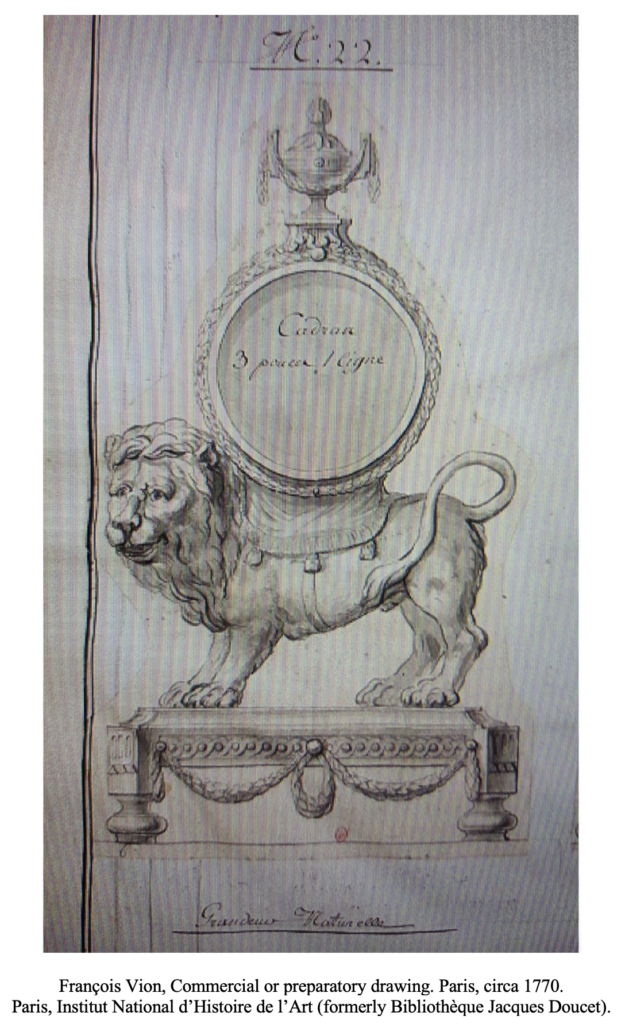 As of the 18th century, a few rare examples of this model are mentioned as belonging to important Parisian collectors of the time, as for example  "…a clock with an enamel dial displaying the hours and minutes, with striking, in a gilt and colored copper case that is adorned with marcasites, mounted on a lion with a base of gilt and silvered copper…" that was described in the late 18th century as being in the home of one of the members of the Giambone family. A "clock made by Gille, in Paris; the case in the form of a drum, borne by a lion: the whole in very well gilt bronze; the dial's bezel decorated with marcasites, and a small vase surmounting the clock; the striking movement, 8-day going" was offered at the sale of Duke Charles de Lorraine in May 1781. Lastly, in the late 19th century a "small clock from the time of Louis XVI, in gilt bronze and green patinated bronze, with movement visible through a glass dial, bearing the name of Lepaute, in Paris. The dial, whose hands and bezel are embellished with marcasites, is fitted in a drum case surmounted by a cassolette and supported by a green patinated bronze lion that is facing left. The lion stands on a rectangular gilt bronze base with protruding corners adorned with triglyphs. The base is decorated with Greek keys and laurel garlands in green patinated bronze. Height 31 cm; width 18 cm" is described in the collection of the Count d'Armaillé.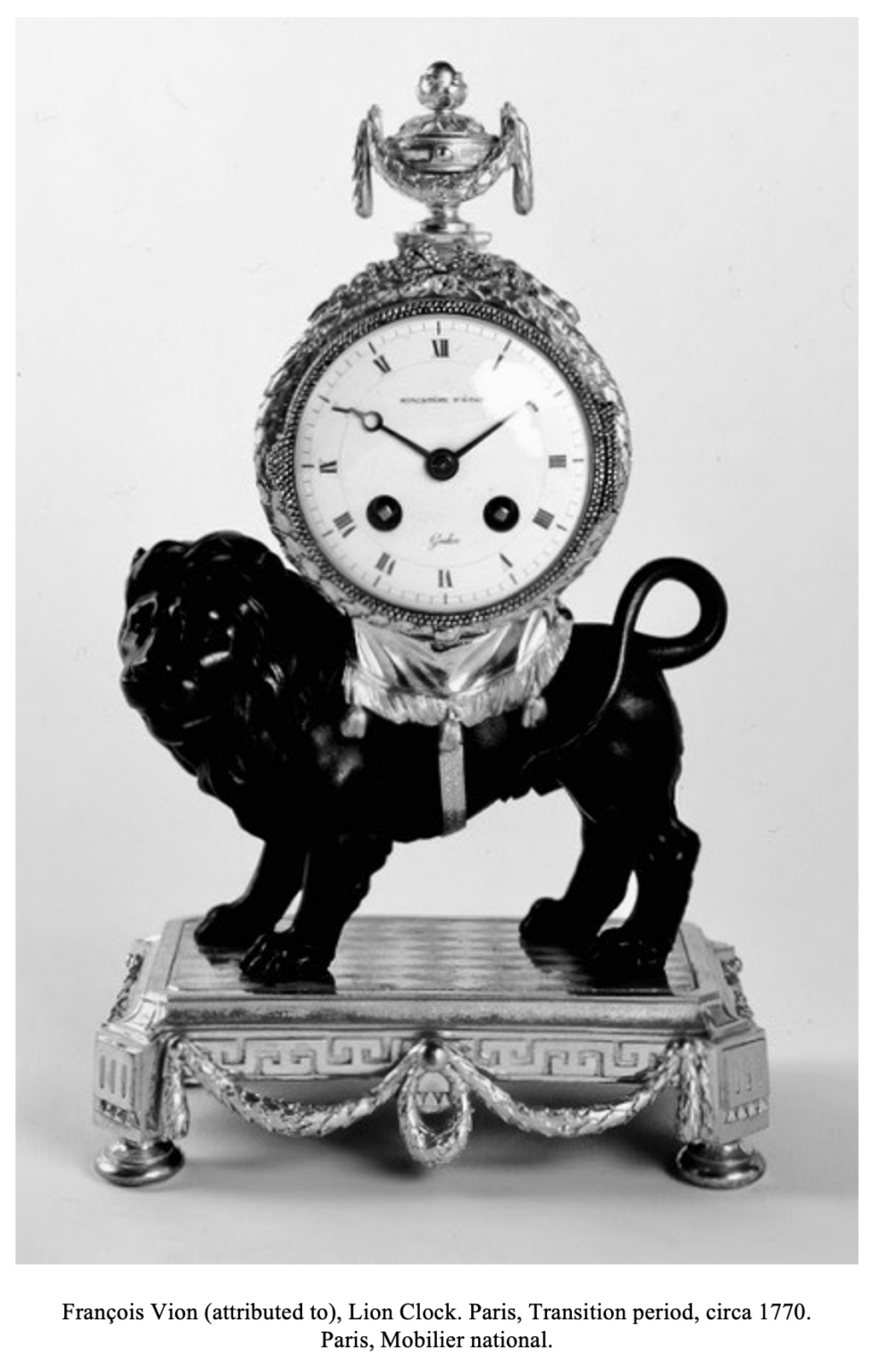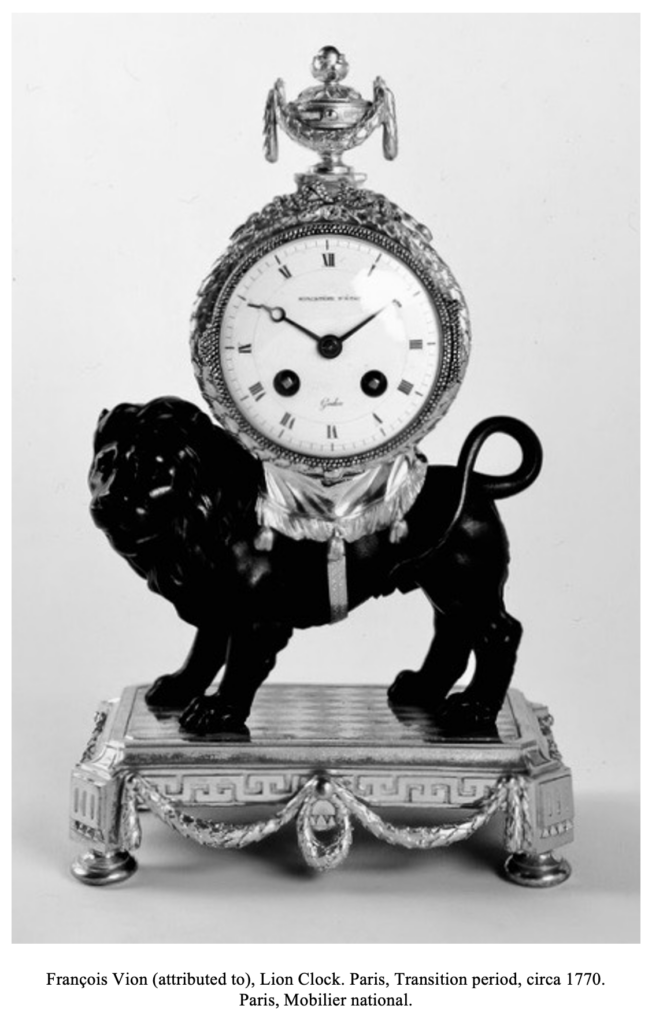 Today, among the small number of known identical clocks, which sometimes feature minor variations in their decoration, there are three models made entirely of gilt bronze or gilt and patinated bronze. One, which was probably in the collection of the Prince de Condé in the 18th century, is today in the Mobilier national (see Fastes du pouvoir: objets d'exception XVIIIe-XIXe siècles, RMN, Paris, 2007, p. 18-19, catalogue n° 5). A second example is illustrated in G. and A. Wannenes, Les plus belles pendules françaises de Louis XIV à l'Empire, Florence, éditions Polistampa, 2013, p. 295. A third clock is illustrated in H. Ottomeyer and P. Pröschel, op.cit., p. 193, fig. 3.11.4. Lastly, a comparable clock, which is also made of gilt and silvered bronze, is in the celebrated Pavlovsk Palace near Saint Petersburg, in Russia.
François Vion (circa 1737 - after 1790)

One of the most important Parisian bronze casters of the second half of the 18th century. Having become a master bronze caster in 1764, he was a rival of the Osmonds and Jean-Joseph de Saint-Germain. He specialized in creating clock cases, several of which bear his signature, particularly those known as "Venus and Love" and "Love and the Three Graces".
Photo gallery