Renacle-Nicolas Sotiau
(1749-1791)
François Rémond
(circa 1747-1812)
Important Mantel Clock, Blue Turquin Marble and Gilt Bronze with Matte and Burnished Finishing
"Study"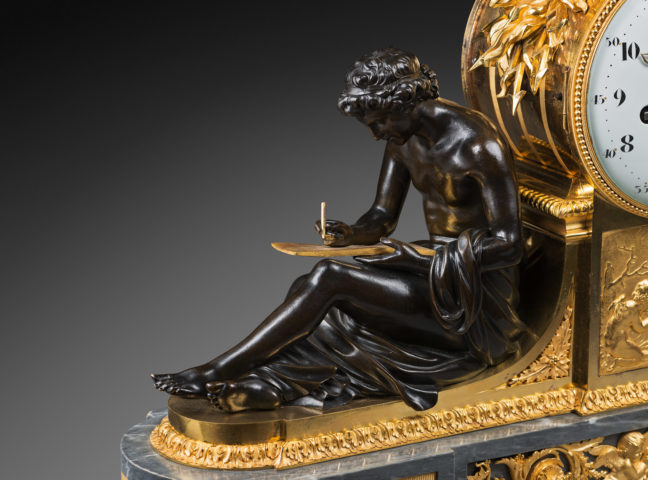 The Figures after Models by Sculptor Louis-Simon Boizot
The Case Attributed to Bronzier François Rémond
Very Likely Made under the Supervision of Dominique Daguerre
Paris, Louis XVI period, circa 1785
Height
55.5
Width
69.5
Depth
16
The round white enamel dial, signed "Sotiau", indicates the Arabic numeral hours, and the Arabic numeral five-minute intervals, by means of two pierced bronze hands. The movement is housed in a round case with a low relief scene depicting putti who are trying to light a fire; it supports a magnificent eagle with outstretched wings that is holding thunderbolts in its claws. On either side, two allegorical patinated bronze figures are seated; they depict a young man who is looking at a tablet and a young woman who is reading a book. The sculptural group is framed by a frieze of stylized leaves and is set on a quadrangular blue turquin marble base with rounded sides and protruding elements, which is elaborately decorated with chased gilt bronze motifs including a mascaron of a bearded man framed by winged Cupids whose bodies terminate in arabesque scrolls, and striated reserves with a thyrsus flanked by two trumpeting satyrs. The clock is raised upon eight feet that are decorated with finely chased friezes.
Often erroneously called "Les Arts et les Lettres", "L'Etude et la Philosophie", "aux Maréchaux" or "Les Liseuses", in the commercial correspondence between the chaser-gilder François Rémond and the marchand-mercier Dominique Daguerre (the most important merchant of luxury objects of the reign of Louis XVI) this clock model is designated only as "L'Etude" (Study). The preparatory drawing for the clock, annotated by Rémond, was offered at auction in Paris in February 1981 (pictured in H. Ottomeyer and P. Pröschel, Vergoldete Bronzen, Die Bronzearbeiten des Spätbarock und Klassizismus, Band I, Munich, 1986, p. 295, fig. 4.17.5).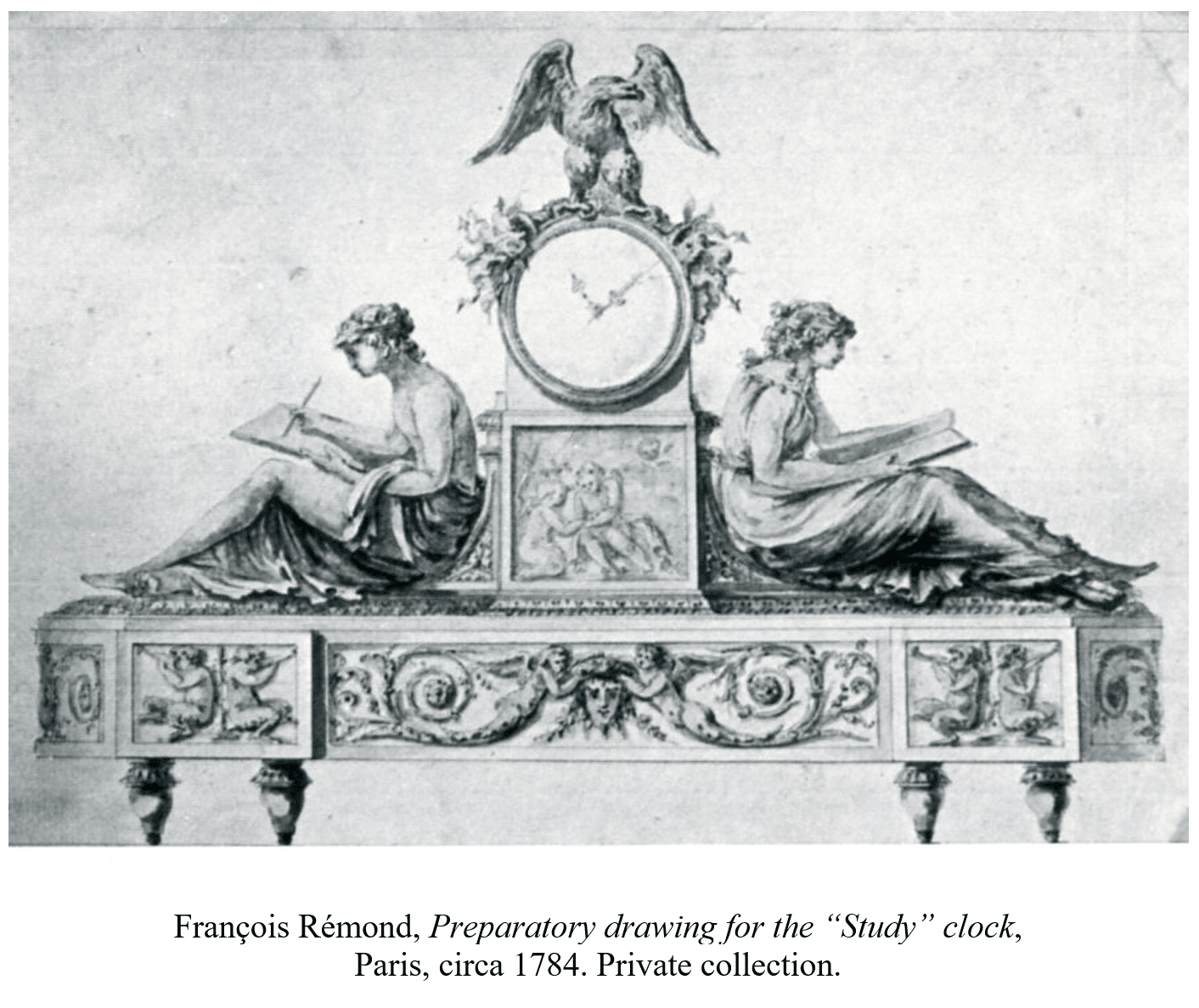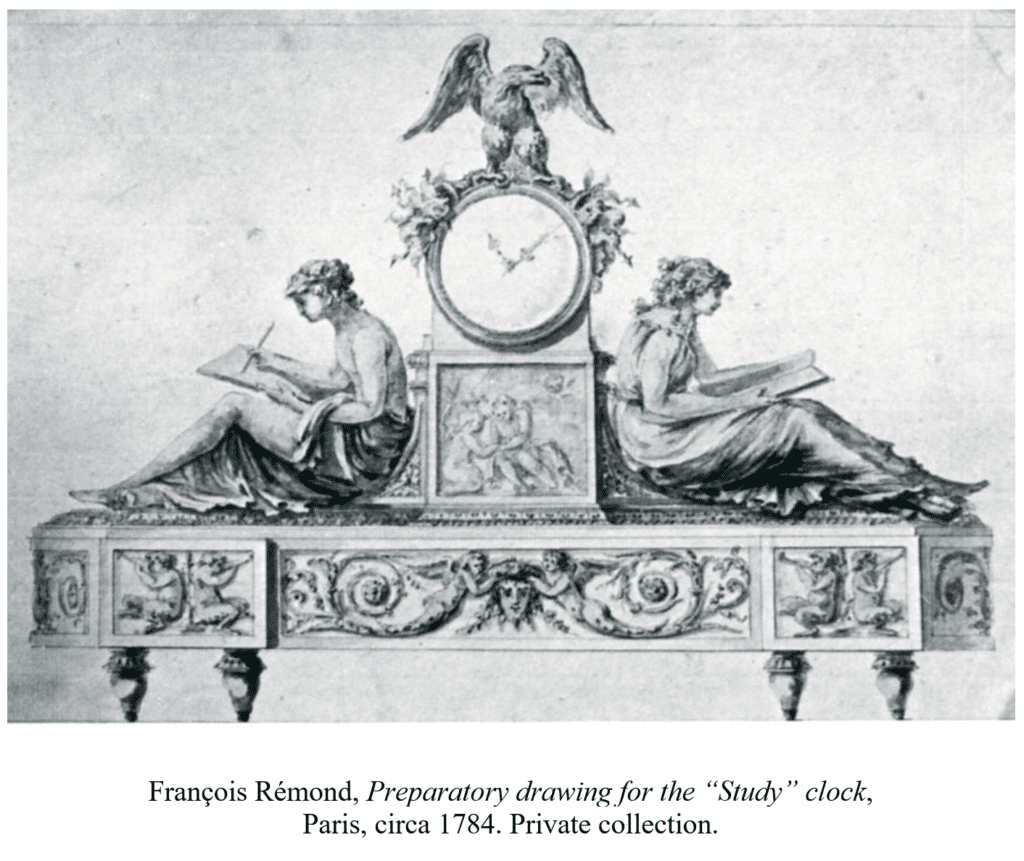 The composition, produced as of 1784, was based on two figures created in 1776 by the sculptor Louis-Simon Boizot (1743-1809) for the Royal Sèvres Manufactory; they depicted a young girl reading and a young man writing, under the designations "Study" and "Philosophy". One such bisque figure is in the Jones collection in the Victoria & Albert Museum in London (illustrated in H. Ottomeyer and P. Pröschel, op.cit., Band I, Munich, 1986, p. 294, fig. 4.17.2). These figures were used by Daguerre, who asked Rémond to place them against a pillar that housed the clock movement that was surmounted by an eagle, thus creating one of the most successful Parisian neoclassical clocks of the reign of Louis XVI. It became immediately popular among the most influential collectors of the day.
Certain documents of the late 18th century mention similar clocks bearing the signature of the clockmaker Sotiau as being the property of important contemporary collectors. All of these, however, are described as standing on white marble bases, which supports the hypothesis of this clock having a provenance from the Crawfurd collection. Among the other similar clocks, one was described as "…a mantel clock bearing the name of Sotiau with an enamel dial marking the hours and minutes in its case adorned with garlands and surmounted by an ormolu gilt copper eagle accompanied by two bronzed copper figures seated on a white marble base decorated in low relief, with bead ornaments and ormolu gilt copper feet 350 livres", described in January 1790 in the probate inventory of Anne-Adélaïde de Mailly-Nesle, the wife of Louis-Marie, Prince of Arenberg. A mantel clock "bearing the name of Sotiau in Paris, with date, and two main figures of the Fable, in bronze, the clock standing on a pedestal and surmounted by an eagle, on a wide white marble base; the whole gilded in chased copper, 2400 livres" mentioned in an inventory of the possessions of the Princes of Salm in November 1790. Another similar clock was described in November 1787 during the sale of the collection of Joseph-Hyacinthe-François-de-Paule de Rigaud, Count de Vaudreuil: "N°382. A clock by Sotiau. It is composed of a cylinder surmounted by an eagle holding a thunderbolt in its claws, and two supports representing, on one side, a young man writing on a tablet, and on the other, a young woman who is studying. This cartel is set on a square pedestal adorned with low relief children, that is supported on a white marble plinth with sunken reserves and a frieze comprised of masks of men and children that terminate in ornamented scrolls; two sunken medallions represent Medusa's heads. This clock blends formal beauty and high-quality finishing with an excellent movement that leaves nothing to be desired. The matte gilding was executed with the greatest care. Height 20 pouces, width 26".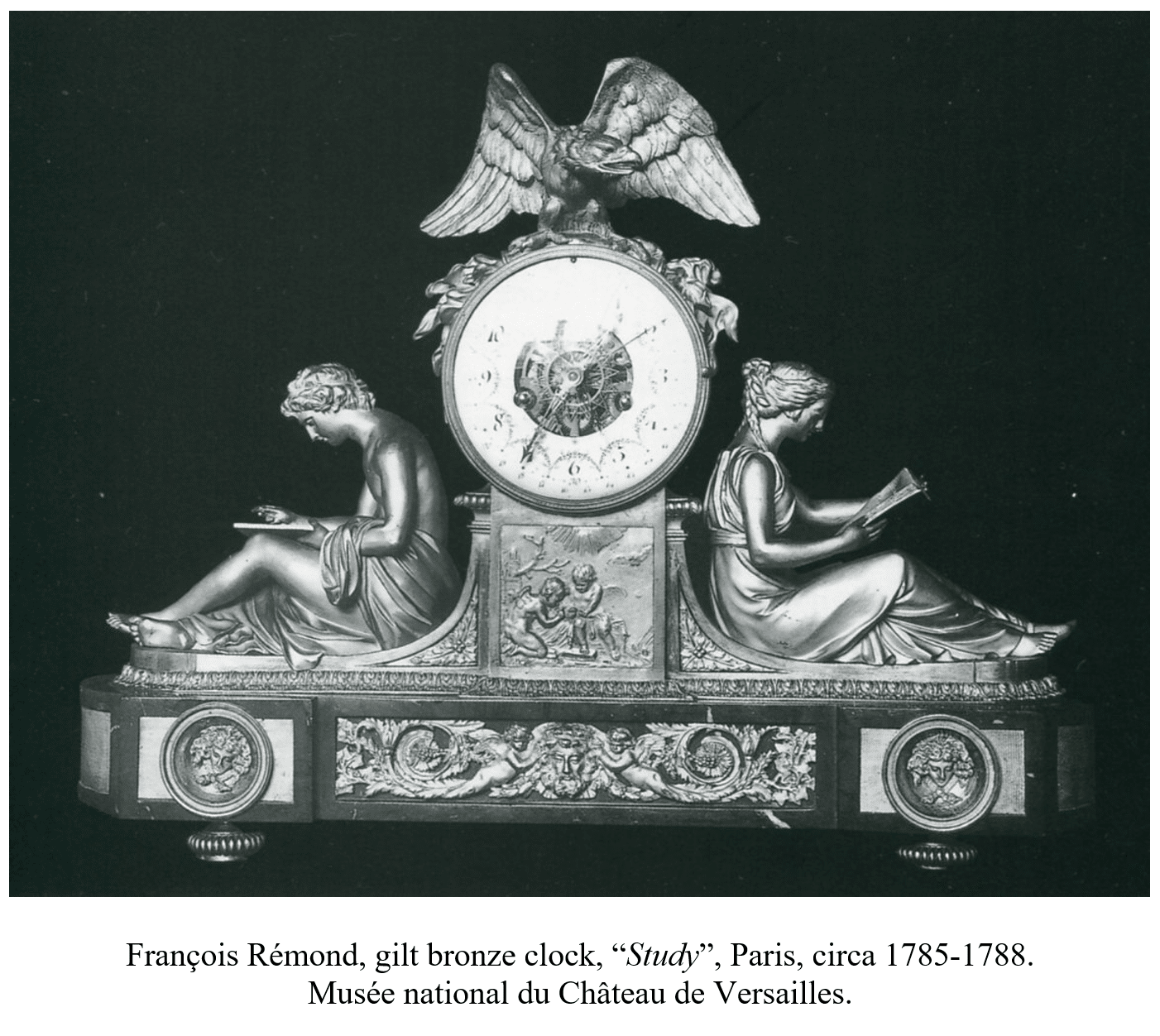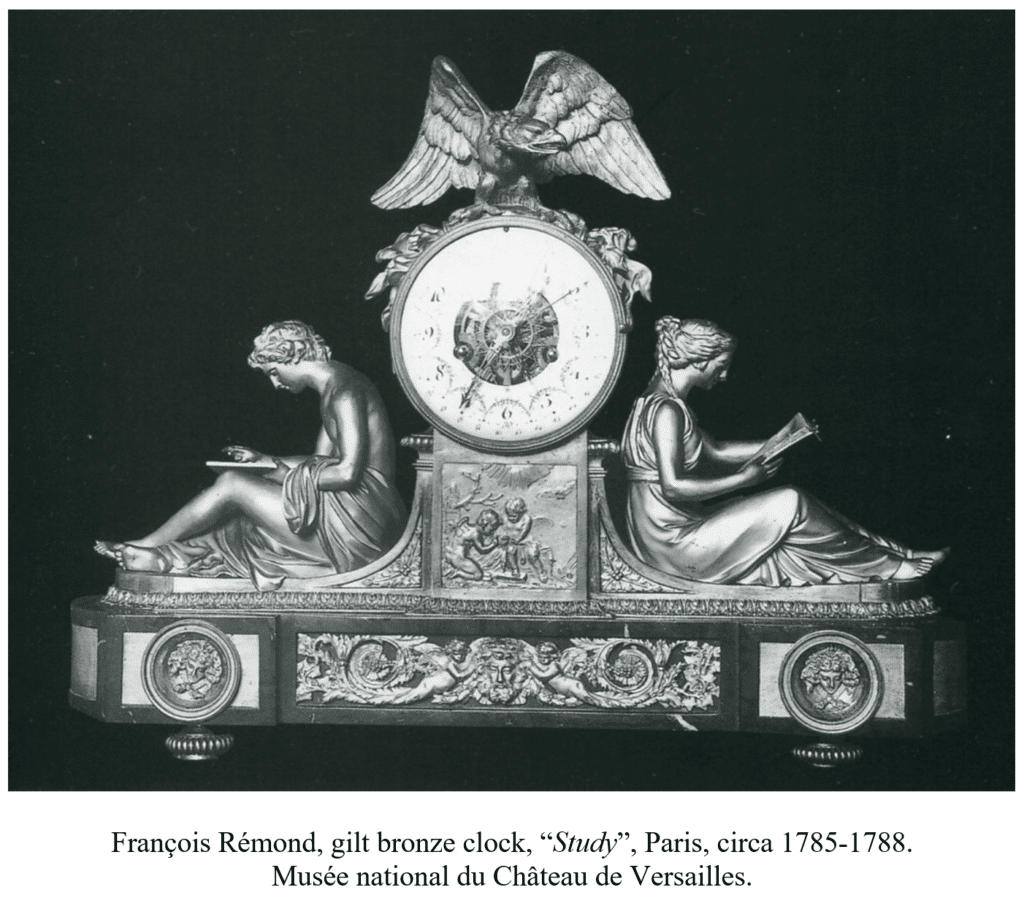 Several such clocks are known to exist today in important international public and private collections. One example, whose dial is signed "Dubuc jeune", is in the Quirinal Palace in Rome (shown in A. Gonzales-Palacios, Il patrimonio artistico del Quirinale, Gli Arredi francesi, Milan, 1996, p. 308, n° 89). A second clock stands in the Salon des Aides de camp in the Elysée Palace (see M. and Y. Gay, "Du Pont d'Iéna à l'Elysée", in Bulletin de l'association nationale des collectionneurs et amateurs d'horlogerie ancienne (ANCAHA), été 1993, n° 67, p. 12). A third example, whose dial is signed "Mercier à Paris", is in the Banque de France in Paris (illustrated in M. and Y. Gay, "L'ANCAHA à la Banque de France", in Bulletin ANCAHA, summer 1995, n° 73, p.7 6). A fourth clock, which was probably formerly in the collection of King Louis XVI, is pictured in C. Baulez, "Les bronziers Gouthière, Thomire et Rémond", in the exhibition catalogue Louis-Simon Boizot 1743-1809, Sculpteur du roi et directeur de l'atelier de sculpture à la Manufacture de Sèvres, Paris, 2001, p. 287, fig. 9. Three further similar clocks are in the Royal Spanish collections (see J. Ramon Colon de Carvajal, Catalogo de relojes del Patrimonio nacional, Madrid, 1987, pp. 62, 64 and 92), and three other examples are in the Royal British collections (pictured in C. Jagger, Royal Clocks, The British Monarchy and its Timekeepers 1300-1900, London, 1983, p. 211-212).
Renacle-Nicolas Sotiau (1749 - 1791)

He was no doubt the principal and most talented representative of Parisian luxury horology during the decade preceding the French Revolution. After becoming a master on June 24, 1782, he opened a workshop in the rue Saint-Honoré; it became a great success with the important collectors of the period. The important Parisian marchands-merciers, especially François Darnault and Dominique Daguerre, commissioned him to produce clock movements for eminent and exacting collectors, which were masterpieces of elegance and perfection. Like all the finest clockmakers, Sotiau acquired his clock cases from the best and most skilful artisans, often working with the bronze casters Pierre-Philippe Thomire and François Rémond. The excellence of his work won him the coveted title of "Horloger de Monseigneur le Dauphin" (the dauphin being the elder son of Louis XVI and Marie-Antoinette). His clocks are often mentioned in probate inventories and appeared in the sales of the collections of important contemporary personalities. Clocks made by Sotiau were owned by financiers such as the wealthy Court banker Jean-Joseph de Laborde, important members of the Clergy, such as François-Camille, Prince de Lorraine, and influential aristocrats such as Louis-Antoine-Auguste de Rohan-Chabot, Duc de Chabot; Charles-Just de Beauvau, Prince de Craon; and Albert-Paul de Mesmes, comte d'Avaux. In addition to his private clientele, Sotiau also produced magnificent clocks for the Prince Regent of England (the future King George IV), as well as for Mesdames de France (the aunts of Louis XVI), and for Queen Marie-Antoinette. Today Sotiau's clocks may be found in the most important international collections, both public and private. Among these are the Walters Art Gallery in Baltimore, the Frick Collection in New York, the Huntington collection in San Marino and the Musée national du Château de Versailles, as well as the Royal British and Spanish Collections.
François Rémond (circa 1747 - 1812)

Along with Pierre Gouthière, he was one of the most important Parisian chaser-gilders of the last third of the 18th century. He began his apprenticeship in 1763 and became a master chaser-gilder in 1774. His great talent quickly won him a wealthy clientele, including certain members of the Court. Through the marchand-mercier Dominique Daguerre, François Rémond was involved in furnishing the homes of most of the important collectors of the late 18th century, supplying them with exceptional clock cases, firedogs, and candelabra. These elegant and innovative pieces greatly contributed to his fame.
Dominique Daguerre

Dominique Daguerre is the most important marchand-mercier (i.e. merchant of luxury objects) of the last quarter of the 18th century. Little is known about the early years of his career; he appears to have begun to exercise his profession around 1772, the year he went into partnership with Philippe-Simon Poirier (1720-1785), the famous marchand-mercier who began using porcelain plaques from the Manufacture royale de Sèvres to adorn pieces of furniture. When Poirier retired around 1777-1778, Daguerre took over the shop in the rue du Faubourg Saint-Honoré, keeping the name "La Couronne d'Or". He retained his predecessor's clientele, and significantly increased the shop's activity within just a few years. He played an important role in the renewal of the Parisian decorative arts, working with the finest cabinetmakers of the day, including Adam Weisweiler, Martin Carlin and Claude-Charles Saunier, cabinetmaker of the Garde-Meuble de la Couronne, Georges Jacob, the bronziers and chaser-gilders Pierre-Philippe Thomire and François Rémond, and the clockmaker Renacle-Nicolas Sotiau. A visionary merchant who brought the level of French luxury goods to its highest point, Daguerre settled in England in the early 1780's, having gone into partnership with Martin-Eloi Lignereux, who remained in charge of the Paris shop. In London, where he enjoyed the patronage of the Prince Regent (the future King George IV), Daguerre actively participated in the furnishing and decoration of Carlton House and the Brighton Pavilion. Taking advantage of his extensive network of Parisian artisans, he imported most of the furniture, chairs, mantelpieces, bronze furnishings, and art objects from France, billing over 14500£, just for 1787. Impressed by Daguerre's talent, several British aristocrats, called on his services as well. Count Spencer engaged him for the decoration of Althorp, where Daguerre worked alongside architect Henry Holland (1745-1806). In Paris, Daguerre and his partner Lignereux continued to supply influential connoisseurs and to deliver magnificent pieces of furniture to the Garde-Meuble de la Couronne, which were placed in the apartments of Louis XVI and Marie-Antoinette. Daguerre retired in 1793, no doubt deeply affected by the French Revolution and the loss of many of his most important clients.
Photo gallery