Jean-Nicolas Schmit
(?-circa 1820)
Joseph Coteau
(1740-1801)
Rare Bisque Porcelain and Gilt Bronze Mantel Clock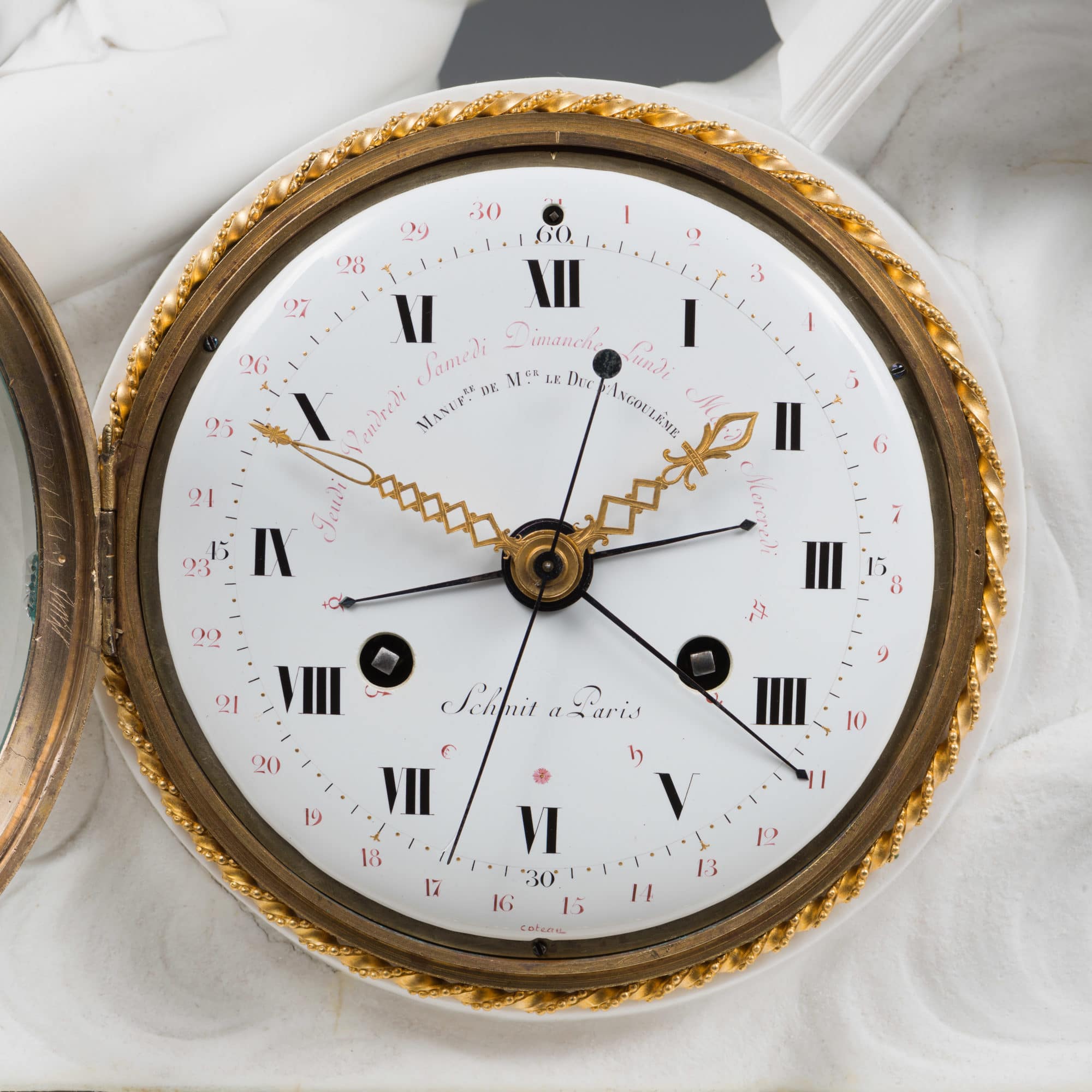 Dihl and Guérhard Manufactory, known as the Duke d'Angoulême's Manufactory
Jean-Nicolas Schmit
The Dial by Joseph Coteau
Paris, late Louis XVI period, circa 1785-1790
Provenance:
– Sold in Paris, Galerie Charpentier, Maître Rheims, June 8, 1955, lot 184
– Sold in Paris, Hôtel Drouot, Maîtres Ader-Picard-Tajan, March 19, 1982, lot 31
The round white enamel dial, which is signed "Schmit à Paris" and "Coteau" and bears the words "Manufre de Mgr le duc d'Angoulême", indicates the Roman numeral hours, fifteen-minute Arabic numeral intervals and date, as well as the days of the week along with their corresponding astrological signs and the seconds, by means of five hands, two of which are made of pierced and gilt bronze. It is housed in a bisque porcelain case that imitates white Carrara marble and features decorative scenes in shades of gray on a pink ground. It is adorned with bronze mounts in the form of leaves that are finely chased and gilt with matte and burnished finishing, panels with stylized mermaids and friezes of alternating round and oval beads. The hour and half hour striking movement is housed in a case that depicts upon Eros, the god of Love, sitting among the clouds. In his right hand he is holding a stylus with which he has engraved a poem in a book that is held by a putto. The shaped quadrangular base with canted corners is adorned with reserves painted in shades of gray against a pink ground, which depict putti that are gardening and gathering flowers. The clock is raised upon four lion's paw feet.
Discover our entire collection of antique mantel clocks for sale online or at the gallery.
This magnificent clock is an excellent illustration of the extraordinary creativity of the Parisian clockmakers of the second half of the 18th century. They created remarkably inventive pieces of unparalleled quality, juxtaposing the most luxurious and rare materials. It was made at the renowned Manufactory known as the Duke d'Angoulême's Factory because as of 1781 it was headed by the Duke d'Angoulême, who later entrusted its direction to Christophe Erasimus Dihl and the Guérhards; under their guidance the factory became the principal rival of the Sèvres Manufactory during the final years of the 18th century and during the reign of Napoleon Bonaparte. After the fall of the monarchy, the manufactory created several new models, including unglazed groups and figures, which were particularly popular when they were mounted as "large clocks in fine bisque porcelain" (Dictionnaire universel de la géographie commerçante, Tome V, p. 325; cited in R. de Plinval de Guillebon, Les biscuits de porcelaine de Paris XVIIIe-XIXe siècles, Editions Faton, Dijon, 2012, p. 199). The clock's remarkable and perfectly balanced composition was quite successful among important Parisian collectors of the time. Among the few identical models known, all seem to be signed by the clockmaker Schmit. Among them, one example with a base in shades of gray, which has an aperture with the indications of the age and phases of the moon, which was formerly in the collection of the Guinness family in Luttrelstown Castle near Dublin (sold Christie's, September 26-28, 1983). A second clock was in the James de Rothschild collection in Waddesdon Manor near London.
Jean-Nicolas Schmit (? - circa 1820)

Jean-Nicolas Schmit is one of the most important Parisian clockmakers of the late 18th century and early 19th centuries. After becoming a master in August 1781, he opened a workshop in the rue Betizy and won immediate renown among connoisseurs. Dihl and Guérhard, the directors of the Duc d'Angoulême's porcelain factory, were impressed by his movements and purchased the majority of their clock movements from him. Contemporary documents mention the clockmaker's work as being in the collections of the greatest art enthusiasts of the period. Clocks by him are included in the probate inventory of Jean-Etienne-Marie de Portalis, made a conseiller d'état by Napoléon, and in that of the wife of Louis-Marie-Bretagne-Dominique de Rohan-Chabot, Duc de Rohan and cousin of King Louis XV.
Joseph Coteau (1740 - 1801)

The most renowned enameller of his time, he worked with most of the best contemporary Parisian clockmakers. He was born in Geneva, where he was named master painter-enameler of the Académie de Saint Luc in 1766. Several years later he settled in Paris, and from 1772 to the end of his life, he was recorded in the rue Poupée. Coteau is known for a technique of relief enamel painting, which he perfected along with Parpette and which was used for certain Sèvres porcelain pieces, as well as for the dials of very fine clocks. Among the pieces that feature this distinctive décor are a covered bowl and tray in the Sèvres Musée national de la Céramique (Inv. SCC2011-4-2); a pair of "cannelés à guirlandes" vases in the Louvre Museum in Paris (see the exhibition catalogue Un défi au goût, 50 ans de création à la manufacture royale de Sèvres (1740-1793), Musée du Louvre, Paris, 1997, p. 108, catalogue n° 61); and a ewer and the "Comtesse du Nord" tray and bowl in the Pavlovsk Palace in Saint Petersburg (see M. Brunet and T. Préaud, Sèvres, Des origines à nos jours, Office du Livre, Fribourg, 1978, p. 207, fig. 250). A blue Sèvres porcelain lyre clock by Courieult, whose dial is signed "Coteau" and is dated "1785", is in the Musée national du château in Versailles; it appears to be identical to the example mentioned in the 1787 inventory of Louis XVI's apartments in Versailles (see Y. Gay and A. Lemaire, "Les pendules lyre", in Bulletin de l'Association nationale des collectionneurs et amateurs d'Horlogerie ancienne, autumn 1993, n° 68, p. 32C).
Photo gallery