Fine Chased and Gilt Bronze cercles tournants Clock
"The Altar of Venus"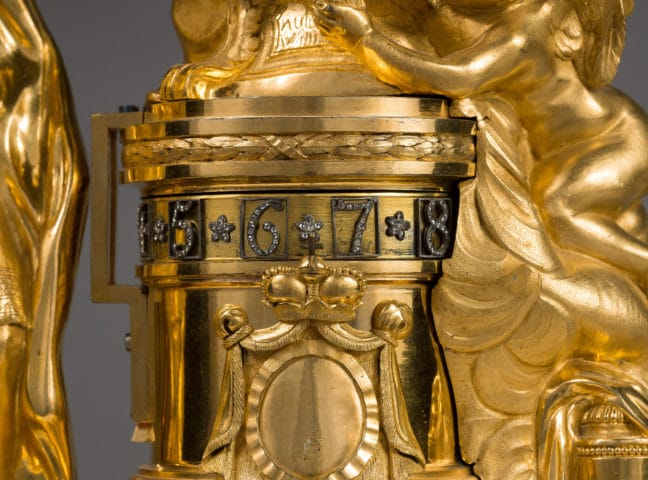 Paris, Louis XVI period, circa 1775-1780
Height 35 cm; width 33.5 cm; depth 23.2 cm
Height
35
Width
33.5
Depth
23.2
Provenance:
– Almost certainly commissioned circa 1775-1780 by Elisabeth Auguste, Electress of Bavaria and Palatine (1721-1794)
The revolving dial indicates the hours in Arabic numerals alternating with finely cut and assembled paste rosettes. It is set in a truncated column decorated with a ribbon-tied laurel torus, a leaf frieze and a shield whose medallion at one time bore engraved initials, surmounted by a German Prince's crown whose cross indicates the hours. To the right of the column a winged Cupid lying on a draped, rocky surface with a gadrooned urn at his feet offers a dove to Venus. To the left the goddess, draped in long classical robes, stands with one hand on her breast and the other reaching out to the dove. Between the two, an engraved cartouche reads "Autel à Vénus". The oval white marble base is decorated with a pierced gilt bronze frieze of roses and other flowers tied with ribbons and is centered by a gilt copper plinth with beadwork mounts, that is raised on finely chased lion's paws.
The present clock is the only one of its kind known to date. A clock signed Buzot in the University of Michigan Museum of Art is nearly identical, but its magnificent revolving ring dial has been replaced by a more ordinary enamel one. The quality of the chasing and the rare subject of the present clock suggest it was commissioned by an important patron, very likely the Electress of Bavaria and Palatine. This provenance is supported by the fact that the few rare objects known to have belonged to the Electress are adorned with the same German princely crown and bear the initials EA in their medallions. Among them: a silver table service ordered by the Electress in Strasburg around 1770, and which remained in the family until the early 20th century (a portion of the service was sold at Christie's, London, October 17, 1951, lots 83-85, 111-114 and 125-126); a probably unique gilt bronze cartel signed Causard Horloger du Roy, at one point on the Swiss art market, and today part of an important private collection.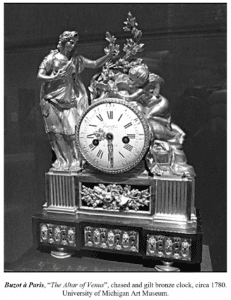 Elisabeth Auguste, Electress of Bavaria and Palatine (1721-1794) is one of the most important personalities of the 18th century. Born in Manheim, she was the daughter of crown prince Joseph-Charles-Emmanuel of Pfalz-Sulzbach and the granddaughter of the Palatine Elector Charles-Philippe. In 1742 she married her cousin Charles-Theodore (1724-1799); shortly afterward the couple acceded to the throne. In 1767, her husband purchased her childhood home, the Castle of Oggersheim, and it became the Electress's favourite residence. She furnished it lavishly, often with furniture, clocks, and bronzes specially made to order in Paris. During the French Revolution the Palatinate remained neutral, but in 1794 when the Revolutionary armies approached the border, the Electress was forced to flee. Oggersheim Castle burned and Elisabeth Auguste died several months later in Weinheim.
Photo gallery