Jacques Mauduit
(1736-circa 1800)
Important Gilt and Patinated Bronze Neoclassical Mantel Clock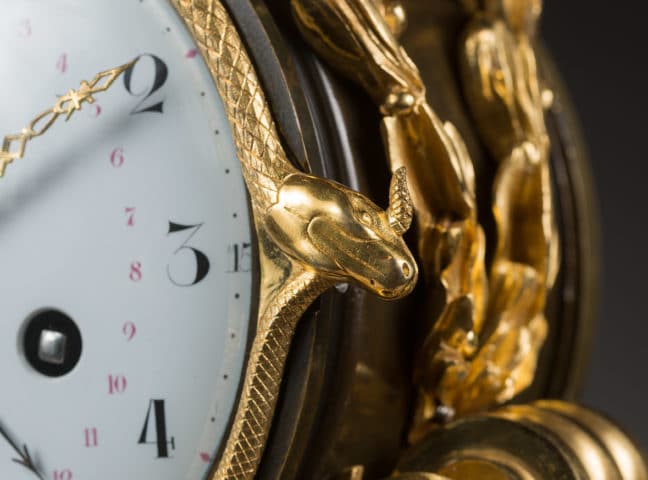 Paris, early Louis XVI period, circa 1775
The round enamel dial, signed "Mauduit à Paris", indicates the hours, the fifteen-minute  graduations and the date in Arabic numerals by means of three hands, two of which are in pierced and gilt bronze. The bronze architectural case is very finely chased, gilt, and patinated. The bezel is formed by a twining snake with finely delineated scales. The movement is housed in a drum case with olive leaf branches and deeply fluted scroll motifs on either side. The oval base is adorned with a frieze of circular-framed flower motifs and four fluted pilasters topped with spiralling rosettes set in square reserves, and is further decorated with ribbon-tied leaf and laurel-seed swags. The clock is raised on four gadrooned feet, which in turn rest upon a moulded red Rance de Flandres oval marble plinth of the type known as "rouge de Saint-Rémy".
The unusual design of this fine clock is a perfect illustration of the influence of French designers on the clock cases of the period. Two drawings exist of similar architectural cases featuring motifs inspired by classical antiquity, one by Richard de Lalonde, and another by Jean-François Forty; they are pictured in P. Kjellberg, Encyclopédie de la pendule française du Moyen-Age à nos jours, Les éditions de l'Amateur, Paris, 1997, p. 170 and 172. Two plates from Hauer's Cahier des Horlogers, entitled "Desseins a l'Usage des Artisan", are pictured in Tardy, La pendule française, 2ème Partie: Du Louis XVI à nos jours, Paris, 1975, p. 228.
The present model is exceptionally rare; to the best of our knowledge no other identical clock is known to exist. Several other similar examples are often compared to the work of two of the finest Parisian bronziers of the time, Jean-Joseph de Saint-Germain (1719-1791) and Robert Osmond (1711-1789): one such piece is illustrated in E. Niehüser, Die französische Bronzeuhr, Eine Typologie der figürlichen Darstellungen, Munich, 1997, p. 249, fig. 1039; another, with a carillon in its base, is pictured in G. and A. Wannenes, Les plus belles pendules françaises, De Louis XIV à l'Empire, Editions Polistampa, Florence, 2013, p. 226.
Jacques Mauduit (1736 - circa 1800)

Jacques Mauduit is one of the most important Parisian clockmakers of the second half of the 18th century, after serving his apprenticeship he became a Master on March 17, 1763. His workshop was located first in the rue Saint-Honoré, then in the rue Dauphine. He quickly achieved renown among the influential collectors of the day. Mauduit appears to have married Suzanne Hémon, probably the sister of clockmaker Claude Hémon. During the French Revolution he was a Lieutenant in the army. A notarial document from the final years of the 18th century cites him as a merchant and a former officer. Several years later, one of his clocks was listed in the probate inventory of Nicole-Colette Lefebvre-Dutillet de Villebazin.
Photo gallery