Rare Mantel Clock with Gilt and Patinated Bronze Allegorical Figures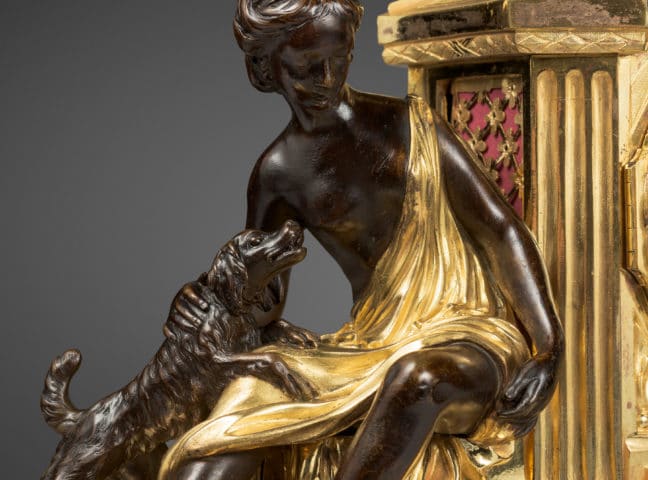 The Figures After Models Attributed to Etienne-Maurice Falconet
Paris, Neoclassical period, late Louis XV period, circa 1765
Height
44
Width
45
Depth
15.5
The round enamel dial, signed "Etienne Lenoir à Paris", indicates the Roman numeral hours and the Arabic numeral five-minute intervals by means of two pierced gilt brass hands. The movement is housed in an architectural case featuring fluted pillars, a curved pediment decorated with a laurel torus and a capital surmounted by a gadrooned and fluted lidded urn with a leaf and seed finial. The urn's handles are adorned with laurel leaf and seed garlands. Figures are seated on either side of the case. On one side, a lightly clad young woman plays with a dog, while on the other side, a young man sitting near a cornucopia places his finger in front of his lips. The neoclassical base features recessed friezes and rosettes, garlands of laurel leaves and seeds and a bearded and acanthus-coiffed mask. The clock is raised upon eight square feet with triple fluting.
The unusual design of this architectural clock is characteristic of the Parisian creations dating from the beginning of Neoclassicism in the mid 1760's. In addition to the exceptional quality of its chasing and gilding, clearly done by exceptional artisans, stands out due to the two sculptural groups that adorn either side. The young woman may be considered an allegory of Fidelity, a virtue extolled by the marquise de Pompadour, mistress of Louis XV. The young man probably symbolises Discretion. Thus, although Time – symbolised by the dial – passes, it has no effect on faithful and discreet Love. The attribution of the figures to Etienne-Maurice Falconet (1716-1791) is based on the elegant treatment of the figures' faces and bodies. Many of the sculptures today ascribed to Falconet show the same elegant treatment. A bronze group depicting Fidelity, probably originally placed on a clock identical to the present one, is in the Musée des Arts décoratifs in Paris (see L. Metman, Le Musée des Arts décoratifs, Le bronze, plate LXXXIV, fig. 839).
Etienne Lenoir

As of 1750, the signature "Etienne Lenoir" corresponds to the association of Etienne II Lenoir (1699-1778) and his son Pierre-Etienne Lenoir (1724 – after 1789), two of the most important Parisian horologists of the reign of Louis XV. Named Master clockmakers in 1717 and 1743 respectively, they worked together for nearly two decades, producing many clocks for some of the greatest French collectors, as well as for important European courts, and particularly the Spanish court. Like the most important Parisian clockmakers of the time, the Lenoirs sold regularly to the most important marchands-merciers. They also acquired their clock cases from the finest artisans, particularly the cabinetmakers Charles Cressent and Jean-Pierre Latz, and the bronze casters Osmond, Caffieri and Saint-Germain. Today, their work may be found in important international museums such as the Cleveland Museum of Art, the Getty Museum in Malibu, the Louvre Museum in Paris and the Musée national du château de Versailles.
Photo gallery