Rare Hard-Paste Paris Porcelain and Chased and Gilt Bronze Clock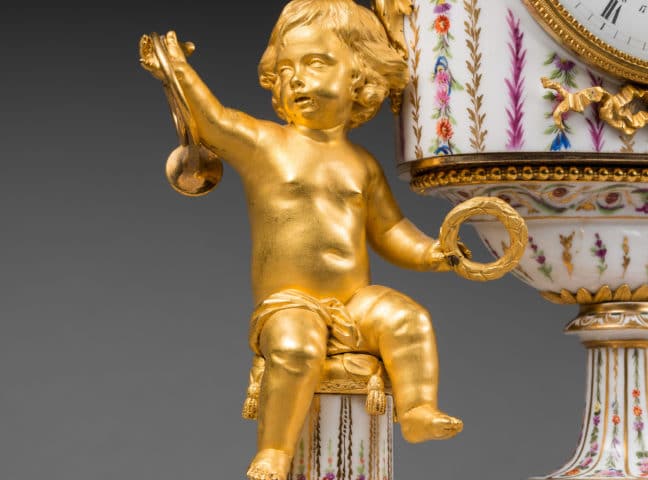 Paris, late Louis XVI period, circa 1785
Height 47 cm; width 27 cm; depth 17.5 cm
Height
47
Width
27
Depth
17.5
Provenance:
– Collection of Monsieur Dubois Chefdebien; sale in Paris, Maître Catroux, February 13 and 14, 1941, lot 70 (illustrated).
The enamel dial, indicating the hours, minutes and the date, bears the signature Godon à Paris. It is set in a footed vase of hard-paste Paris porcelain, with angular handles. Painted with delicate polychrome garlands, leaves and flowers, it rests on a stepped oval base and is surmounted by a finely chased gilt bronze flower bouquet. Its shaped gilt bronze base, mounted with an ormolu frieze, rests on four bun feet. Seated on either side of the vase on truncated columns painted to simulate fluting, two lightly draped putti brandish laurel wreaths and hunting horns.
The present clock is of a rare type seldom seen in the late 18th century. The only example of its kind known to exist today, it was probably made to order for a connoisseur who wanted to possess a unique and one-of-a kind piece. The only other known clock comparable to the present one is modelled as a vase in Paris porcelain, surmounted by a gilt bronze floral bouquet and supported by a base with handles adorned with laurel-crowned female masks and terminating in pieds de biche. One such example is in the Cognacq-Jay museum in Paris; a second is in the Victoria and Albert Museum in London (illustrated in Tardy, La pendule française, 2e partie: Du Louis XVI à nos jours, Paris, 1975, p. 279); a third, illustrated in P. Kjellberg's Encyclopédie de la pendule française, Paris, 1997, p. 216, has a dial signed  Godon, like the present clock; he was no doubt the seller of both pieces.
François-Louis Godon

François-Louis Godon became a master clockmaker in Paris in February 1787, although he had begun working several years previously. Having gone into partnership as early as 1785 with his Parisian colleague Jean-Baptiste-André Furet, Godon is known for having been a trusted horological supplier to kings Charles III and Charles IV of Spain. In March 1786, having been named "Relojero de Camara" (Clockmaker to the King of Spain), he became the Parisian supplier of luxury porcelain pieces, clocks, and bronze furnishings to the Spanish Court. Today many of his clocks are in the Madrid Decorative Arts Museum and the Spanish Royal Collections.
Photo gallery