Jean-Joseph de Saint-Germain
(1719-1791)
Rare Gilt Bronze Mantle Clock
"The Trumpeting Elephant"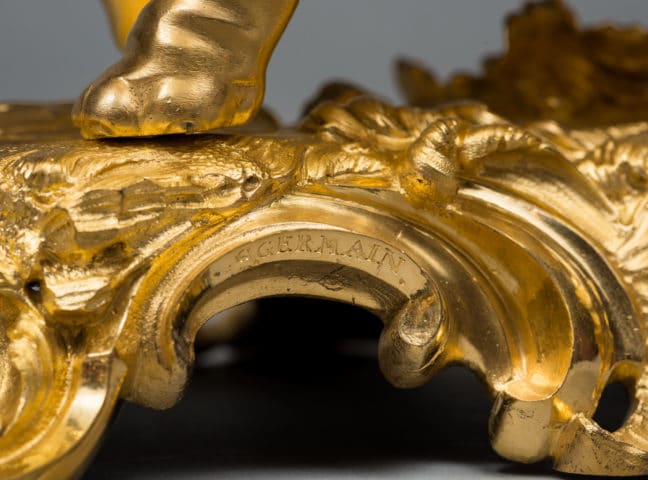 "Fol à Paris"
The back of the base marked : S. GERMAIN
Paris, Louis XV period, circa 1750
The round enamel dial indicates the Roman numeral hours and the Arabic numeral five-minute intervals by means of two pierced and chased gilt brass hands. It is housed in a bronze case that is finely chased and matte gilt. The movement, whose back plate is signed "Fol à Paris", is fitted in a drum case that is adorned with flower and leaf garlands and is surmounted by a winged putto who is sitting on a cushion placed on a rock. He holds a tablet in his left hand and a divided dial in the other. The bezel is adorned with reeds and acanthus leaves; the movement's back plate is made of brass with cutout branches and flowers. The whole is set on the back of a magnificent elephant, which stands on its four legs and raises its trunk while opening its mouth as if to trumpet. The pachyderm stands on a shaped base adorned with rocaille motifs such as C-scrolls, rocks, stylized leaves, scrolling and waves.
The mid-18th century was a particularly fertile period for the French decorative arts. At the time every attempt was made to encourage the talent of contemporary artists and artisans and to draw artisans from all over Europe who wished to work for important Parisian collectors. This is the context within which the present clock was made. Its remarkable composition, featuring an exotic animal – an elephant – is indicative of the great attraction that "exotic" places like Asia, America, and Africa held for wealthy French collectors. The latter were fascinated by the accounts of travelers to far-off countries, as well as by the engraved illustrations in works concerning those countries.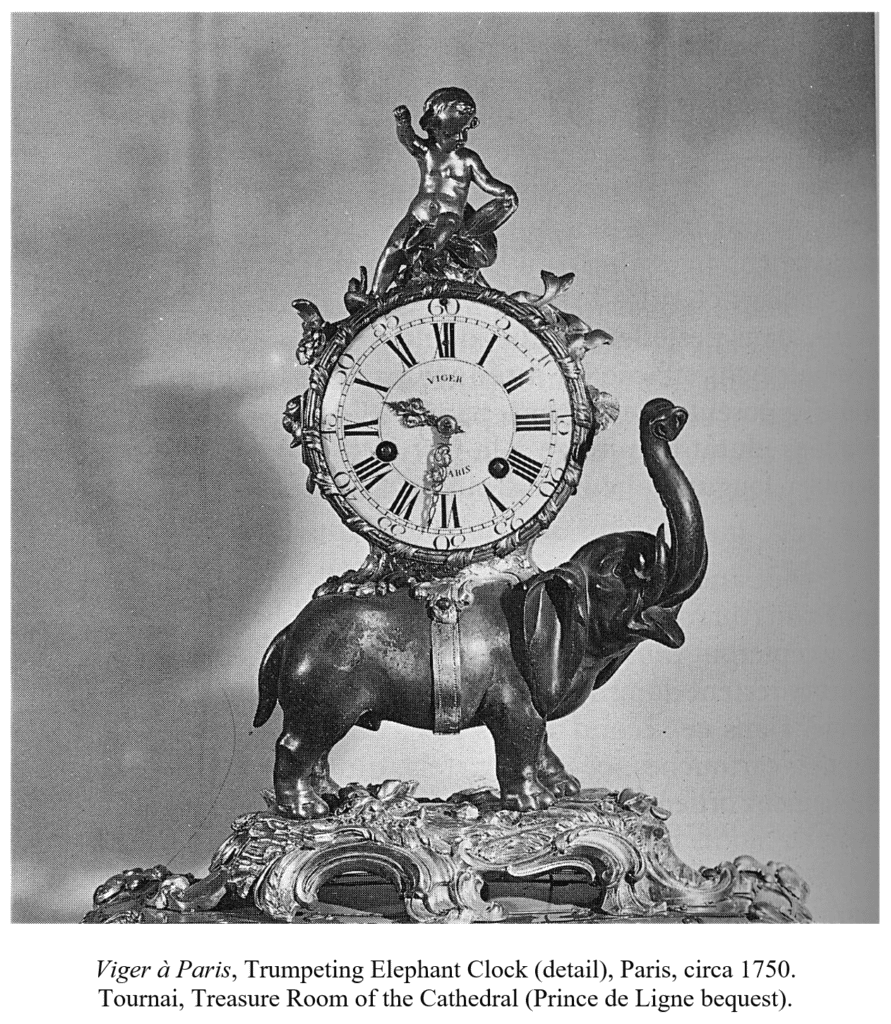 As concerns horology in particular, these "exotic" motifs soon became quite popular. Toward the mid-18th century, many luxury clocks were created whose movements were supported on the backs of elephants, rhinoceroses and lions; they might also be surmounted by wading birds, monkeys, Indians, or winged putti. One elephant clock surmounted by a monkey that originally held an umbrella is in the Royal Spanish collection (see J. Ramon Colon de Carvajal, Catalogo de Relojes del Patrimonio nacional, Madrid, 1987, p. 23, catalogue n° 4). A second clock of the same model is in the collection of the Hessian princes in the Fasanerie Castle in Fulda (illustrated in the exhibition catalogue Gehäuse der Zeit, Uhren aus fünf Jahrhunderten im Besitz der Hessischen Hausstiftung, 2002, p. 59). One "rhinoceros" clock surmounted by a young Indian is illustrated in P. Kjellberg, Encyclopédie de la pendule française du Moyen Age au XXe siècle, Les éditions de l'Amateur, Paris, 1997, p. 129.
The composition of the present clock, which was created by the bronze caster Jean-Joseph de Saint-Germain, became extremely popular among important 18th century Parisian collectors. Among the small number of identical clocks known today, some of whose bases contain musical movements, one clock, whose dial is signed "Moisy à Paris" and whose base is marked "St Germain", was formerly displayed in the Caroll Gallery in Munich (see R. Mühe and Horand M. Vogel, Horloges anciennes, Manuel des horloges de table, des horloges murales et des pendules de parquet européennes, Fribourg, 1978, p. 107, n° 131, and H. Ottomeyer and P. Pröschel, Vergoldete Bronzen, Die Bronzearbeiten des Spätbarock und Klassizismus, Band I, Munich, 1986, p. 123, fig. 2.8.3). Two other examples were sold at auction – one, from the collection of Florence J. Gould, was sold at Sotheby's Monaco on June 25, 1984, lot 715. The other, which had formerly belonged to Count François de Salverte, was offered on the Dijon art market in November 1997. Two further such clocks are in public collections in France and Belgium. The first of these, whose dial is signed "Viger à Paris", was donated to the Treasure Room of the Tournai Cathedral by the Princes of Ligne (illustrated in P. Verlet, Les bronzes dorés français du XVIIIe siècle, Editions Picard, Paris, 1999, p. 192, fig. 219). The second, which is lacking its original dial, was purchased by the Imperial Garde-meuble in 1865 for Fontainebleau Castle (illustrated in Tardy, La pendule française, Ire Partie: de l'Horloge gothique à la Pendule Louis XV, 1967, p. 173). One further clock that was almost certainly identical, was estimated at 108 livres in the probate inventory of the Duchess de Brancas in 1784: "A cartel clock in the name of Jean-Baptiste Baillon with an elephant surmounted by a small Cupid".
Fol

The signature "Fol à Paris" appears to be that of Jean Fol, one of the most famous clockmakers of the reign of Louis XV. He was active in Paris during the second third of the 18th century. While little is known about his career, some of his clocks were mentioned as belonging to important Parisian collectors as of the second half of the 18th century. Among these collectors were Antoine-Pierre Maussion de Montbré, Claude-Louis, Count of Saint-Germain, and Antoine-Louis Rouillé, Count de Jouy. During the late 1760s or the early part of the following decade, he appears to have entrusted the family workshop to his son, Jean II, known as "Fol the younger", who was named Valet de Chambre-Horloger Ordinaire du Roi. In 1767, when the probate inventory of the widow of the powerful Count de Peyre was drawn up, two watches, one of which was signed "Fol père", and the other "Fol fils", were valued  in a notarial deed.
Jean-Joseph de Saint-Germain (1719 - 1791)

He was probably the most renowned Parisian of the mid 18th century. Active as of 1742, he did become a master craftsman until July 1748. He became famous for his many clock and cartel cases, such as his Diana the Huntress (an example is in the Louvre Museum), the clock supported by two Chinamen (a similar example is in the Musée des Arts décoratifs in Lyon), as well as several clocks based on animal themes, including elephant and rhinoceros clocks (an example in the Louvre Museum). In the early 1760's he played an important role in the renewal of the French decorative arts and the development of the Neo-classical style, an important example of which may be seen in his Genius of Denmark clock, made for Frederic V and based on a model by Augustin Pajou (1765, in the Amalienborg Palace, Copenhagen). Saint-Germain also made several clocks inspired by the theme of Learning, or Study, based on a model by Louis-Félix de La Rue (examples in the Louvre Museum, the Gulbenkian Foundation, Lisbon, and the Metropolitan Museum in New York). Along with his clock cases, Saint-Germain also made bronze furniture mounts, such as fire dogs, wall lights, and candelabra. His entire body of work bears witness to his remarkable skills as a chaser and bronzeworker, as well as to his extraordinary creativity. He retired in 1776.
Photo gallery