Jacques-Thomas Bréant
(1753-1807)
Joseph Coteau
(1740-1801)
Rare White Carrara Marble and Gilt Bronze Lyre-Shaped Mantel Clock with Visible Movement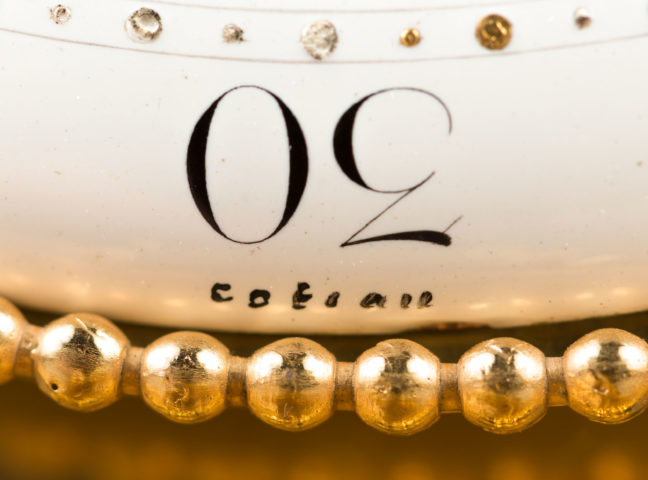 The enamels by Joseph Coteau
Paris, Louis XVI period, circa 1785
The white enamel ring dial, signed "Jacques Breant" and "Coteau", indicates the Roman numeral hours and the Arabic numeral five-minute intervals and date, as well as the seconds, by means of four hands, two of which are made of pierced and gilt brass. It is placed within a lyre-shaped case made of white Carrara marble and very finely chased gilt bronze, with two-tone gilding. The decorative mounts include an acanthus leaf bouquet issuing the two curved sides, which are decorated with openwork bead friezes and vine leaves alternating with roundels and terminating in leafy scrolls from which a vine leaf swag is suspended. Surmounting the clock is a mask surrounded by sunrays, beneath which the bimetallic pendulum may be seen. The oval base is adorned with gilt bronze tassels hanging from chains, lateral rosettes, and reserves with interlacing vine leaf friezes centered with covered classical urns.
According to Svend Eriksen, the first true lyre clock is now in the Royal Swedish Collection (see Early Neoclassicism in France, London, 1974). In France, the general composition of the lyre clock changed very little since it was first created in the late 1750s or early 1760s. However, while the design of lyre clocks did not greatly vary, the materials used and the ingenious and complex movements did undergo significant changes. These reflected the evolving tastes of connoisseurs and collectors, and showcased the exceptional skill of the clockmakers of the time. The great majority of the known examples of these clocks feature ring dials. The present example stands out due to the exceptional quality of its chasing and the gilding of its bronze mounts, as well as the precise and clear inscriptions on its ring dial that was decorated by Joseph Coteau, the most talented Parisian enameller of the last third of the 18th century.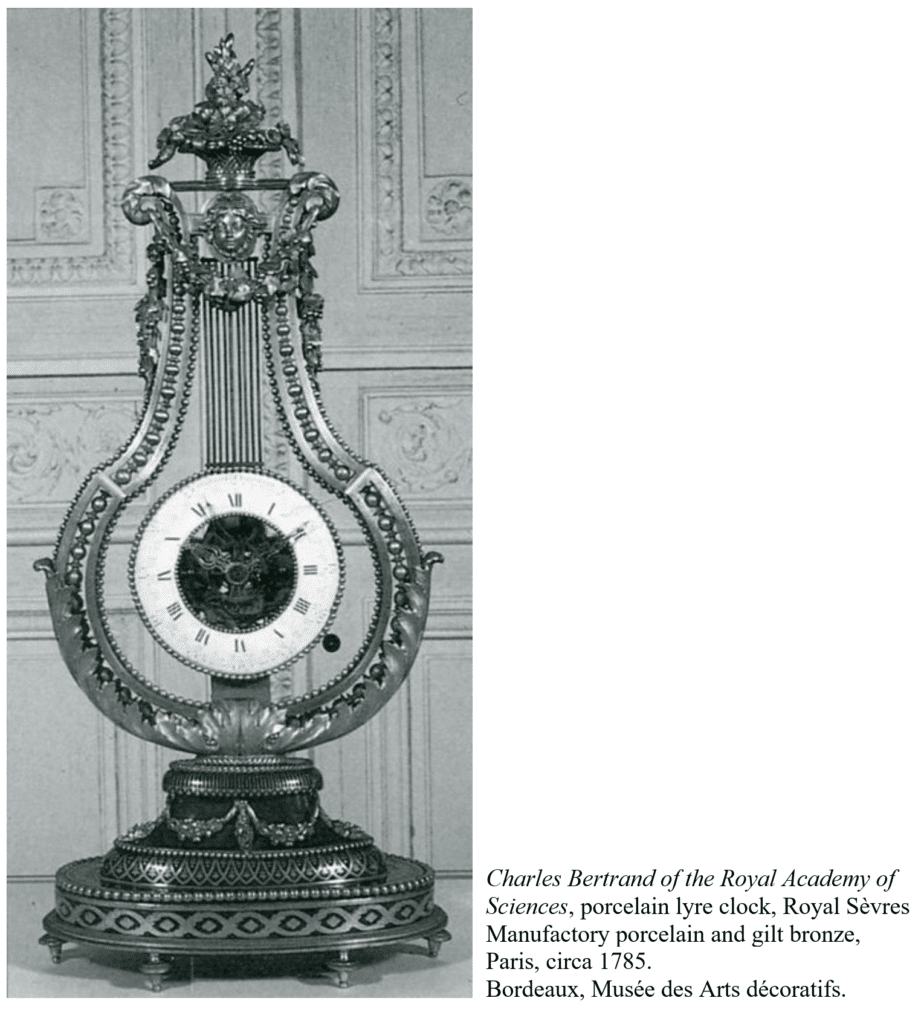 The model was inspired by an anonymous drawing now in the New York Metropolitan Museum of Art (see M.L. Myers, French Architectural and Ornamental Drawings of the Eighteenth Century, New York, 1992, p. 204, n° 121). Several variations were produced during the final decades of the 18th century. The examples surmounted by sunray masks, symbols of the god Apollo, including porcelain lyre clocks from the Royal Sèvres Manufactory, are among the most successful. Only a small number of comparable clocks are extant today, including one example, whose dial is signed "Louis-Simon Bourdier", in the Musée François Duesberg in Mons (see Musée François Duesberg, Arts décoratifs 1775-1825, Bruxelles, 2004, p. 24). A second clock was formerly in the collection of Jean-Baptiste Diette (illustrated in Tardy, La pendule française, 2ème partie: Du Louis XVI à nos jours, Paris, 1975, p. 280, fig. 3). A third is in the Royal British Collection (illustrated in C. Jagger, Royal Clocks, The British Monarchy & its Timekeepers 1300-1900, 1983, p. 132, fig.179). One further such clock, which has a Sèvres porcelain base, is on display in the Bordeaux Musée des Arts décoratifs (see Y. and M. Gay, "Les pendules lyre", in Bulletin de l'Association nationale des Collectionneurs et Amateurs d'Horlogerie ancienne, Autumn-Winter 1993, n° 68, p. 36, fig. 69).
Jacques-Thomas Bréant (1753 - 1807)

Born in Paris, he began as an ouvrier libre. In 1783, the year he became a master, he was established in the Enclos Saint-Martin-des-Champs. In 1783 his workshop was in the rue Saint-Martin; in 1786 he opened a shop in the Palais Royal; in 1795 he was in the rue du Temple. Among his clients were the Duke d'Orléans, the Marquis de Laval, de la Rochebrochard, d'Aulany and d'Amenoncour, the Countesses de Faudoas and de Vascoeil, the Count de Villefranche and Messieurs Michau de Montaran and L'Espine de Granville, however he went bankrupt in 1786, and again in 1788. In 1788, several case makers and enamellers were listed among his creditors, including the bronziers P. Viel, N. Florion, E. Blavet, A. Lemire, P. d'Ecosse and J. B. J. Zaccon, the gilders C. Galle, J. P. Carrangeot, L. Le Prince, and the enamellers Merlet, Bezelle, Barbichon, as well as the renowned Joseph Coteau.
Joseph Coteau (1740 - 1801)

The most renowned enameller of his time, he worked with most of the best contemporary Parisian clockmakers. He was born in Geneva, where he was named master painter-enameler of the Académie de Saint Luc in 1766. Several years later he settled in Paris, and from 1772 to the end of his life, he was recorded in the rue Poupée. Coteau is known for a technique of relief enamel painting, which he perfected along with Parpette and which was used for certain Sèvres porcelain pieces, as well as for the dials of very fine clocks. Among the pieces that feature this distinctive décor are a covered bowl and tray in the Sèvres Musée national de la Céramique (Inv. SCC2011-4-2); a pair of "cannelés à guirlandes" vases in the Louvre Museum in Paris (see the exhibition catalogue Un défi au goût, 50 ans de création à la manufacture royale de Sèvres (1740-1793), Musée du Louvre, Paris, 1997, p. 108, catalogue n° 61); and a ewer and the "Comtesse du Nord" tray and bowl in the Pavlovsk Palace in Saint Petersburg (see M. Brunet and T. Préaud, Sèvres, Des origines à nos jours, Office du Livre, Fribourg, 1978, p. 207, fig. 250). A blue Sèvres porcelain lyre clock by Courieult, whose dial is signed "Coteau" and is dated "1785", is in the Musée national du château in Versailles; it appears to be identical to the example mentioned in the 1787 inventory of Louis XVI's apartments in Versailles (see Y. Gay and A. Lemaire, "Les pendules lyre", in Bulletin de l'Association nationale des collectionneurs et amateurs d'Horlogerie ancienne, autumn 1993, n° 68, p. 32C).
Photo gallery