Joseph-Charles-Paul Bertrand
(1746-1789)
Joseph Coteau
(1740-1801)
Rare "Skeleton" Lyre Clock with apparent movement in Bronze, finely chased and gilt in two shades of gold with matte and burnished gold, and Sèvres Porcelain imitating lapis lazuli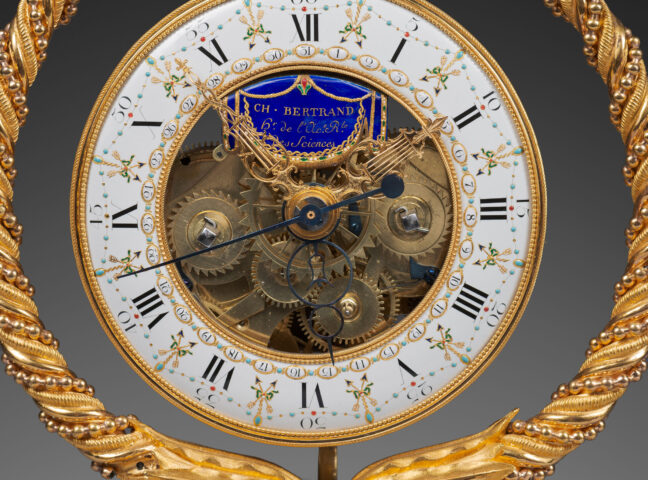 Dial signed "Charles Bertrand, Horloger de l'Académie Royale des Sciences" by the clockmaker  Joseph-Charles-Paul Bertrand
Enameled dial by Joseph Coteau
Paris, Louis XVI period, circa 1780-1785
Height
55 cm
Width
24 cm
Depth
13 cm
Provenance :
Former collection of the La Rochefoucauld family at Château de Verteuil (Charente).
The white enameled annular dial, decorated with polychrome enamels with garlands of red and turquoise cabochons and intertwined ribboned arrows, indicates the hours in Roman numerals, the minutes in increments of five and the date of the month in Arabic numerals by means of three hands, two of which are in gilded copper in the shape of a lyre; it marks the seconds by means of a central second hand and also features in its upper part an enameled lambrequin motif with a lapis blue background signed "Ch. Bertrand Hr. de l'Ace. Rle. Des Sciences" (Charles Bertrand Clockmaker for the Royal Academy of Science). The movement supporting its bimetallic balance is housed in a superb lyre-shaped case entirely crafted in finely chased bronze and gilded in two shades of gold with matte or burnished gold. The uprights, rising from a wide leafy crown tied with a rope, are twisted with pearls, rushes or cords, and connect at the top to a water-leaf entablature topped by a seeded leafy pinnacle framed by two "Houdan" hen heads holding a garland of flowers and leaves; the top motif is a wreath of roses. The whole rests on an cove-molding oval base with a deep-blue porcelain in imitation of lapis lazuli; finally, an oval base, encircled by a frieze of water leaves and supported by four feet with leafy friezes, supports the clock.
Discover our entire collection of antique skeleton clocks for sale online or at the gallery.
Svend Eriksen considers that the model of the first true lyre clock can be found in the Swedish royal collections (see Early Neoclassicism in France, London, 1974). In France, the general composition of the lyre clock has changed little since its creation, which can reasonably be dated to the late 1750s or the very beginning of the following decade. On the other hand, while the design of lyre clocks changed little, the materials used, as well as the ingenuity and complexity of the movements, underwent considerable change, reflecting the evolution of connoisseurs' tastes and demonstrating the exceptional skill of some of the clockmakers of the time.
The vast majority of known models feature a dial set in a bronze lyre surmounted by a sun mask or eagle heads, or in Sèvres porcelain cases (see, in particular, several clocks of this type illustrated in P. Kjellberg, Encyclopédie de la pendule française du Moyen Age au XXe siècle, Paris, 1997, p.224-227; and in Y. Gay and A. Lemaire, "Les pendules lyre", in Bulletin de l'association nationale des collectionneurs et amateurs d'horlogerie ancienne, 1993, n°68, fig.53 and 62).
A harmonious combination of lyre and skeleton models, this extremely elegant clock stands out from most other known examples by the quality of the chasing and the two-tone gold gilding of its gilded bronze decoration, and by the originality of its "Houdan" hen's head top motifs, perhaps an allusion to the origin of the clock's patron.
Joseph-Charles-Paul Bertrand (1746 - 1789)

Joseph-Charles-Paul Bertrand, known as Charles Bertrand (Nettancourt 1746-Paris 1789) is one of the most important Parisian clockmakers of the reign of Louis XVI. After his apprenticeship with Eustache-François Houblin, he became a master on February 20, 1772, and opened a workshop in the rue Montmartre. Within just a few years, he had become famous for the excellence of his movements and received the title of Horloger de l'Académie Royale des Sciences. He specialized in skeleton clocks and clocks with complications, working with the finest artisans of the time. These incuded Knab for the cases, Barbichon, Coteau and Borel for the dials, and Jean-Joseph de Saint-Germain and François Vion for the bronzes. His wealthy clientele included financiers and important aristocrats such as the Marquise de Lambertye and Harenc de Presle. For the latter he made a fine vase-shaped clock that was described in April 1795 when his collection was sold: "A rich vase, of a lovely shape, with double-scroll handles, a lid, with garlands of roses, surmounted by a pinecone. In the middle of the vase and on the band there is a circle framed by imitation jewels, with a watch dial enameled by Charles Bertrand, the vase on a pedestal with sloping sides; it stands on a fluted column whose base is adorned with laurel toruses. Height 14 pouces, diameter 8".
Today, clocks by this horologist may be found in important collections around the world, including the Metropolitan Museum of Art in New York, the Musée National des Techniques in Paris and the Walters Art Gallery in Baltimore.
Joseph Coteau (1740 - 1801)

The most renowned enameller of his time, he worked with most of the best contemporary Parisian clockmakers. He was born in Geneva, where he was named master painter-enameler of the Académie de Saint Luc in 1766. Several years later he settled in Paris, and from 1772 to the end of his life, he was recorded in the rue Poupée. Coteau is known for a technique of relief enamel painting, which he perfected along with Parpette and which was used for certain Sèvres porcelain pieces, as well as for the dials of very fine clocks. Among the pieces that feature this distinctive décor are a covered bowl and tray in the Sèvres Musée national de la Céramique (Inv. SCC2011-4-2); a pair of "cannelés à guirlandes" vases in the Louvre Museum in Paris (see the exhibition catalogue Un défi au goût, 50 ans de création à la manufacture royale de Sèvres (1740-1793), Musée du Louvre, Paris, 1997, p. 108, catalogue n° 61); and a ewer and the "Comtesse du Nord" tray and bowl in the Pavlovsk Palace in Saint Petersburg (see M. Brunet and T. Préaud, Sèvres, Des origines à nos jours, Office du Livre, Fribourg, 1978, p. 207, fig. 250). A blue Sèvres porcelain lyre clock by Courieult, whose dial is signed "Coteau" and is dated "1785", is in the Musée national du château in Versailles; it appears to be identical to the example mentioned in the 1787 inventory of Louis XVI's apartments in Versailles (see Y. Gay and A. Lemaire, "Les pendules lyre", in Bulletin de l'Association nationale des collectionneurs et amateurs d'Horlogerie ancienne, autumn 1993, n° 68, p. 32C).
Sèvres Royal Manufactory

The Vincennes porcelain factory was created in 1740 under the patronage of Louis XV and the Marquise of Pompadour. It was created to rival with the Meissen porcelain factory, and became its principal European rival. In 1756 it was transferred to Sèvres, becoming the Royal Sèvres porcelain factory. Still active today, during the course of its existence it has had several periods of extraordinary creativity and has called on the finest French and European artisans. Kings and emperors considered it an exemplary showcase for French know-how. Most of the pieces created in the manufactory workshops were intended to be given as diplomatic gifts or to decorate the castles and royal palaces of the 18th and 19th centuries.
Photo gallery