François Rémond
(circa 1747-1812)
Important Set of Four Three-Branch Wall Lights made of Gilt Bronze with Matte and Burnished Finishing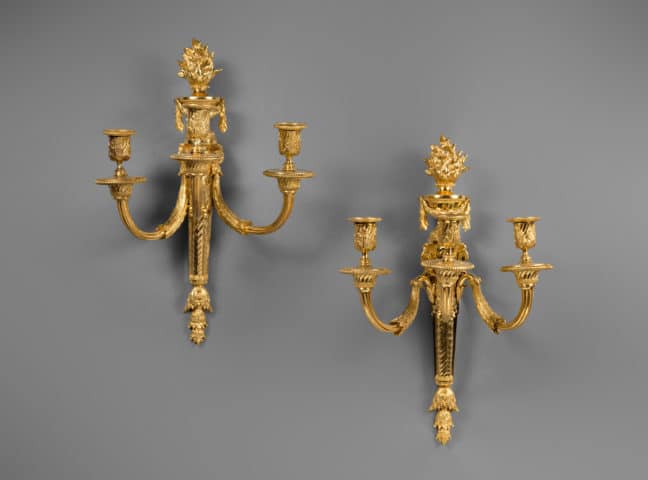 Attributed to François Rémond
Paris, Louis XVI period, circa 1785
The wall lights are made of finely chased gilt bronze, with matte and burnished finishing. Each wall light features a central tapering stem in the form of a quiver, which is decorated with spiral motifs and features a band that is adorned with motifs and acanthus leaves, and which issues the three fluted, curving branches. They in turn support the nozzles and drip pans, which are adorned with waterleaf motifs, gadrooning, beadwork, fluting, and foliage. Each wall light is surmounted by an urn that is embellished by ribbon-tied laurel garlands and which that terminates in a flame. The lower portion is made up of oak leaf swags that are adorned with acorns, which emerge from two acanthus leaves.
By the mid-18th century, the ornamental vocabulary that had prevailed in the French decorative arts for several decades had begun to be challenged, as a new artistic movement was led by scholars, artists, and collectors. It was inspired by the extraordinary archaeological discoveries that had been made in Pompeii and Herculaneum, near Naples. Inspired by these discoveries, a handful of collectors, artists and artisans, including the Duke de Caylus and Lalive de Jully, gradually imposed a new style that was directly inspired by classical antiquity. This "Return to antiquity", was equally inspired by the neoclassical style that prevailed during the reign of Louis XIV, in the late 17th century. In the field of lighting and particularly that of wall lights, at the time known in French as "bras de lumière", the early models were extremely – and sometimes exaggeratedly – architectural in style. As of the early 1780s, the designs became more elegant and luxurious, as is the present rare set of four wall lights. Few identical examples of this model are known today. Among the small number of wall lights of the same model, one pair with three branches was sold by Sotheby's New York on October 14, 1988. A second pair, with two branches, appeared in 1976 on the art market in Cannes, during the sale of the collections of the Villa Les Anthemis.
François Rémond (circa 1747 - 1812)

Along with Pierre Gouthière, he was one of the most important Parisian chaser-gilders of the last third of the 18th century. He began his apprenticeship in 1763 and became a master chaser-gilder in 1774. His great talent quickly won him a wealthy clientele, including certain members of the Court. Through the marchand-mercier Dominique Daguerre, François Rémond was involved in furnishing the homes of most of the important collectors of the late 18th century, supplying them with exceptional clock cases, firedogs, and candelabra. These elegant and innovative pieces greatly contributed to his fame.
Photo gallery